Engine Services
A functioning engine is the heart of your machine — it provides the uptime and productivity you need to meet your job's timeline requirements. To maintain that competitive edge, trust NMC Cat's diesel engine services no matter what your equipment requires. Our professionals have extensive knowledge in all areas to get the job done the first time around.
Complete Shop Service for Engines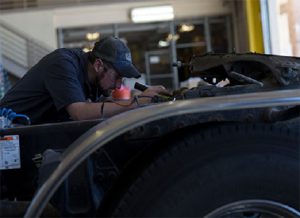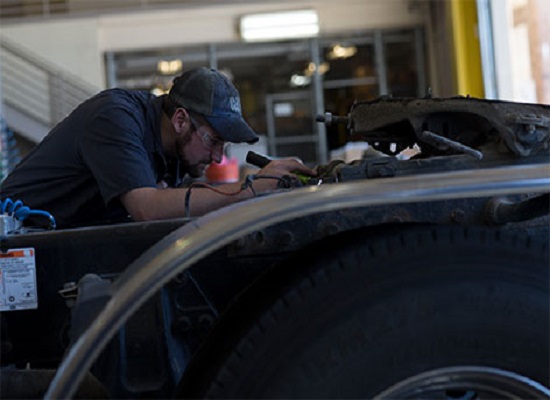 Our fully equipped shops feature the latest diagnostic tools and equipment to help our expert technicians detect and repair all types of diesel engine issues. They provide the ideal solution for performing preventative maintenance or more in-depth repairs when you're able to transport your machines to our facility. Our shops also offer a clean environment that ensures the highest quality of the work in situations where it's essential to avoid dirt, contaminants and adverse weather conditions.
Prompt Field Service for On-Site Engine Repairs
We recognize that, in many cases, you're unable to bring your equipment to the shop for repairs. Our fleet of more than 150 fully equipped service trucks is ready to roll to your job site around the clock to perform emergency engine repair work. Our capable field technicians have immediate access to our service departments, ensuring fast access to all the resources and parts they need to get the job done. Our goal is to complete your engine repairs as quickly as possible to minimize unproductive downtime.
We Do All Types of Engine Repair Work
A combination of experience and modern technology help NMC Cat perform diesel engine and exhaust system services. We keep your equipment's exhaust system operating at full capacity no matter the year, make or model.
With NMC Cat Engine and Exhaust System Repair and Maintenance, We Provide the Right Solutions for Your Equipment, Such as:
Complete engine overhauls: A total engine overhaul is often the most cost-effective long-term solution for improving engine performance and increasing your equipment's lifespan.
Head gasket replacement:Replacing a blown head gasket is a major engine repair that we can perform with speed and efficiency.
Engine block: The block is the main portion of the engine that contains the cylinders and plays a crucial role in lubricating and cooling.
Pistons: These assist in propelling the machine by transferring energy to the crankshaft.
Cylinder head: This head permits the flow of intake air to reach the cylinders.
Camshaft: The camshaft assists in controlling the timing and the movement of lifters, pushrods and rockers.
Crankshaft: The crankshaft facilitates the movement of the pistons in an up-and-down manner.
Timing belt: The timing belt or chain grabs and propels the camshaft and crankshaft.
Minor tune-ups: A regular tune-up is an essential preventative maintenance step that keeps diesel engines running smoothly.
Exhaust repairs cover exhaust gas recirculation system replacements, too. NMC Cat uses advanced diagnostic tools to help our professionals troubleshoot, detect and correct repair concerns. We work on all exhaust system parts and components, including:
Manifolds
Mufflers
Oxygen sensors
Hangers
Catalytic converters
Joints and clamps
We Focus on Cat® Engine and Exhaust Repairs
As an authorized Cat dealer in Nebraska since 1938, NMC Cat has the experience and expertise to perform high-quality diesel engine and exhaust service on all types of Cat equipment. We stay current with the latest technological advancements from Caterpillar®, ensuring we can complete the repair work correctly and to the highest standards. We use Genuine Cat parts that deliver maximum quality and longevity and provide the perfect fit for your Cat machines.
Contact Us to Learn More About Our Engine Repair Services
Discover what makes NMC Cat your best source for keeping your heavy equipment's engine service and exhaust systems running smoothly. Give us a call at 800-628-6025 for more information or to schedule a service appointment today. You can also fill out and submit our online contact form. Feel free to visit a location near you to see our facilities and meet our team.