Cab Related Components
>
>
>
Cab Related Components
Semi-trucks and construction equipment contain hundreds of different mechanisms — anywhere from A/C units to batteries — so we understand if you can't keep up with them all. NMC can help you maintain and repair your cab-related components to keep you on the road for extended amounts of time. Take a look at the six services we can provide customers all across Nebraska.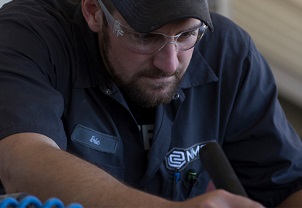 Air Conditioning
The hot sun can take a toll on anyone — but for truck drivers and equipment operations with no running A/C, it's a different kind of discomfort. To keep you cool and comfortable during the summer months, NMC offers air conditioner repair and services for your entire fleet.
Our diesel truck technicians have comprehensive experience and skills to service all makes and models of commercial trucks such as Peterbilt, Caterpillar, Mack and Freightliner as well as your Cat equipment. We know your air conditioning system can mean all the difference between a productive workday and one filled with irritation.
Battery Maintenance
Battery maintenance at NMC Truck includes record keeping to help you stay organized. You can track and plan possible upcoming repairs, as well as develop a battery replacement cycle to assist you with cost controls.
Battery preventative maintenance encompasses the following:
Battery cable condition check
Connector condition check
Individual cell voltage checks
Light cleaning
Specific gravity checks
Watering
Individual cell replacement is also available onsite from our skilled technicians. If your battery requires extensive work, we can perform the following:
Acid adjusting
Load banking
Multiple cell replacements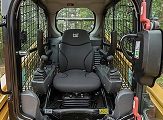 Electrical
Your fleet consists of intricate machines comprised of simple electrical systems to complex computers. However, when an unexpected electrical failure occurs, it can limit the entire performance of your machine.
NMC performs comprehensive  equipment diagnostics on all makes and models, including:
Alternator and starter replacements
Battery replacements
Computer systems reparations
Lighting repairs
Our experts provide on-time electrical repair services for semi-trucks and Cat equipment whether you need a quick replacement or intricate wiring job. We have specific equipment and certified facilities to remedy any issue quickly and efficiently. NMC's personnel can handle any challenge using modern equipment and innovative diagnostic tools to spot mechanical issues. We also service preventative maintenance to decrease the need for further repairs.
NMC also assists you in developing an operational plan. It considers the kind of work, maintenance practices and all makes and models. Primary benefits of fluid analysis include:
Scheduled maintenance
Higher resale values supported by maintenance documentation
Early detection of problems
Budget management
Downtime management
Service history development for each machine
We can perform analysis on any compartment or equipment as our services extend to fluid chambers like:
Coolant
Engine
Fuel
Gear compartments like swing drives, circle drives, final drives and differentials
Hydraulic
Transmission
Most results are ready within 24 hours while fuel ad coolant results take between 72 hours and one week.
SCHEDULE YOUR ELECTRICAL SERVICE
Diagnostics and Technology
Commercial trucks and construction equipment have various innovative operating systems made to expand reliability, performance and fuel efficiency. As such, it also generates the necessity for accurate and fast diagnostics when determining mechanical issues.
NMC implements diagnostics with modern tools and resources to get to the problem. Our full-service shops have certified and trained technicians who know how to use our equipment and identify issues of all makes and models of trucks. We also do diesel engine diagnostics and complete troubleshooting steps to detect irregularities. Proper maintenance helps you solve small mechanical problems before they become too dangerous. Our professionals will even service minor tune-ups and diesel engine — no job is too big or small.