Paint Shop
THE NMC CAT PAINT SHOP
Are some of the machines in your fleet starting to look a little worn? A new paint job can provide an economical solution for improving the appearance of your heavy equipment. More importantly, it can help protect it from the elements, prevent damage due to corrosion and even lengthen its lifespan.
Restore the value and look of your heavy equipment to new while also protecting your machinery with NMC Cat paint and shot blast facility. An OSHA-approved and environmentally-friendly system helps the paint adhere to various surfaces. Baking the paint on your machine will help it look new for a longer time.
Keep Your Equipment Looking Like New
The state-of-the-art NMC Cat paint and shot blast facility can help restore the value of your equipment while protecting it with a reasonably priced, high-quality factory finish. Our world-class, environmentally-friendly, OSHA-approved system helps paint adhere to equipment surfaces more efficiently by baking the paint to the machine – keeping the paint looking newer longer.
Our 60'x22'x20' down-draft cross-flow paint and steel shot blast facilities are large enough to handle your biggest new or used equipment. Our experienced, trained paint technicians will work around your busy schedule and deliver the quick turn-around time you need. Separate your business and your equipment from the competitors with a first-class NMC Cat paint job.
We Paint All Types of Equipment
Although NMC Cat is the exclusive Cat® dealer for Nebraska and Pottawattamie County, Iowa, we can paint machines from virtually any manufacturer. We can also provide a high-quality paint job for any equipment size or type — everything from mini excavators and skid steer loaders to dump trucks and large bulldozers. Multiple color options are also available.
A Full-Service Equipment Painting Solution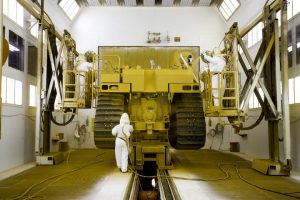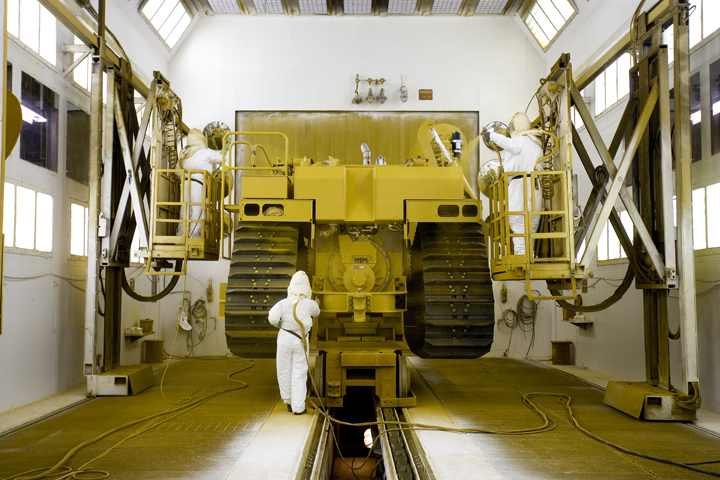 In addition to preparing the surface with shot blasting and baking the paint onto your equipment, we can perform other work to protect it and improve its appearance. In many cases, some bodywork is necessary before painting to remove dents, scratches or other exterior damage. Metal fabrication or welding may also be required to improve the quality of a part or component.
Our fully equipped shop has the tools and machinery to perform all essential surface preparation steps to maximize your paint job's results. Your equipment will look like new and maintain its appearance for years to come.
If you're repainting a Cat machine, you'll want to ensure the replacement of any damaged or missing Cat decals. We can place certified Cat decals on your machines that adhere to Caterpillar® standards.
Why Choose NMC Cat?
NMC Cat has been providing reliable, cost-effective heavy equipment solutions for more than 80 years. Over the decades, we've earned a reputation for the quality of our work and the timeliness of our service. We're also known as an equipment dealer that operates with integrity. We always put our clients' needs first.
Contact Us to Schedule Your Paint Job Today
Feel free to call us at 800.628.6025 to learn more about painting or any of our other shop services and schedule an appointment. You can also contact us online at your convenience.