Machining
Machining — Your One-Stop Source for Repairs or to Exchange Components
Machining can play a vital role in the performance and longevity of your heavy equipment. As a full-service equipment solutions provider in Nebraska and Pottawattamie County, Iowa, NMC Cat is your source for a wide variety of machining and salvaging solutions that can help you save money and add value to your business operations.
We feature a fully equipped machine shop that enables us to perform a wide range of reconditioning and rebuilding tasks quickly, ensuring you'll have your equipment back on the job with minimal delays. Our ability to do the work in a clean, controlled environment also provides the highest level of quality. We offer these services at competitive prices to help lower your long-term equipment ownership costs.
SCHEDULE YOUR MACHINING SERVICE
We Offer a Range of Options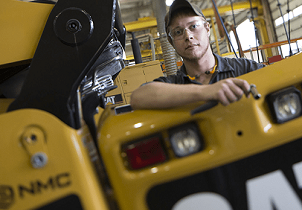 Our Work Includes Elements Such as:
Differentials
Engines
Final drives
Piston pumps and motors
Transmission and converters
Salvage Operations Our Experts Can Perform Include:
Pump-shaft-seal-surfaces
Rear-differential-trunnions
Transmission-shaft-bearing-surfaces
Turbo-exhaust-housings
Yokes
Complete Welding Services Are Available
The NMC Cat team includes certified welders who are experts at various welding techniques such as: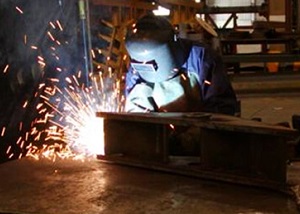 Tungsten inert gas (TIG): A process that gives the operator greater control over the weld.
Metal inert gas (MIG): An automatic or semi-automatic welding technique that is ideal for welding aluminum and other non-ferrous metals.
Arc: Enjoins metal to metal by using electricity to heat and melt the parts.
Submerged (SAW): Entails the formation of an arc between the workpiece and continuously fed bare wire electrode.
Laser clad: Uses laser and robotic integration with a dual CNC programmable control process for widely detailed welding applications.
We also implement Metalax stress relieving to detect any stress in the welded component.
Precision welding and machining at NMC Cat can recondition a range of components for your equipment at a fraction of the cost.
SCHEDULE YOUR MACHINING SERVICE
Our Metal Fabrication Expertise
Our extensive in-house metal fabrication capabilities enable us to shape metals into a wide variety of parts and components for all types of Cat® and non-Cat equipment. We can execute large-scale metal fabrication projects and those involving more precise specifications. We produce parts that offer superior strength and durability and are much more affordable than purchasing brand-new products, making a positive contribution to your company's bottom line.
Why Partner With NMC Cat for Your Machining Needs?
NMC Cat has more than 80 years of heavy equipment experience. Over the decades, we've maintained our focus on delivering superior service. We'll work closely with you to develop a custom machining, welding or metal fabrication solution that meets your needs and fits your budget. We also understand the importance of getting the job done quickly — our goal is to help minimize unproductive downtime and keep your projects on schedule.
We also have the best service technicians in Nebraska and beyond. We supply our team with the most advanced tools and machinery available and provide them with state-of-the-art training. You can trust that your machining project will enhance your heavy equipment performance and increase productivity at your job sites in even the most challenging conditions.
Contact Us to Start Your Machining Project
To learn more about our machining, welding and metal fabrication capabilities and other shop services in Nebraska and Pottawattamie County, Iowa, call NMC Cat at 800.628.6025 today. You can also submit our online contact form for additional information.