Hydraulic Field Service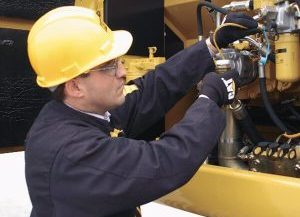 Your heavy equipment depends on various hydraulically powered components to perform essential tasks like digging, lifting, scooping and swinging. If any of these systems slow down or fail, which is always a possibility on demanding job sites, it can result in interruptions that put your projects behind schedule.
If you do business in Nebraska or Pottawattamie County, Iowa, and experience a hydraulic-related issue, NMC Cat can help. We offer prompt, reliable hydraulic field service to get your equipment up and running as quickly as possible.
Schedule Your Hydraulics Repair or Testing
About Our Hydraulic Field Service
Although a certified repair shop provides the best environment for performing hydraulic work, we recognize that bringing your machine to us isn't always the most practical option.
NMC Cat operates a fleet of fully equipped service trucks that are ready to make repairs at your jobsite. While more extensive repairs will often require some shop work, we can perform many basic tasks at your location. The NMC Cat service team is also available to respond to emergency repairs.
In order to make the needed repairs to your equipment, our team is equipped with state-of-the-art mobile diagnostic tools to inspect your hydraulic systems and detect minor issues before they become significant problems. We'll also conduct contamination checks and remove potentially harmful particles from the hydraulic cylinders to prevent damage to your equipment.
What Are the Benefits of Hydraulic Field Service?
Our field service can add value to your business in several ways:
No equipment transportation: Hauling your equipment to the shop takes time and creates an additional expense. Our service removes the burden from your shoulders.
Faster results: In many cases, our technicians can correct an issue on the spot. You won't have to take your equipment out of the field, reducing equipment downtime and minimizing disruptions to your project schedule.
More practical: Some bigger, bulkier machines can be difficult to move. Our field service allows you to keep the equipment where it is and make repairs directly in the field.
More efficient resource allocation: You won't need to use your equipment and workforce to take the machine to the shop for service. Instead, your team will be able to stay at the site and engage in more productive activities.
Peace of mind: Your heavy equipment is paramount to your business's success. It's comforting to know that help is available whenever you need it, even during emergencies that occur outside of normal operating hours.
Why Choose NMC Cat for Hydraulic Field Service?
NMC Cat has 85 years of experience helping businesses like yours get the most out of their heavy equipment. We've earned a stellar reputation for being responsive whenever our customers need assistance, whether their machines are at their facility or a remote location.
Our team includes knowledgeable, well-trained technicians who know what it takes to keep equipment from Caterpillar and other leading manufacturers on the job and productive. Our goal is to ensure your machines contribute to your business's success.
Contact Us to Learn More
Discover all the advantages that timely hydraulic field service from NMC Cat can provide for your company. Call us at 800-628-6025 or contact us online for more information or to request service today.