Hydraulic Cylinder and Rod Repair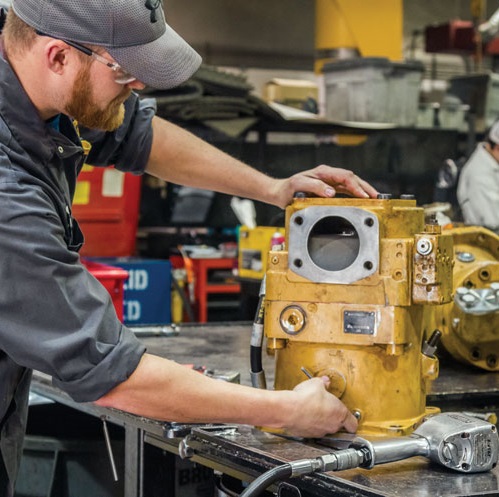 Heavy equipment relies on hydraulic systems to perform various functions. Hydraulics enable buckets to scoop materials, lift arms to pick up and move loads, and booms to swing freely.
These technologically advanced systems contain an array of parts and components that require regular service to keep them in peak operating condition.
Do you own a business in Nebraska or Pottawattamie County, Iowa, that depends on dozers, excavators, skid steer loaders or other machines for construction work or similar projects? NMC Cat can handle all your hydraulic system repair and service needs. We have extensive expertise working with all hydraulic parts and components, including cylinders and rods.
Schedule Your Hydraulics Repair or Testing
What Is the Function of a Hydraulic Cylinder?
Hydraulic cylinders play the crucial role of generating force during pressing, pulling and lifting applications. A cylinder consists of a tube capped at both ends and a rod attached to a piston protruding from one side. Pressurized fluid forced into either side of the cylinder expands or contracts the rod to generate motion.
Though these assemblies are built to endure rigorous workloads, they can fail for several reasons:
Fluid contamination that damages the inside of the cylinder, rods, seals and fittings
The loss of elasticity of the hydraulic seals
Incorrect internal hydraulic pressure
Corrosion
Gouges or scuffs on the interior of the bore walls
Split welds
Any of the issues above will likely require expert cylinder repair work.
About Our Hydraulic Cylinder Repair Services
At NMC Cat, we know what it takes to repair hydraulic cylinders and rods and get your equipment back on the job. We'll start by assessing the extent of the damage so we can determine the best course of action to correct the issue.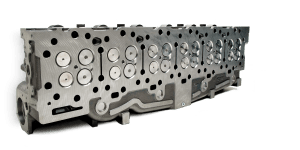 Our services include:
Nut tooling: We can remove the nut from the cylinder rod and retool it to ensure the perfect fit.
Honing: Our honing process will remove material to eliminate scratches and restore the original finish.
Re-rodding/re-tubing: We're able to straighten bent rods or fabricate a new component from chrome-plated rod stock or tube stock if necessary.
Resealing: We'll install high-quality seals and light-hone the cylinder for enhanced performance.
Washing: This process removes harmful contaminants from the cylinder to reduce the risk of future damage.
Testing: Regardless of the type or complexity of the hydraulic cylinder repair, we'll conduct comprehensive testing after completing the job to ensure long-lasting quality and performance.
Our Fully Equipped Hydraulic Cylinder Repair Shops Can Handle the Challenge
We perform hydraulic cylinder and rod repair work in state-of-the-art shops featuring the most advanced equipment and tools on the market. This tightly controlled environment significantly reduces the risk of fluid contamination that can eventually lead to component damage.
The NMC Cat team consists of well-trained, experienced technicians with extensive knowledge of hydraulic systems from all the leading manufacturers. Our goal is to deliver expert service that gets your machines up and running and back on the job as quickly as possible.
On-Site Repair Service Is Also Available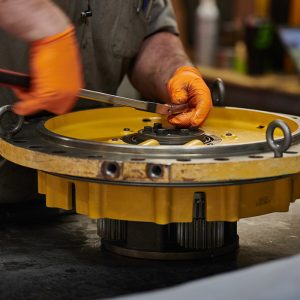 While our shops provide the optimal environment for hydraulic cylinder and rod repairs, we understand that these problems often arise while the equipment is in the field. If you can't bring your machine to us, we'll come to your site to do the work.
Our fleet consists of fully equipped service trucks that are ready to roll to your location. We can respond quickly, and we're available to handle emergency repairs. You'll have more peace of mind knowing that expert hydraulic repair service is a quick phone call away.
Why Choose Us for Hydraulic Cylinder and Rod Repair Service?
NMC Cat has been delivering high-quality heavy equipment solutions for over 80 years. We're proud to serve businesses in industries ranging from construction and agriculture to waste management and electric power generation by offering customized services.
Call us at 800-628-6025 or contact us online to learn more about our hydraulic repair services or schedule an appointment.