WELDERS
WELDING EQUIPMENT RENTALS
NMC The Cat Rental Store rents heavy-duty mobile welding equipment that gives your crew the ability to work remotely. Whether it's performing pipeline repairs or doing construction in a remote location, we can help you get the job done with reliable products that are affordable to operate and transport.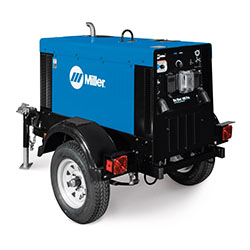 300 & 400 AMP WELDERS
At NMC we offer reliable welding equipment for rent from Vantage and Miller. Quiet and compact, these welders an excellent choice for rental purposes as it is easy to maintain and affordable to run in practically any situation. Our welders offer the following features:
Compact footprint and durable enclosure. Small enough to be used in any pickup or service truck, it is built tough to withstand the harshest operating conditions, delivering reliable performance shift after shift.
Simplified controls which make training employees fast and easy — an important consideration when renting a welder for an important job, where profitability and productivity are linked together.
Low noise operation and large fuel tank, which makes it both easy and convenient to run for extended periods of time.
For a full list of product specifications on our welders for rent, contact an NMC The Cat Rental Store representative directly. Your rental welder unit will come inspected and serviced to ensure reliable performance. Let us put together a complete package containing a welder and any related tools and accessories you need to get the job done.
In addition to the Lincoln Vantage and Miller welding equipment for rent, we may be able to source additional portable welding equipment for jobs with highly specific requirements. Get in touch today to discuss your needs with an NMC representative.