VIBRATORY SOIL COMPACTORS
>
>
VIBRATORY SOIL COMPACTORS
When you need a temporary vibratory soil compact, count on a Cat® rental from NMC The Cat Rental Store. The Caterpillar® legacy of reliability and excellence results in vibratory soil compactors for rent that get the job done. We offer heavy-duty and more lightweight options for a variety of projects.
Rental Vibratory Soil Compactors Built for Performance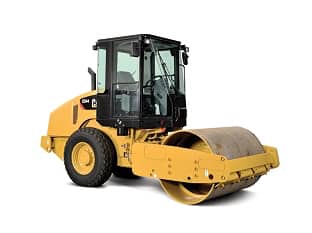 Vibratory soil compactors from Caterpillar provide these features and more:
Designed for performance: Cat vibratory soil compactors have drums with optimized weights for maximum performance. The proven and reliable Cat pod-style vibratory system offers smooth operation.
Automated systems: Automatic speed control and auto-vibe features promote consistent compaction. Eco-mode lowers your fuel consumption under normal operating conditions.
Operator convenience features: The operator cabin improves comfort and visibility with adjustable seats and climate control. Integrated controls provide ease of use and intuitive operation.
Featuring Cat Compaction Control Technology
Cat Compaction Control measures your compaction to help you determine when you meet specifications. It includes three technologies:
Compaction Meter Value (CMV): The CMV technology uses an accelerometer to measure compaction in granular soils. It can determine if the soil has areas of poor compaction, hidden anomalies or needs more moisture.
Machine Drive Power (MDP): Exclusive to Cat machines, MDP measures rolling resistance to determine your compaction level. It works on all soil types, including cohesive and non-cohesive soils. You can find MDP technology on most Cat B-Series vibratory soil compactors.
CMV and MDP: Smooth drum CS models offer you the choice between both technologies for ultimate flexibility.
Powered by ACERT™ Engines
ACERT Technology powers each Cat vibratory soil compactor engine to give you unmatched performance. Experience the ACERT Technology difference with features such as:
Dual-pump propel system: A dual-pump propel system balances separate flows to the drum drive motor and rear axle motor.
Electronic Control Module (ECM): By synchronizing fuel delivery and timing, ECM promotes optimal performance. It also features self-diagnostics for troubleshooting and maintenance.
Optimal performance in forward and reverse: Cat vibratory soil compactors offer exceptional tractive effort and gradeability in both forward and reverse. A lever on the right side of the control console makes it simple to manage propel control in both directions.
Reasons to Rent Vibratory Soil Compactors From NMC The Cat Rental Store
We aim to provide the best temporary vibratory soil compactors in Nebraska and Iowa. When you rent from NMC The Cat Rental Store, you benefit from:
Dynamic customer service: We offer the services you need to get the most out of your rental. Ask about our rental training, on-site delivery and 24-hour emergency service.
Price match guarantee: Do you see a lower price for the same equipment through one of our competitors? We'll meet or beat their price if you mention it to us.
Wide service area: Our rental services cover all of Nebraska and Pottawattamie County, Iowa. You can find our locations in most regions of these areas.
Request a Rental Quote Today
Add the vibratory soil compactors you need to your cart and check out to request a rental quote. We'll develop a contract that fits your needs.