UTILITY VEHICLES
UTV Rentals
At NMC The Cat Rental Store, we offer utility vehicles for rent so you can expand your fleet at affordable prices. Our rental UTVs are available in diesel or gas models with powerful engines and highly durable steel structures for maximum versatility and maneuverability.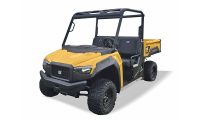 Why Choose Cat® UTV Rentals?
Cat UTVs are made for towing and off-road hauling with a long swing arm suspension system for a smooth ride in even the toughest conditions. Whether you need a machine for commercial use, hauling farming tools, towing construction equipment or even transporting guests around a large property, Cat UTVs offer the durability and reliability you need.
There are many benefits to choosing Cat rental UTVs for your job site, including:
Enhanced productivity: With continuously variable and smooth transmissions as well as a durable steel cargo bed, UTVs are designed to tow heavier loads and move more materials safely.
Performs on any terrain: Operating modes include two-wheel drive, four-wheel drive and four-wheel lock so drivers can adjust the machine to the ground conditions.
Versatile: Combines the benefits of pickup trucks with towing and load-hauling capabilities for a lightweight off-road vehicle option. Features two- and five-seat cab options and many accessories for maximum versatility.
Unmatched stability: Suspension system provides a smooth ride across any terrain no matter the conditions. Cat UTVs go through rigorous terrain testing and many of the same protocols as larger Cat equipment to ensure they can stand up to challenging real-life applications.
Easily serviceable: Features on-board diagnostics, accessible drive belt and filters, splash panels that easily pop off the engine bay for cleaning and servicing and more to extend the life of the vehicle and lower maintenance costs.
Quiet and comfortable: Cat UTVs are designed for minimal noise and vibration during operation, and they include plenty of legroom and elbow room for taller riders.
Affordable option: When you buy used, you will stretch your budget while still getting all the benefits of owning a Cat machine.
Rental UTVs Available From NMC The Cat Rental Store
At NMC The Cat Rental Store, we have several UTV models available for rent:
CUV102 D: Diesel engine, two-seat capacity, top speed of 25 mph, four-wheel suspension system with a front sway bar for enhanced stability with full loads.
CUV105 D: Diesel engine, five-seat capacity, 25-mph top speed, four-wheel suspension with front sway bar for maximum stability.
CUV82: Gasoline engine, two-seat capacity, top speed of over 45 mph.
CUV85: Gasoline engine, five-seat capacity, top speed of over 45 mph.
Each model features the variable transmission, steel cargo bed, and versatile and durable design that are standard for all Cat UTVs.
Choose NMC The Cat Rental Store for Your UTV Rental
NMC The Cat Rental Storeis your authorized Cat rental dealer for all of Nebraska and Pottawattamie County, Iowa. We provide the services you need, including:
Fast delivery
Competitive prices
24-hour emergency service
Customer Support Agreements (CSAs)
Factory-trained field and shop technicians
Professional and knowledgeable customer service staff
And more
To check out our inventory, visit one of our convenient in-store locations. For more information, you can also complete our online contact form and we will get back to you as soon as possible.