TRUCKS & TRAILERS
TRAILER RENTALS
Matching your organization with the right rental trailer for its needs requires a careful consideration of your budget and your specific application. With a large inventory of reliable trailers for rent, NMC The Cat Rental Store has a wide range of options that makes choosing the right unit easy. Whether you're hauling material, equipment, livestock or people, we can help you select the best trailer for an upcoming job.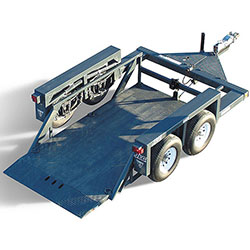 OUR INVENTORY
Check out the links below to view our current inventory of trailers for rent. From small units for hauling lighter loads to flat deck gooseneck trailers that can carry construction or other heavy equipment, we have the right product for you. If you can't find what you're looking for in our online rental store, contact one of our many locations directly. There's a good chance we can source it from one of our partners.
All our rental trailers are well maintained and routinely inspected to ensure they offer reliable and safe performance for as long as you need them. Mounted to a standard vehicle or larger truck, they can be counted on for everything from long-haul trips to short rides in rough conditions. All rentals come with the necessary hardware and connections for on-road use.
RENTING FROM NMC
At NMC, we've worked hard to make the rental experience easy and affordable for all clients. We understand that when it comes to transporting materials or equipment, reducing operating expenses is an important priority. That's why we offer a large inventory of rental trailers to meet the needs of a diverse group of clients. It's also why we offer financing, leasing agreements and discounts for longer term rental contracts.
Whether you are renting a trailer for a day, a week, a month or longer, we'll work with you to determine the best option for your budget. We'll also be there for you as long as you need your rental, providing on site service and support as necessary, including 24/7 emergency repairs in the event that something goes wrong.
Ready to get started? Send us the details of your request online, and we'll put together a comprehensive quote for everything you need.