TRASH PUMP
Trash Pump for Rent
When it comes to pumping water that's full of debris, a trash pump is a perfect solution. Trash pumps are designed to handle hard and soft solids such as twigs, mud, leaves, sand, sludge and more. They are portable and work well for any dewatering operation where blockages may occur, making them a popular choice for industries such as mining, food processing and chemical treatment.
At NMC The Cat Rental Store, we have several trash pumps for rent for whatever your dewatering needs may be.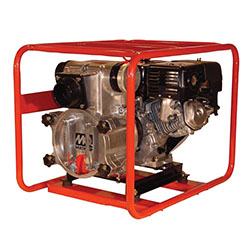 Benefits of a Rental Trash Pump
The main advantage of using a trash pump is that it is designed to handle solids, so if your project requires pumping water with any kind of debris in it, a trash pump will be the best choice. The benefits of deciding to rent a trash pump include:
Cost reduction: Since the machine isn't yours, you don't have to invest in insurance or a maintenance routine.
Try before you buy: Renting allows you to try out the trash pump and make sure it will fulfill the daily needs of your business.
No storage costs: Avoid storage costs by keeping the trash pump at your job site, and we will remove it at the end of your rental period.
Portable: Can be easily transported between job sites so you can complete numerous dewatering projects.
Increased inventory: Renting is a cost-effective way to expand your fleet and capabilities so you can capitalize on your busy season.
Latest technology: Renting a new trash pump will give you access to advanced technology and features to help speed up your operations.
For consistent and reliable pumping, our rental trash pumps get the job done.
Request a Trash Pump for Rent From NMC The Cat Rental Store
At NMC The Cat Rental Store, we have several models of trash pumps available, including the Wacker Neuson PT2A and PT3, and the MultiQuip QP2HT and QP3HT. Both manufacturers are known for their high-quality, durable pumps that provide outstanding performance. If you're not sure what you need, our expert staff can help you determine which model is the best fit for your project requirements.
When you need water cleared quickly and can't afford to deal with blockage issues, these rental trash pumps will perform with excellence. Better yet,NMC The Cat Rental Store makes the rental process as easy for you as possible. We will deliver, set up and service your rental trash pump, and we'll even remove it when your rental period is finished. When you work with us, you can also count on:
Quick delivery
Competitive prices
Factory-trained field and shop technicians
Customer Support Agreements (CSAs)
24-hour emergency service
Knowledgeable and professional customer service staff
And more
NMC The Cat Rental Store has been in business for more than 80 years. We are proud to serve all of Nebraska and Pottawattamie County, Iowa, and we are the area's authorized Cat® dealer. For more information about our rental equipment and services, call 800-662-7368 or fill out our online contact form and we will get back to you as soon as possible. You can also visit our convenient store locations to see our inventory in person.