TELEHANDLERS
TELEHANDLER RENTALS
If you need to rent a telehandler, the only place in Nebraska and Pottawattamie County, Iowa offering the latest Caterpillar machines is NMC The Cat Rental Store. We are the company's exclusive representative in our area and offer a large inventory of new and low-hour telehandlers for rent.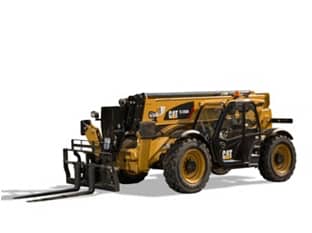 WHY RENT A CAT TELEHANDLER?
Cat telehandlers offer a number of important advantages, including:
Improved lift height, reach, maneuverability and other working advantages. Cat telehandlers are complemented by a range of available buckets, forks and other attachments, many of which are also available to rent from NMC.
Low operating costs, thanks to their fuel-efficient performance and precise controls that minimize the amount of rework necessary to complete a big job.
Sophisticated operator stations designed for all-day comfort. Ergonomic cabins and enhanced visibility reduce fatigue and improve safety, keeping your productivity up and your liability down.
To better suit our diverse clientele, NMC has several rental units available, from the compact model TH215 to heavy-duty units such as the TL1255 and TL943. Follow the links on this page to view full specifications for individual machines. Alternately, contact an NMC representative directly for information and assistance choosing the Cat telehandler that's best suited for your upcoming job.
BENEFITS OF RENTING
Renting a telehandler from NMC The Cat Rental Store is a smart choice to temporarily upgrade your working capacity for a one-off job. It can also help you maintain full productivity when part of your fleet is out for unanticipated repairs. Many of our clients also rent when they have to work in a remote location where transporting their own equipment would be prohibitively expensive. Additionally, you can rent to free up credit that would otherwise be invested in a lease, to avoid the expense of paying for maintenance and upkeep or to try out a potential purchase in real-world conditions to see if it's right for you.
Whatever your reason for renting, NMC can help. Our inventory and service expertise make us the best place to rent a telehandler or other heavy equipment in Nebraska and beyond.