SCISSOR LIFT
Scissor lifts are vertical lifting platforms that provide a safer alternative to unstable ladders and scaffolding. They're perfect for elevating heavier loads of workers and materials. If you need a scissor lift for construction, building maintenance or any other job that requires working at heights, but you don't wish to purchase one, a scissor lift rental from NMC The Cat Rental Store can meet your needs. We offer high-quality aerial work platforms for rent at competitive rates that will provide the ideal temporary equipment solution for your company.
View Rental Inventory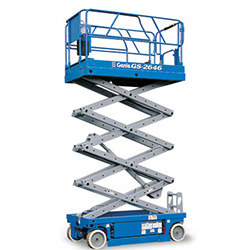 You'll Find a Broad Selection of Scissor Lift Rentals From Leading Manufacturers
When choosing aerial lift platforms for your company, safety should be the primary consideration. NMC offers scissor lift rentals from reputable manufacturers such as JLG, Genie and Skyjack — all companies with stellar track records for producing safe and reliable equipment. You can also select from a variety of platform sizes and height ranges to meet your unique work site requirements. Our online product descriptions include comprehensive specifications to help you understand the capabilities of each machine.
When Does Renting a Scissor Lift Make Sense for Your Company?
Renting a scissor lift is a wise business decision if one of your current models is temporarily out of commission. NMC can help you find a quick replacement and we'll even deliver it to your job site so you can keep your projects on schedule. Renting also enables you to bolster your fleet if you're experiencing a sudden upturn in business and need more equipment to manage the increased workload.
Renting can also be a good choice if you're looking to maximize your productivity. Most of our rental units are late-model, low-hour units that give you access to the latest technology. That means getting more work done in less time. You can get a state-of-the-art machine without having to make a long-term investment, which frees up additional capital for other areas of your operation. And renting helps you avoid the storage and maintenance costs that come with equipment ownership.
Why Choose NMC for Your Scissor Lift Rental Needs?
NMC The Cat Rental Store is part of the NMC Group of companies that have been serving Nebraska and southwest Iowa since 1938. That means our rentals come with the exceptional service and support that has been an NMC hallmark for more than 80 years. We'll help you create a flexible rental agreement that meets your needs and fits your budget — whether you need a machine for a day, a week, a month or longer.
We also provide complete maintenance and repair services, including 24/7 on-site repairs when needed as well as mobile fueling. And if you're looking to own your scissor lift at some point, our rent-to-own program can be a great fit for your company.
Contact Us to Learn More About Your Scissor Lift Rental Options
Feel free to give us a call at 855-NMC-RENT to learn more about our scissor lift rentals. You can also contact us online to receive a quick quote.