RENTAL EQUIPMENT FOR SALE
>
>
RENTAL EQUIPMENT FOR SALE
If you're in Nebraska or near Council Bluffs, Iowa, NMC The Cat Rental Store location near you carries a wide variety of high-quality rental equipment for sale at competitive prices that will meet your job site requirements — and fit your budget.
Check Out Our Current Selection Today
Feel free to browse our inventory of rental equipment for sale. For more information and a closer look, you're welcome to stop by a store near you or reach us by phone at 855.NMC.RENT. If you are looking to purchase New Cat Equipment, please visit our NMCCat.com site. You can also contact us online at your convenience.
Rental Equipment for Sale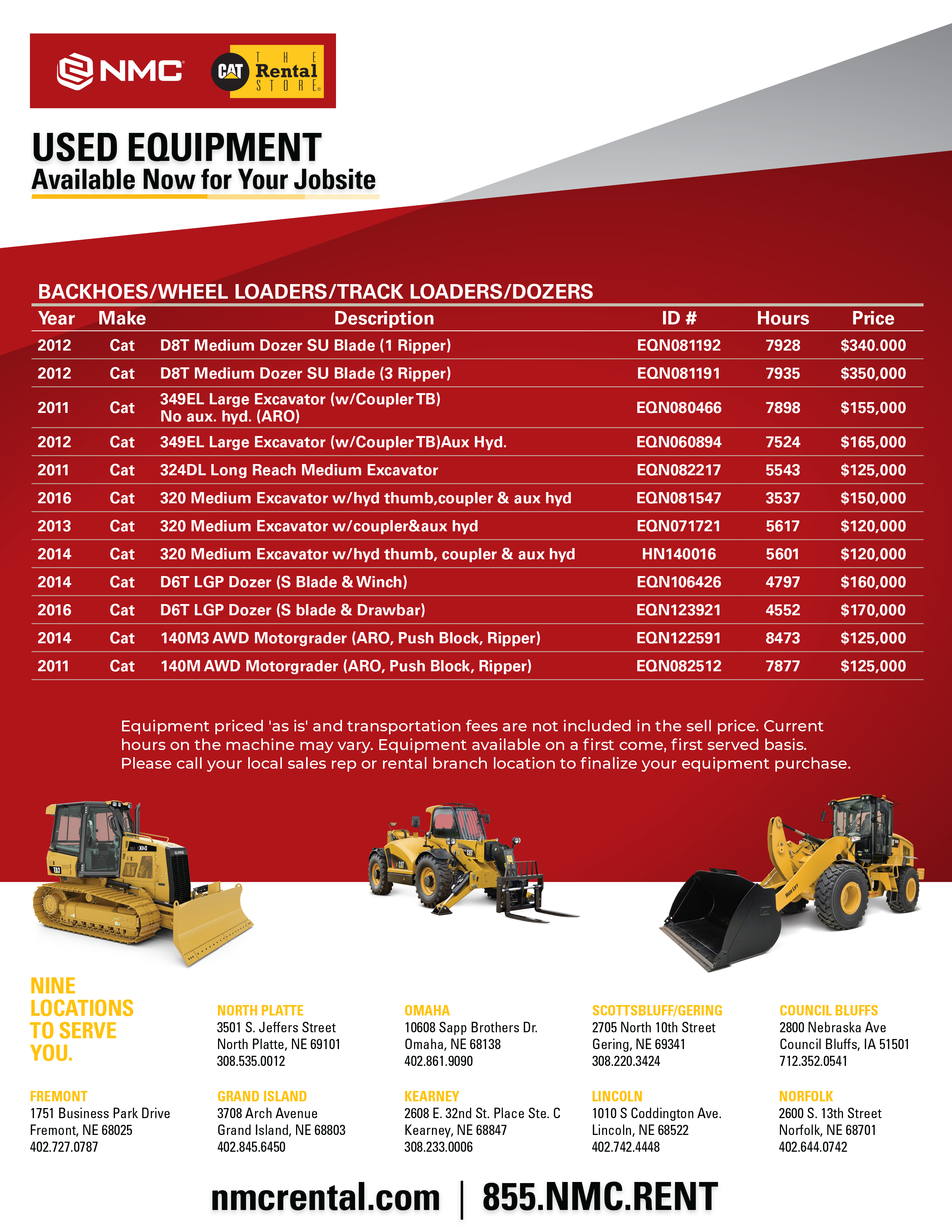 What Are the Benefits of Purchasing Used Rental Equipment?
Buying used rental equipment can offer a host of advantages for your company:
Upfront cost savings: In many cases, rental equipment for sale is relatively new, although it's "old" enough to have depreciated in value by as much as 40%. As a buyer, this means you can often find a product that's only a few years old at a fantastic price.
Excellent quality and performance: Because equipment dealers usually "retire" the machines in their rental fleet at a young age, they still have a lot of life to offer to a new owner. Many of these models feature advanced technologies that will allow you to work more productively and efficiently.
Regular maintenance: Reputable equipment providers like NMC The Cat Rental Store take excellent care of their machines to ensure they meet the high expectations of each renter. When you purchase one of these models, you'll know you're getting an expertly maintained product that comes with all its service records (oil changes, inspections, hours of use, etc.), which takes the guesswork out of the buying process.
Broad selection: A large dealer like us has the capacity to carry an extensive rental fleet. When you're looking to purchase a retired model, you can count on having numerous choices, which makes it easier to find the exact machine you require.
Reliable service after the sale: It's comforting to know that the same dealer that is selling you the equipment has already been maintaining it and will still be there to provide ongoing service. We carry all the replacement parts you'll need to keep your machine on the job, and we can handle all maintenance and repairs for as long as you own it.
About Our Inventory of Rental Equipment for Sale
As part of the NMC Cat family, NMC The Cat Rental Store features a wide selection of rental equipment for sale from Caterpillar®, one of the most recognized and respected brands in the industry. You may also find aerial work platform equipment from leading manufacturers like JLG and Genie, who have outstanding reputations for quality and durability. You can purchase a used machine from us with total confidence.