PORTABLE AIR COMPRESSOR
>
>
PORTABLE AIR COMPRESSOR
When you need a temporary air compressor, count on our team at NMC The Cat Rental Store. Our industrial air compressor rentals hold up in the toughest working environments for consistent results. Portable air compressors from our Allied brands offer the performance you need to handle your next project.
How to Choose a Rental Air Compressor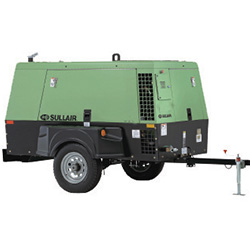 Our air compressors come in a variety of models with different features. When you rent an air compressor from our store, consider these factors you need to know:
Type: Do you need a rotary screw or piston air compressor? Piston compressors work well for small applications, while rotary screw compressors can handle continuous-duty jobs.
Portability: How do you plan on transporting your air compressor? Some models require a pallet jack for loading and unloading, while you can carry others by hand.
Size: How many cubic feet per minute (cfm) and pounds per square inch (psi) will you need? Check your tools' requirements for these measurements.
Tank size: Do you need a continuous or intermittent air supply? Larger tanks make continuous applications easier to complete because of their air storage.
Hoses: What length of hose do you need for your application? Keep in mind that hoses tend to lose psi as they extend.
About Our Sullair Air Compressors for Rent
Sullair has a history of manufacturing top-quality air compressors that spans back to 1965. They specialize in creating air compressors with efficient performance and portable designs. When you need a mobile source of clean air, Sullair compressors enable you to work remotely.
Like the rest of our rental inventory, our Sullair compressors have low hours and receive regular inspections. We provide rental air compressor options for projects of any scale to help you balance cost and function.
Available Rental Plans
Let us help you create the best rental package for your needs. Our air compressor for rent plan structures include:
Short-term rentals: Rent an air compressor by the day, week or month.
Long-term rentals: Ask us about our long-term rates for rentals that last more than a month.
Rent-to-own: Work toward owning your rental by taking part in a rent-to-own plan.
When to Rent an Industrial Air Compressor
Portable air compressors have a wide range of uses in multiple industries. However, it doesn't always make sense to own one, making a rental the better choice. Our clients rent air compressors when they:
Need to save on storage space or costs
Want to reduce the amount of maintenance they need to perform
Plan to complete a one-off job that needs an air compressor
Count on NMC The Cat Rental Store
At NMC The Cat Rental Store, we understand the rental experience goes beyond the product. With top-quality equipment as our foundation, we offer comprehensive support to ensure your satisfaction with your temporary air compressors. Ask our team about product training, price matching and 24-hour service. When you rent from us, you can rely on us as a partner in your project goals.
Design your own rental plan by adding the items you need to your cart and checking out. Our team will help you find the right rental terms for your needs.