MOTOR GRADERS
Packed with industry-leading features, Cat® motor graders can quickly turn around complex projects in fewer passes. Ideal for rental purposes, their advanced controls and sophisticated electronics make them easy to train new staff on — a key advantage when getting up and running quickly is essential.
NMC The Cat Rental Store is an authorized Caterpillar dealer and the only place in our service area to carry the company's newest products and diagnostic tools. We can match you with the right equipment for any project, whether it's a one-time need for additional working capacity, or a longer-term rental.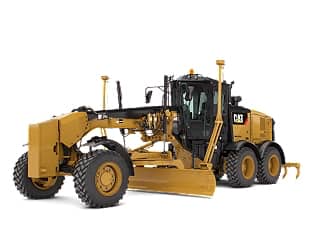 RENTAL FLEET
NMC The Cat Rental Store rents two models of Cat motor grader:
12M: The Cat 12M features an ergonomic cab design that provides comfort and visibility, putting sophisticated joystick controls right in your operator's hands. Fast, simple DCM adjustments drive exceptional productivity and lower operating costs, while an integrated powertrain offers smooth performance and superior reliability in any environment.
14M: The next step up from the 12M, the 14M motor grader by Cat boasts a more powerful engine and wider blade, making it suitable for heavy construction, mining and other applications. Thanks to ACERT™ engine technology, however, it remains compliant with US EPA emissions standards and helps you keep operating expenses to a minimum thanks to its efficient performance.
All units in our rental fleet feature low hours and are delivered in excellent working condition. Our technicians ensure all service is performed at the correct intervals, so your rental provides all the performance and other working advantages you expect of Cat equipment.
YOUR PARTNER FOR RENTAL SUCCESS
At NMC, we're committed to helping you meet your goals. When you rent a motor grader from us, you gain a partner that will be available to provide on-site maintenance and support for as long as you require your unit. Our advanced mobile service capabilities allow us to come to your job site and perform both required maintenance and emergency service at your convenience.
An NMC representative will be happy to put together a complete rental package for any upcoming job. Get in touch and discover for yourself the many benefits of choosing Cat.