MOBILE GENERATOR SETS
>
>
MOBILE GENERATOR SETS
Do you need a reliable source of electrical power at a construction site or another remote location? An industrial generator rental from NMC The Cat® Rental Store gives you a mobile solution that will keep your project flowing. These high-quality commercial generator rentals are also towable, making them easy to transport to, from and around the job site and giving you maximum placement flexibility.
Count on NMC The Cat Rental Store for the best selection of rental generators and temperature control equipment. Follow the links below for more information about available products, or contact our team directly for assistance.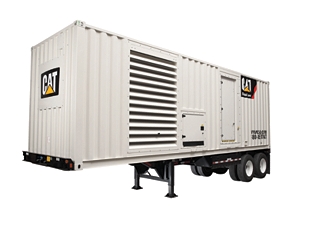 POWER GENERATION
NMC The Cat Rental Store is your true one-stop shop for power generation rentals. Our rental generator sets range in size from 25Kw to 2000Kw, are portable, and include sound attenuated enclosures. Whether you need to get up and running quickly following an emergency or are looking for a temporary or portable power solution for industrial plant shutdowns or other applications, we can help.
Our team can help provide the appropriate rental power sizing for your specific application. A large inventory of Cat® machines is available, along with switchgear, UPS and more.
Benefits of Rental Industrial Generators From Caterpillar®
NMC The Cat Rental Stores provides mobile power across the globe. When you rent a generator from Caterpillar, you enjoy advantages such as:
Technical support: Our experts can help you develop a rental power system for your project or emergency. We also provide technical support and service while you use our generators.
Wide selection: We provide various types of industrial generators, including electric and diesel options. Our inventory also includes a variety of wattage options to power many types of equipment.
Fast response: When you have an emergency, our power experts can assist with delivery and setup. They also know how to maintain and service your equipment to keep it running in top shape.
Reduced environmental impact: Cat power generator units have designs meant to produce lower gas or diesel emissions. Our products meet local emission standards for a compliant job site.

How to Plan for a Temporary Generator Rental
Proper planning ensures you have the best experience possible with planned or emergency backup power. Caterpillar recommends taking these three steps during a power shutdown:
Understand your building's electrical load: Determine if your facility needs full backup power or only priority power. You may also have the option to use a rental to power a standby generator. Check the equipment you need to operate for their amperage and voltage.
Know where to rent power equipment: Find a Cat rental company near you and learn about their power options. Contact us for help finding the right equipment for your situation, and our team can also deliver equipment to your site for your convenience.
Plan the necessary logistics: Once you know where you can rent power, you need to understand how to get it working in your facility. Make sure you have plans for delivery and setup, especially if you need to hire outside help. It also helps to know where you want to place your temporary generators and the accessories required to install them.
Reasons to Choose Mobile Generators for Rent From NMC The Cat Rental Store
When you rent temporary power from NMC The Cat Rental Store, you get these benefits and more:
Large service area: Our rental services cover all of Nebraska and Pottawattamie County, Iowa. NMC The Cat Rental Store locations operate in many regions of this area.
Customer service: At NMC The Cat Rental Store, we pride ourselves on our comprehensive client support. Ask us about our on-site delivery and 24-hour emergency service and other service offerings.
Consultative support: We can provide training to ensure your crews know how to use the commercial power equipment rentals correctly and safely. You'll optimize the performance of your system and significantly reduce the chances of a costly workplace accident.
Financing options: We can arrange financing for your industrial generator rentals to help them fit your budget and improve your business's cash flow. We can also discuss long-term leasing or rent-to-own agreements if these will work for your company.
Paperless invoicing and account management: By registering for an NMC Inc. electronic invoices account, you can manage your account electronically 24 hours a day. Get invoices, pay bills, view balances and statements and much more.
Get a Quote for Rental Mobile Generators
Add the products you want to your cart and check out to request a quote for your equipment rental. We'll partner with you to develop the right contract for your needs.