Manufacturing
If you run a manufacturing company, rental equipment likely plays an essential role in your business. You need reliable machinery to transport personnel, perform tasks such as welding and material handling, provide backup electrical power and control the climate in your facility.
If you're in Nebraska or Pottawattamie County, Iowa, NMC The Cat Rental Store can deliver a total equipment rental solution that works for your company. We offer a full line of high-quality rental equipment to support your production processes and keep your facility operating at peak efficiency. You'll receive expert service to help you get the most out of your rental units.
Choose Rental Equipment For Your Manufacturing Needs From Leading Equipment Providers
NMC The Cat Rental Store carries a wide variety of equipment for rent at competitive rates. We feature small and mid-size machines from Caterpillar® as well as other top manufacturers. Our inventory includes: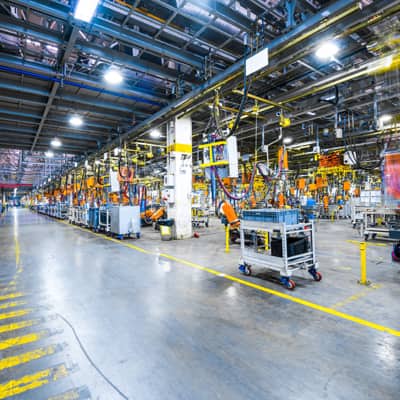 Aerial lift platforms
Brooms and sweepers
Compressors and air tools
Coolers and chillers
Forklifts
Generators
Utility vehicles and carts
Welding equipment
Compact equipment attachments
Hand tools
Electrical and instrumentation equipment
Superior Service at NMC The Cat Rental Store
We support our manufacturing equipment with value-added services to maximize your renting experience. We offer daily, weekly and monthly rental agreements to meet your time frame and budget. We also provide fast delivery to your facility or job site, which can minimize downtime. With our 24-hour emergency repair service, you won't have to worry about a machine breakdown putting you behind schedule.
We Are Your Trusted Business Partner
NMC The Cat Rental Store is more than just an equipment provider. We take a consultative approach to help our clients reach their business and productivity goals. We take time to understand your operation and how a rental unit can help you overcome a business challenge. Count on us for expert product selection assistance so you can make the right match between equipment and application. We also provide technical support and training to ensure your operators can use the machines efficiently and safely.
Experience the Advantages of Renting Equipment From NMC
Equipment rentals from NMC The Cat Rental Store provide numerous benefits for your business:
No long-term investment in equipment
More capital to use in other areas
Access to late-model equipment to enhance productivity and efficiency
No concerns about equipment obsolescence
Avoid costs such as storage, depreciation and insurance
Increase your company's borrowing power
Test out a model you're thinking of buying
Explore Rental Equipment for Your Manufacturing Operation
Browse our entire selection of rental equipment for manufacturing today. You can also visit any of our locations in Nebraska and Iowa. Feel free to give us a call at 855-NMC-RENT or contact us online for more information and a no-obligation quote.