ARTICULATED TRUCKS
HAULING SYSTEM RENTALS
When you need to move heavy materials quickly and efficiently, NMC The Cat Rental Store can help. As an authorized Cat® dealer, we have several models in the company's 700 series of articulated trucks for rent. Capable of carrying payloads from 26 to 43.5 tons, and powered by fuel efficient ACERT™ engines, these trucks are an excellent choice for a number of heavy-duty applications. Notable features include a cabin designed for driver comfort and a simple control system that makes training your crew on safe and streamlined operating procedures easy.

View Rental Inventory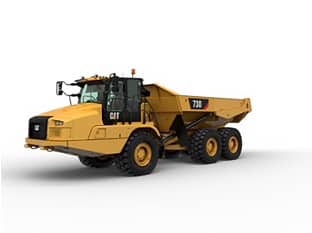 Articulated Truck Rental Automatic Features
Cat articulated trucks improve performance and ease of use through automatic features such as:
Advanced Automatic Traction Control (AATC): AATC automates the engagement of the inter- and cross-axle differential locks for maximum traction. It automatically disengages the clutches during the right ground conditions for better steering efficiency.
Automatic Retarder Control (ARC): Automatic modes makes using the truck's retarder easier with machine monitoring. ARC reduces the risk of engine overspeeding for smoother operation.
Assisted dumping: Models that have an assisted dumping system manage dumping with a raise/lower switch. The truck automatically applies the service brakes and switches the transmission to neutral when you raise the body.
Hill Assist and waiting brake: These features use the service brakes to make operation safer and more convenient. Hill Assist reduces the risk of "roll-back" on grades, and the waiting brake activates the service brakes during neutral gear.
Operator-Friendly Articulated Trucks for Rent
With operator-designed cabs, Cat articulated trucks improve safety and comfort for the people using them. Operator features include:
Combined hoist/transmission lever: Exclusive to Cat articulated trucks, the combined hoist/transmission lever streamlines operation. Manage your tipping job with fewer interactions.
Dashboard with touchscreen display: The updated dashboard includes LED lights for easy operation in any job condition. It features a touchscreen display that provides necessary equipment information in a single interface.
Spacious cab with air suspension seat: An open, large cab has enough room for two seats — one for an operator, and another for a trainee. The operator's air suspension seat offers a wide range of adjustment options for comfort and visibility.
Leading Suspension and Braking Technology
Select models feature three axles with oscillating A-frames and lateral tie rods. This design controls sideways movement and provides stability on rough terrain. Increase performance with these suspension and braking features:
Smooth front suspension: Large-bore, low-pressure cylinders provide smooth operation and assist in off-road applications.
Stable rear suspension: The rear suspension consists of a walking beam and long-life rear suspension mounts for better stability and load retention.
All axle enclosed wet brakes: An enclosed design protects brakes from contaminants for longer system life.
Reasons to Rent an Articulated Truck
Equipment rentals provide a variety of advantages over purchases in specific situations. Renting your articulated truck instead of buying it becomes a smart choice when you:
Have a job site far away from your business: Transportation costs add up when you have more equipment to move. Renting equipment close to your job site can save you money on gas and maintenance.
Plan to use the truck for a one-off job: If you don't use articulated trucks for many jobs, a rental makes sense when you suddenly need one. Rental companies such as NMC The Cat Rental Store also offer training for unfamiliar equipment.
Need to maximize fleet management: When you need to get the most out of your storage, a rental lets you save room for essential equipment. Choosing to rent an articulated truck also saves you money on regular maintenance costs that you can spend on your main fleet.
REQUEST A QUOTE FROM NMC The Cat Rental Store TODAY
NMC has experience helping clients meet their transportation and heavy equipment needs. All our hauling system rentals are backed by exclusive on-site service from our team of mobile technicians. Get the peace of mind that comes with great partnerships by trusting NMC with all your rental needs. Contact a location near you to learn more about how we can help.