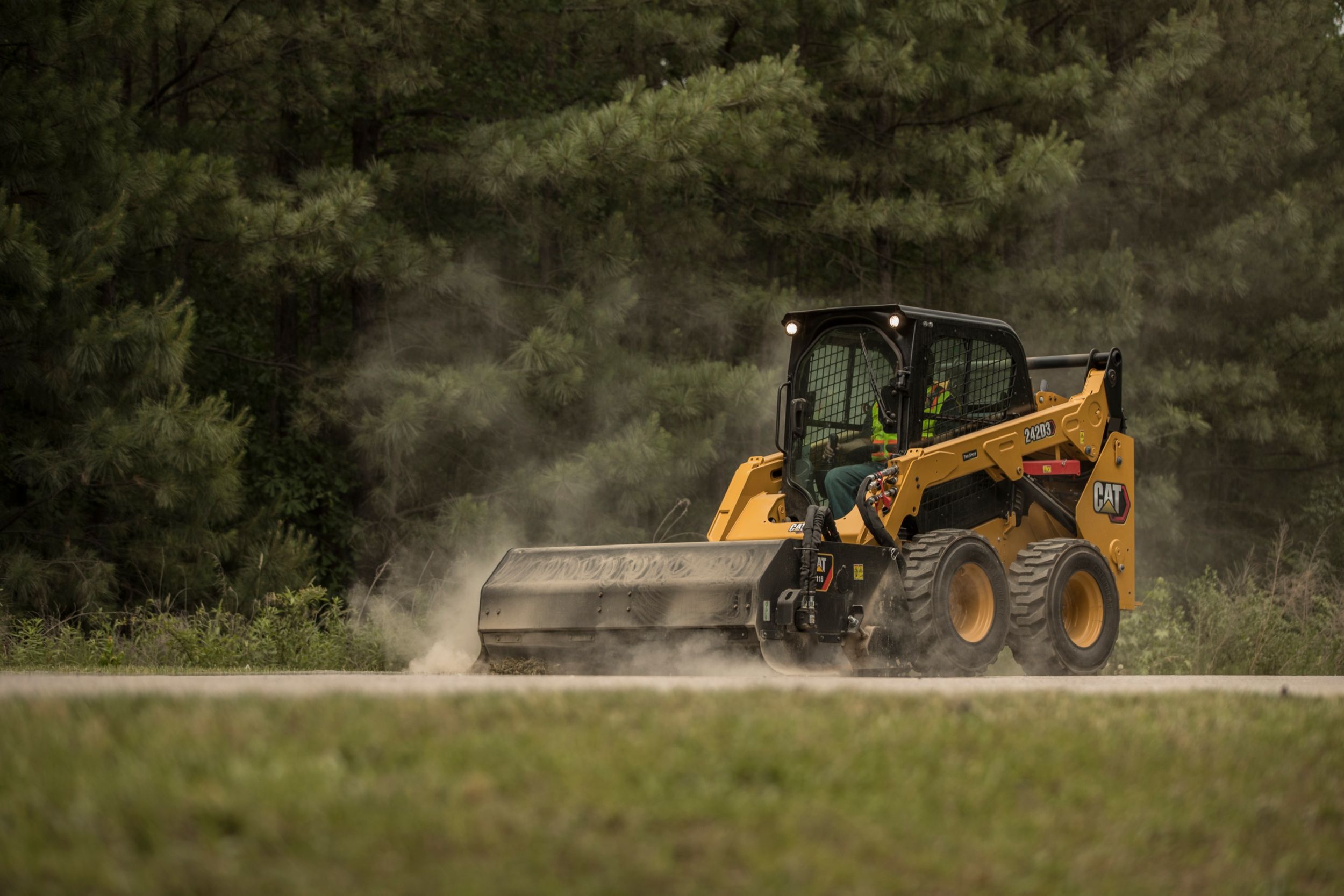 Skid Steer Loaders
Few machines at a job site can match the versatility of a skid steer loader. You can use a skid steer for digging and earthmoving at a construction site, for landscape work, building roads and much more. Their small size and excellent maneuverability enable skid steers to go places that are off-limits to larger, more cumbersome machines.
When it comes to skid steer loaders, nobody makes them better than Caterpillar®, the most trusted name in heavy equipment for nearly a century. NMC Cat is proud to be an authorized Cat® dealer in Nebraska, Pottawattamie County, Iowa, which means we carry the latest line of Cat skid steers for sale. Like all Cat machines, skid steers are designed and built for reliable, long-lasting performance, ease of operation and safety.
Explore New Skid Steer Loaders for Sale From NMC Cat
When you buy a Cat® skid steer loaders, you get an invaluable work tool that performs well in countless applications. In environments where large construction equipment won't work, a skid steer loader provides the power and productivity you need in a compact, extremely efficient package. This rugged, durable equipment is highly navigable and adaptable for many tasks at the construction site, ensuring you always have what you need for the job. With a Cat skid steer loader, you have extensive capabilities and trusted performance for the most demanding applications.
To learn more about Cat Skid Steers, click here.
Whether you're transporting materials over rugged terrain or excavating earth in confined spaces, we have the skid steer loaders Nebraska and Pottawattamie County Iowa, businesses rely on most. The versatility of a Cat skid steer loader is ideal for a variety of industries, including:
General construction and contracting
Commercial and residential landscaping
Farming and agricultural
Road building and maintenance
Mining and forestry
THE BEST SELECTION OF CAT® SKID STEER LOADERS FOR SALE
NMC Cat serves Nebraska and Pottawattamie County, Iowa. Models in our inventory of new Cat skid steer loaders include small but powerful Cat 226B Series 3, as well as the 272D XHP skid steer — perfect for impressive digging, truck loading and material handling. Additional Cat skid steer loaders for sale include the 235D, 242D, 246D, 262D models.
Cat skid steer loaders include:
An industry-leading sealed and pressurized comfort cab
A Cat C3.8 engine with high performance power train
A Cat "Intelligent Leveling" system and Standard Speed Sensitive Ride Control
An advanced display for maximum capabilities and control
Easy access to daily service and routine maintenance points
Looking for a trusted source to buy skid steer loaders in Norfolk, Nebraska, Council Bluffs, Iowa and across the region? Contact NMC Cat today for more information and a free quote.
Get Access to a Host of Valuable Features
Cat skid steer loaders come in a wide variety of sizes and configurations to meet every job site requirement. You'll also get the benefit of the legendary Caterpillar innovation that results in an assortment of advanced features:
Sturdy chassis: The solidly built chassis houses most of the skid steer's essential structural components and provides protection for its internal parts. The rugged design ensures the machine's durability in even the most demanding operating conditions. It also serves as a mounting surface for many of the machine's components.
Hystat powertrains: Advanced powertrains deliver robust engine performance on demand and make the machine easy to operate. You'll get the benefit of high horsepower and torque, as well as compliance with today's stringent emissions requirements.
Comfortable cabs: The sealed, pressurized cabs minimize machine noise and keep out dirt and debris. Your operators will stay fresh and productive. They also provide maximum visibility for enhanced safety at a busy, congested worksite.
Serviceability: Cat skid steers are designed and built to provide ground-level access to all major parts and components. You'll experience fast, hassle-free maintenance that will save you time.
Mechanical quick couplers: Every new Cat skid steer loader comes with quick couplers that can accommodate a broad assortment of work tool attachments. They also make installing and switching the attachments a smooth and seamless process.
Numerous attachment options: Speaking of attachments, you'll find a wide variety from which to choose, which will increase your skid steer's versatility and productivity. Options range from augers and buckets to brooms, mulchers, snowblowers and many others.
NMC Cat: Experience You Can Count On
NMC has been serving the region's heavy equipment needs since 1938. Besides selling industry-best skid steer loaders and more than 300 other new Cat products, we deliver top-notch service and support. Whether you need replacement parts, preventive maintenance or repair work, we'll be there to keep your machines on the job and minimize unproductive downtime.
Whatever your requirements, our team will work with you to identify your needs and find the best equipment options for your budget and applications. We offer trusted service and dependable products for every client so you can have confidence when you buy from us. Our business model centers on delivering optimized support throughout the sales process and the entirety of your equipment ownership.
After helping you find the right skid steer for your operations, we'll partner with you to streamline your ordering process. Once you've gotten your equipment, we provide ongoing service and expert technicians to help you minimize downtime and achieve optimal productivity on the job.
Some of the other benefits you'll gain when you partner with us include:
Competitive prices on equipment: When you buy Cat equipment from us, you'll get long-term performance and durability at a competitive price point.
Quick delivery: To get your new skid steer loader to you and let you start working promptly, we offer rapid delivery of your equipment purchase.
Experienced team: Whether you need sales assistance, guidance on using your new machine or a technician to provide field service, our knowledgeable team is here to help in any way we can.
Visit Us for a Closer Look at Our Skid Steer Loader Lineup
When you need to buy a new Cat skid steer loader, trust NMC Cat to help you find the best solution. Our skid steer loaders for sale come in a wide range of configurations and sizes to deliver the specific capabilities you need for your work.
If you're ready to explore buying a skid steer loader, our team is here to discuss your needs and help you make the right choice. Let us guide you through the selection and sales process and provide trusted support during your ownership. Feel free to stop by one of the convenient NMC Cat locations to see our selection of new Cat skid steer loaders in person. You can also give us a call at 800.628.6025 or contact us online for more information.