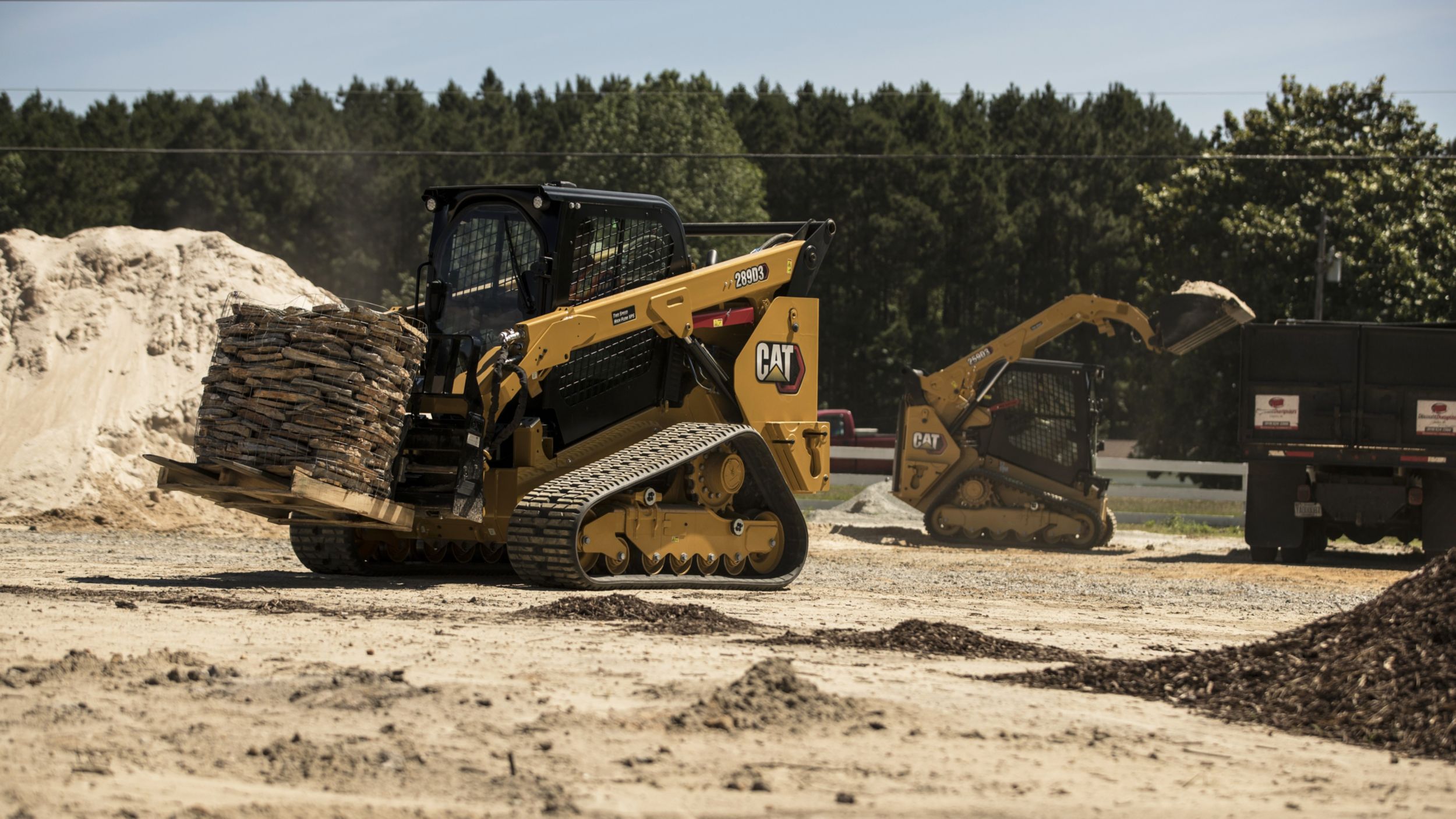 Compact Track Loaders
>
>
>

Compact Track Loaders
Caterpillar®, the world's leading heavy equipmentinnovator for nearly a century, produces the most dependable, hardest-working compact track loaders and multi-terrain loaders on the planet. They're built to traverse the most challenging underfoot conditions with speed and efficiency. As an authorized Cat® equipment dealer in Nebraska and Pottawattamie County, Iowa, NMC Cat is the region's one-stop headquarters for the latest, greatest CTLs and MTLs that roll off the Caterpillar assembly line.
Cat Compact Track Loaders Are Up to the Challenge
Cat CTLs combine steel-embedded tracks and undercarriage components with the nimbleness of a skid steer. The Cat CTL lineup consists of a variety of models and engine configurations, including several turbo-charged options.
These brand-new versions also include a host of advanced features, such as sealed and pressurized cabs that provide a clean, quiet operating environment and high-performance powertrains that ensure maximum production capacity. Ground-level access makes servicing the undercarriage and other vital components a breeze.
A COMPLETE INVENTORY OF COMPACT TRACK LOADERS FOR SALE
If you're from Nebraska or Pottawattamie County, Iowa, NMC Cat is the best place to buy Cat compact track loaders. As the authorized Cat dealership for the region, you'll be sure to find the state-of-the-art machinery you need in stock at a convenient location. We're proud to sell the all-new Cat D Series including the Cat 259D, 279D, 289D, 299D and 299D XHP compact track loaders.
When you buy a compact track loader from NMC Cat, you get the legendary power, reliability and durability you have come to expect from a Cat machine. The key benefits and features include:
The most comfortable cab in its class featuring a cleaner, quieter and easier-to-operate work space
High performance power trains capable of boosting performance and production
Smart technology and a range of work tools with the versatility to handle any application
An advanced display system that helps operators master machine capabilities and control
Ground level access to key maintenance points for easy, more effective upkeep
Learn more about our compact track loaders for sale in Nebraska and Pottawattamie County, Iowa. Contact NMC Cat or visit the location nearest you today!
DURABLE CONSTRUCTION AND MAXIMUM PRODUCTION — CAT® COMPACT TRACK LOADERS TACKLE APPLICATIONS NOT SUITED FOR A MULTI TERRAIN LOADER.
NMC Cat's compact track loaders for sale are fitted with steel-embedded tracks and steel undercarriage components built to last and perform in the most rugged underfoot conditions. Available in a range of models that are purpose-built to meet your unique needs, these versatile machines prove that big things can come in small packages.
Cat Multi-Terrain Loaders
Cat MTLs feature lower ground pressure, enabling them to work in places that are "off limits" to CTLs. Models are available that offer a net power capacity of up to 106 hp, ensuring there is plenty of muscle for the task at hand. You'll also get many of the same features available with the CTLs, such as spacious cabs, an advanced display for easy on-screen adjustments, and the Speed Sensitive Ride Control system that provides a smooth and comfortable ride for the operator.
Both the CTL and MTL are compatible with a wide variety of work tool attachments that will make your machine even more versatile and valuable. By adding augers, backhoes, blades, mulchers, hammers or any of the other available options, your CTL or MTL can do the work of many machines.
CAT MULTI TERRAIN LOADER FEATURES
When you buy a Cat multi terrain loader, you'll benefit from:
Superior ride quality with low ground pressure
Outstanding digging performance and draw power
Stability to perform in a variety of underfoot conditions
Extended reach and lift heights
High performance standard suspended undercarriage system
Advanced displays and accessible service/maintenance points
NMC Cat carries the complete inventory of multi terrain loaders for sale that Nebraska and Pottawattamie County Iowa, area businesses rely on to get the job done. Whether you require the nimble 247B Series 3, a mid-range 257D or a turbo-charged Cat C3.3B DIT 277D and 287D model, we have you covered.
We have locations from Scottsbluff, NE, to North Platte, NE and onto Doniphan, Lincoln, Norfolk and Omaha, NE, as well as Council Bluff, IA. Contact our team today for more information on Cat multi terrain loaders — machines that are capable of boosting your productivity and reducing the cost of doing business.
IMPRESSIVE PERFORMANCE IN CHALLENGING ENVIRONMENTS AND THE VERSATILITY TO TACKLE COUNTLESS APPLICATIONS — IT'S GOT TO BE A CAT® MACHINE!
When you buy Cat multi terrain loaders, you'll receive a cutting-edge machine designed and built to withstand the most rugged work sites. Our Cat multi terrain loaders for sale are the perfect combination of versatility and toughness, providing the traction and floatation of a tracked vehicle in a compact package. Whether you work in commercial construction, landscaping, farming or any other industries, a multi terrain loader is an essential tool for unlocking the full potential of your operation.
NMC Cat Is a Full-Service Equipment Dealer You Can Trust
NMC has been providing cost-effective heavy equipment solutions to companies like yours throughout the region since 1938. Our expert sales team can help you determine whether a compact track loader or a multi-terrain loader is the better choice for your job site applications.
We can also help you find the right model for your needs and budget. And we'll be there to keep your machine on the job for years to come. Whether you need replacement parts, preventive maintenance or reliable repair service, you won't have to look anywhere else.