Linkage Pins and Bearings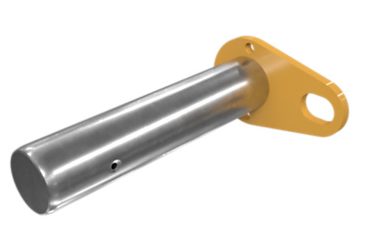 Linkage pins and bearings are vital to your machine's operation. You need durable and reliable options, which is why Cat® products are an excellent choice. Learn more about the different linkage pins and bearings available and why you should order through NMC Cat.
Types of Linkage Pins and Bearings
NMC Cat is proud to offer many types of linkage pins, assemblies and bearings for your equipment. Our inventory includes:
Linkage pin: Linkage pins have a critical place in your machinery, supporting the rotational movement between frames, work tools and linkages. They are found anywhere on the machine where rotation occurs between two structures. We carry many types of Cat pins, including cartridge, clevis, collet, cross hole, flag, headed and straight.
Sleeve bearing (bushing): Sleeve bearings are also part of the linkage system and facilitate rotational functions. However, these are most commonly found in a machine's arms or buckets. Our sleeve bearings come in many bore diameters, groove widths, thicknesses, rod diameters and inside diameter sizes.
Pin assembly: You can also get a new pin assembly from NMC Cat. We have sets for stabilizer pads, boom groups, hydraulic pumps and bearings.
No matter which equipment type you have or what parts you need, our goal is to help you find components quickly so you can get back on the job.
Benefits of Buying From Us
Buying linkage pins and bearings from NMC Cat has many advantages. We provide genuine, high-quality components you can count on to keep your fleet running strong. Additionally, we price all of our parts competitively to make it easier for you to get the components you need at a cost that fits your budget.
When you order Cat parts online through us, you benefit from:
Easy product comparisons: The Parts.Cat.com website makes it simple to compare different linkage and bearing components. You can review details about all of your options and decide which one will work best for your equipment.
Safe online checkout: When you order online, you get a fast, safe way to purchase the products you need. We ensure your data is secure when you buy products through our online portal.
Simple to get support: If you ever have questions about a product or the website itself, you can easily contact our team for further assistance.
Extensive inventory: We have linkage pins and bearing components available for many systems and equipment types. You can look through the full selection of pieces that fit your machine to find the ones that will work best for your application.
When you need replacement and repair parts for your Cat equipment, trust NMC Cat to help you find them quickly while providing comprehensive support.
Find Heavy Equipment Pins and Bushings at NMC Cat
Search for linkage pins and bearings with the NMC Cat online ordering system. We understand how crucial these components are for your equipment, so we offer genuine Cat replacement parts at competitive prices. Businesses and teams throughout Nebraska and Pottawattamie County, Iowa, can rely on us for all things related to heavy equipment.
Browse our linkage pin and bearing inventory online or contact us to learn more.