FINAL DRIVE PARTS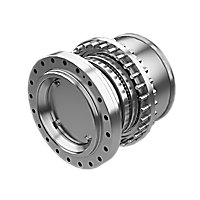 The final drives are an important part of the drive train. They are the components that apply driving force to the wheels or tracks.
The final drives of a track-type tractor differ somewhat, but they perform the same function. They reduce rotating speed and increase torque. The gears are where the greatest torque rise occurs. That allows these components ahead of the final drives to be smaller, saving weight and space.
There are four types of final drives used in Caterpillar machines:
Bull Gear Single Reduction
Bull Gear Double Reduction
Planetary Single Reduction
Planetary Double Reduction
Types of Final Drive Parts
Within the final drive, numerous parts come together to help you operate your equipment. At NMC Cat, we're proud to offer a large variety of these parts, including:
Lining kit: Replace or repair the systems inside your equipment with a lining kit. This set arrives with bolts, nuts, linings and caps.
Cat mount kit: Service your parking brake with a mounting kit that includes seal O-rings, washers, springs, nuts and bolts.
Cat gear kit primary: Get replacement parts for your final drive system in this kit, including the gears and other components.
Cat final drive group (without motor): Help your equipment function efficiently by servicing your final drive group. We have kits available for numerous models.
Roller bearing assembly: Use a roller bearing designed for your machine to help maintain proper alignment.
General-duty final drive: Install these durable parts on small excavators for lighter-duty applications. This final drive is backed by a parts warranty from Caterpillar and works with several excavator models.
Planet gear: Use planet gears inside the planetary gear set of a final drive. Caterpillar designed these gears to extend mating gear life and provide exceptional performance.
Benefits of Choosing NMC Cat for Final Drive Parts
Choosing NMC Cat for your final drive parts has several benefits. We connect you with some of the best final drive products on the market, and we ensure all items are competitively priced. NMC Cat has a user-friendly online ordering platform to help you find and buy what you need. When you shop online with us, you get several benefits, including:
Simple product comparisons: Look at multiple variations of the product you need to compare the benefits, features and compatibility of each.
Secure checkout: Order your final drive parts on our website with the knowledge that our team has taken steps to protect your personal data.
Efficient decision-making: Find the exact products you need on our inventory list and order them without hesitation or hassle.
Buy Final Drive Parts From NMC Cat Today
If all or parts of your final drive are worn and need a replacement, choose NMC Cat as your supplier. We serve Pottawattamie County, Iowa, and all of Nebraska with genuine Cat parts and a skilled service team.
When you visit your nearest NMC Cat location, our equipment experts will discuss your applications with you to help you find what you need. You can also come to us for maintenance and repair services whenever you need assistance.
Browse our final drive parts online today, or feel free to contact us for more information.