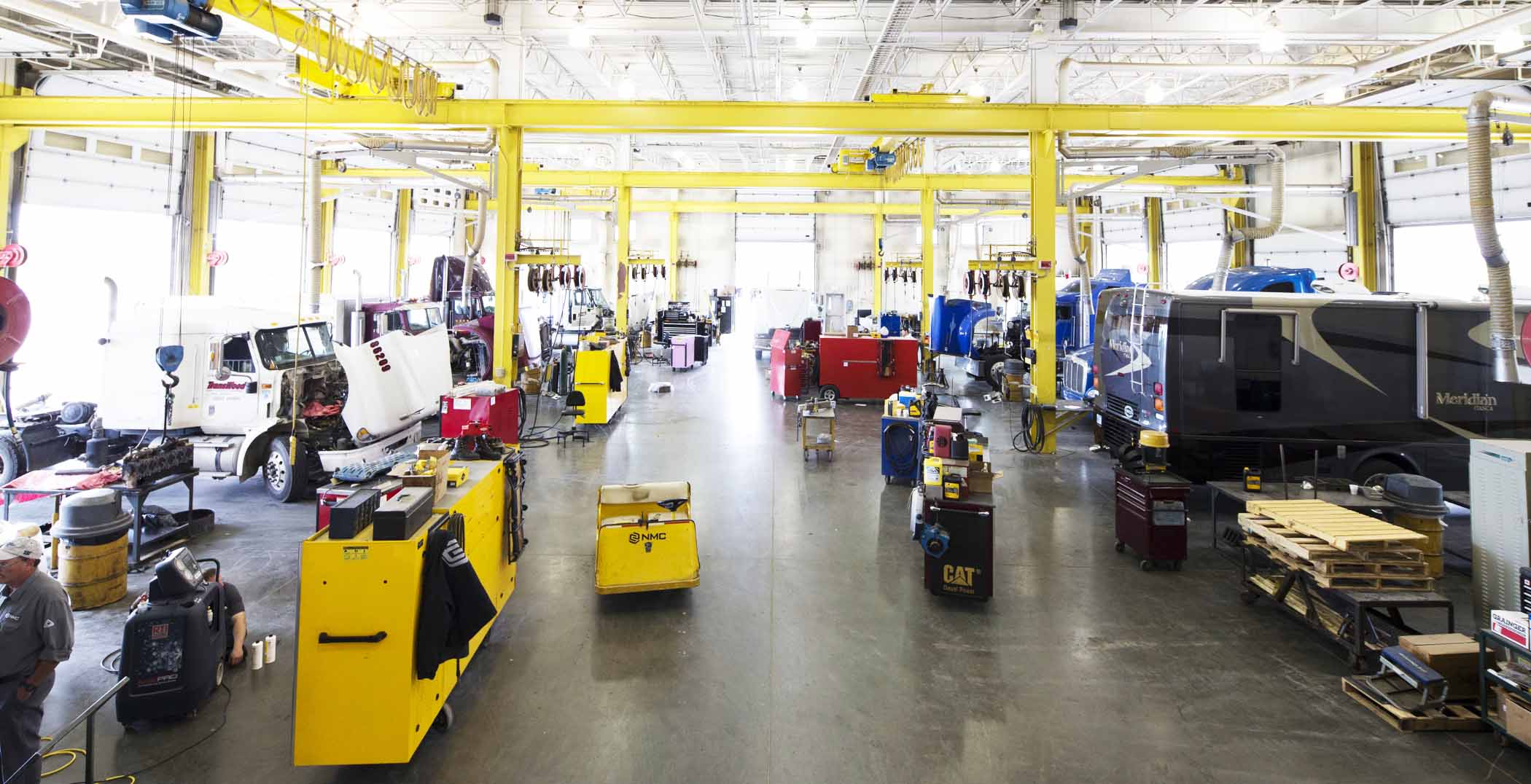 Total Truck Overhaul And Repair
>
>
>
Total Truck Overhaul And Repair
TOTAL TRUCK OVERHAUL & REPAIR
Is your truck's diesel engine running rougher than it used to? Are you finding that the vehicle is consuming more fuel and doesn't deliver the same gas mileage as before? Does the vehicle seem sluggish and fail to accelerate as you would expect? Does the engine require more frequent attention, which causes the truck to spend additional time in the repair shop?
These are a few of the many signs that indicate it's time for an engine overhaul. If you operate a vehicle fleet in Omaha or elsewhere in Nebraska, NMC Truck Centers can perform a comprehensive diesel engine overhaul that will have your truck running like new. We have the facilities, equipment and expertise to overhaul engines in all makes and models of commercial trucks, as well as recreational vehicles and buses. Our capabilities include but are not limited to:
Volvo engine repair and service
Engine repair for International trucks
Cummins truck engine repair
Paccar engine service and repair
Detroit Diesel engine repair and service
SCHEDULE YOUR ENGINE REPAIR OR OVERHAUL
WHAT ISSUES CAN A DIESEL ENGINE OVERHAUL ADDRESS?
A complete overhaul can remedy many of the issues that can impede engine performance and shorten its lifespan. Examples include correcting inadequate oil flow to vital engine components that can result in worn bearings, as well as the loss of cylinder compression that limits engine power. An overhaul can also rectify insufficient combustion timing (engine knocking is a typical symptom) and the excessive burning of oil, coolant or fuel caused by worn or damaged piston rings, fuel injectors, head gaskets and other engine parts.
WHEN SHOULD YOU CONSIDER A DIESEL ENGINE OVERHAUL?
While it varies from one model to another, most manufacturers recommend overhauling an engine every seven to 10 years, or every 800,000 to one million miles. If your vehicles operate in challenging road conditions such as stop-and-go city traffic, more frequent overhauling may be required.
Also, performing an overhaul at the first signs of reduced performance or increased fuel consumption can prevent the likelihood of an unexpected mechanical breakdown. An overhaul will provide a more cost-effective alternative to an engine or vehicle replacement or regular basic truck engine repairs, which will have a positive impact on your company's bottom line.
NMC TRUCK CENTERS: AN EXPERIENCED DIESEL ENGINE SERVICES PROVIDER YOU CAN TRUST
Whether you're based in Omaha, Lincoln, North Platte, Norfolk, Doniphan or Scottsbluff, you can count on NMC Truck Centers for expert diesel engine repair and service. We're part of the NMC Group that has been providing superior heavy equipment solutions throughout Nebraska since 1938.
Our team includes well-trained, highly skilled diesel engine technicians who know what it takes to make an engine run like new. If you're a do-it-yourselfer, we also offer complete engine overhaul kits for sale that will make the job so much easier.
CONTACT US TO LEARN MORE ABOUT OUR DIESEL ENGINE OVERHAUL SERVICES
Don't put up with an underperforming diesel engine that is limiting your company's productivity and increasing your fleet maintenance costs. Schedule your overhaul and total truck repair service today. Contact the NMC Truck Centers location near you or give us a call at 1-800-628-6025 today.