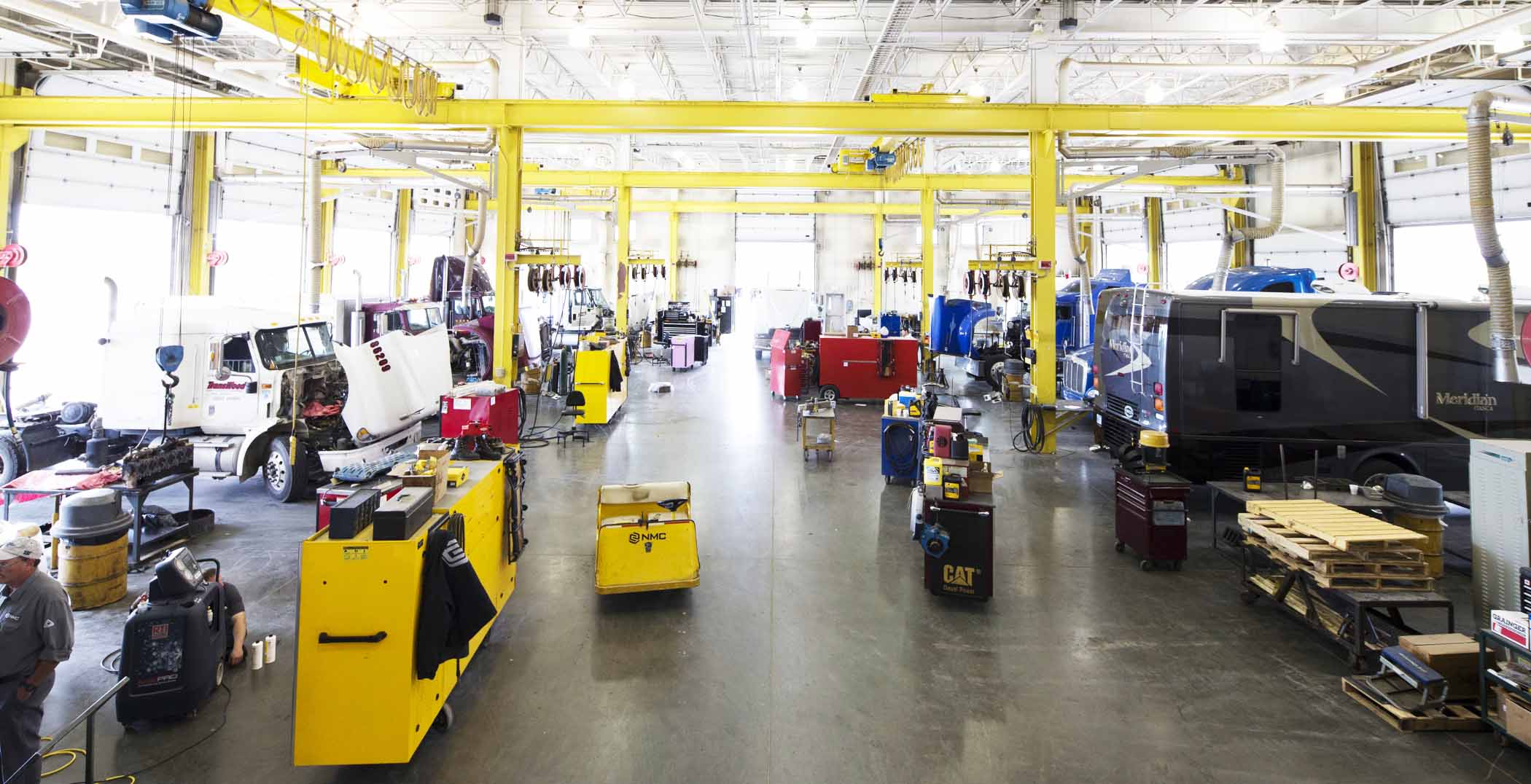 Suspension Parts & Service
>
>
>
Suspension Parts & Service
HEAVY TRUCK SUSPENSION REPAIR
If your commercial truck's ride is a little too rough or bouncy or the tires are wearing out faster than they should, it could be a sign of a damaged or worn suspension system. That's when it's time to take your truck to a nearby NMC Truck Centers location in Nebraska.
We have the local expertise you can count on to handle basic and more complex semi-truck suspension repair jobs quickly and efficiently. We'll make those bumps in the road feel so much smoother and improve the safety of your big vehicles.
SCHEDULE YOUR SUSPENSION SERVICE      CONTACT US FOR SUSPENSION PARTS
COMPLETE HEAVY TRUCK SUSPENSION REPAIR AND MAINTENANCE SOLUTIONS
Our semi-truck suspension services range from routine preventative maintenance to extensive repair work. Each of our six truck centers features advanced diagnostic equipment to identify any suspension issue. Our repair services include bushing replacement, U-bolt bending, spring rebuilding, lift kit installation and much more.
We can also perform "fine-tuning" and complete suspension system installation and replacement. Our staff includes certified repair technicians who can maintain, repair and replace suspension systems for all truck makes and models. We provide our techs with all the tools and resources they need to do the job right.
COMMON SUSPENSION PARTS IN DIESEL TRUCKS
The suspension system in your diesel truck ensures your tires remain in solid contact with the road and wear evenly. This system also provides good handling and steering stability when you are on the road — especially when you are cornering or braking and need good weight transfer.
When a suspension part fails, you'll most likely start to notice uneven tire wear. Your truck will also bounce more, make hard turns and make noise when going over any uneven surfaces or bumps. If you experience any of these signs, turn to the experts at NMC Truck Centers for all the parts and services you need.
Many parts make up the suspension, including:
Shock absorbers: The shock absorbers help keep your truck from bouncing up and down on uneven roads by controlling the spring and suspension movement.
Struts: Struts work with other components to help support your truck's weight, provide support for the assembly and control spring and inspection movement when you are driving.
Springs: The springs both support and help distribute your truck's weight. They also allow you to smoothly travel over any uneven road surfaces. Common springs include coil and leaf springs.
Bushings: Bushings allow your truck to have a pivot point for the rest of the suspension parts. It also functions as a spine saver.
EXPERT SEMI-TRUCK SUSPENSION NEAR YOU
No matter where you are in Nebraska, there's an NMC Truck Centers location near you that's ready to deliver top-notch heavy truck suspension repair work. You'll find us in Doniphan, Lincoln, Omaha, Scottsbluff, North Platte and Norfolk. Contact us online or call us at 1-800-628-6025 to schedule a service appointment today!