Reliable Uninterupted Power Supply
>
>
>
>
Reliable Uninterupted Power Supply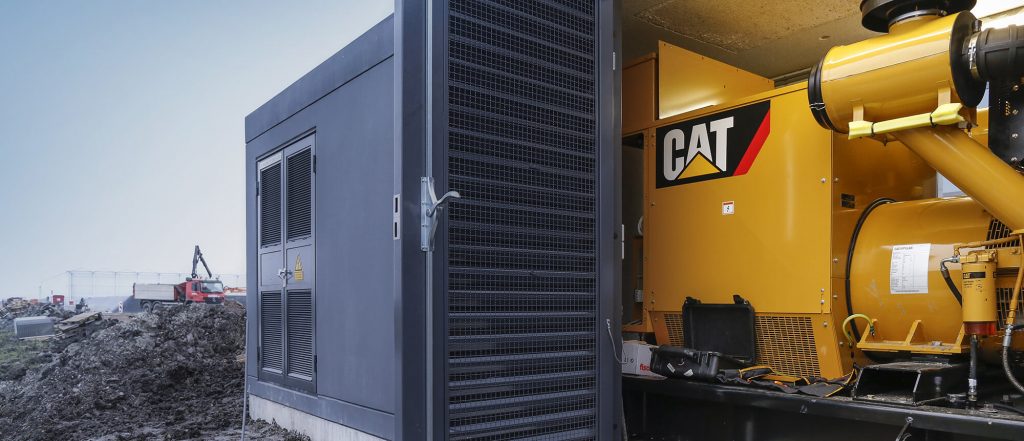 Cat UPS means reliable power protection for critical applications. With up to 97% total system efficiency, minimal upkeep and the lowest operating cost in the industry, the Cat UPS efficiently and reliably protects critical loads from a variety of power problems.
The Cat UPS provides total power conditioning and supports critical loads during the transition period from utility power to stand by power and requires only 1/4 of the floor space of other battery used UPS systems. Multiple unit parallel capability available.
Benefits of Our Cat UPS
UPS systems work to ensure that your critical mechanisms run properly. Some of the top benefits of using a Cat UPS system include:
Energy efficiency: Energy Star-rated UPS systems can reduce energy loss by as much as 55% for a significant savings in your energy costs.
Protection: The unit is designed to detect signs of electrical failures, dips, spikes and other unexpected variations and switch to alternate power to prevent damage.
Continuity: Eliminates power outages to critical equipment such as factory production lines and computers.
Consistency: The electronics within the UPS signal the exact timing for the power to kick in, which prevents surges and glitches and allows enough time to shut other systems down if necessary.
Reliability: The UPS refines the power that enters it and adjusts output so that internal systems receive a clean and reliable power supply.
A UPS system from NMC Cat will provide you with a long-term, highly efficient energy solution that will keep your systems running smoothly while also saving you money on energy costs over the long run.
UPS Maintenance
Uninterrupted power supply systems consist of highly complex technical equipment. To ensure your UPS system runs smoothly, regular preventive maintenance is essential. The frequency of a PM check depends on your system needs and can be anywhere from a few times a year to monthly.
This maintenance must be performed by a highly-trained and experienced UPS technician who can identify problems and provide the necessary services. When you choose NMC Cat, our expert technicians will perform both visual and mechanical inspections to check for issues like loose connections and darkening electrical components. We will also take electrical readings, perform a thermal scan, clean the unit and more.
Battery Testing
The battery is an essential component of your UPS system. Our technicians will thoroughly test your batteries at every maintenance inspection to look for things like bad connections, internal breakdown, external corrosion and more. This capacity testing is the only accurate way to evaluate how well your battery backup system will be able to function in the event of a power outage.
We use highly advanced, computerized test equipment to determine the electronic performance of your system and provide a detailed analysis.
By performing battery capacity testing, we can:
Use data analysis of the batteries.
Provide reliable backup power.
Locate any faulty inner-cell connectors and weak cells.
Protect critical services and equipment.
At NMC Cat, we understand the importance of preventive maintenance and battery capacity testing for your UPS system, and we have the know-how to keep your unit running reliably at peak performance.
Why Choose NMC Cat?
When you buy from NMC Cat, we will provide you with the best products and services available. Some of the benefits of working with us include:
High-quality equipment
Expert technical support
Proactive maintenance
Factory-trained technicians
Battery system testing
On-site response
Environmental inspection
And more
If you have any questions or would like more information about our UPS systems and services, visit us at any of our in-store locations or complete our online contact form and we will get back to you as soon as possible.