MINI EXCAVATORS for Sale
>
MINI EXCAVATORS for Sale
THERE'S NOTHING SMALL ABOUT THE PRODUCTION OF A CAT MINI EXCAVATOR.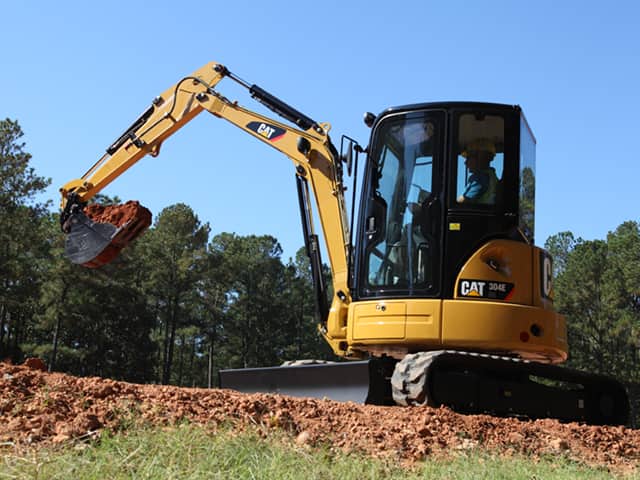 Whether you're digging, demolishing or transporting material, no other excavator gets the job done like a Cat® machine. Our extensive line of mini excavators for sale offers high performance in a range of models configured to tackle your specific applications.
When you need to find a new Cat mini excavator for sale, NMC Cat offers an extensive inventory to handle your requirements. As an authorized dealership, we're your go-to source to buy Cat mini excavators in the region. We carry all the new mini excavators in Nebraska and Pottawattamie County, Iowa, for businesses that need to get the job done right. With stores in Council Bluffs, IA, Doniphan, NE and five other convenient locations across the territory, you'll never have to travel far to find the machines you need at a competitive price.
Why Buy a Cat Mini Excavator?
If you're looking for a mini excavator in Nebraska to handle demanding applications while conserving space with a compact design, NMC Cat has dependable product options for you.
When you invest in a Cat mini excavator, you'll experience many working advantages, including:
Superior digging depth: Get the job done with increased digging capabilities that let you handle deeper excavating applications.
Industry-leading power: When you need equipment that's tough enough to handle your most demanding jobs, you can depend on a Cat mini excavator.
Greater reach and lift capacity: With your equipment's increased reach and lifting abilities, you'll be able to maximize efficiency and do more in less time.
Higher breakout force: Cat mini excavators boast exceptional breakout force for their size, yielding better digging and lifting capabilities to handle any application at the work site.
Additional swing torque: With added swing torque, your mini excavator will move more quickly, letting you complete tasks faster and boost your productivity.
THE BEST PLACE TO BUY CAT MINI EXCAVATORS
NMC Cat offers Cat machines capable of boosting productivity and helping your business operate more efficiently. With 12 unique models in our inventory, we'll help you find the machine that is best-suited to your specific environment.
The Cat 300 mini excavator family includes a variety of features. You'll benefit from:
The versatility to thrive in a variety of work settings
Genuine Cat power and lasting performance
Spacious cabin and ergonomic controls
Quick and easy access to maintenance and service points
Trust NMC Cat for Your Equipment Needs
Since our founding eight decades ago, we've been a business committed to providing trusted solutions for our clients. When you work with us, you can have confidence that you'll get dependable machines, attachments and services. From our client support to our extensive inventory, we offer the resources you need to find the best new Cat mini excavator for sale and keep it running strong.
Choose NMC Cat to gain a wide range of advantages for your operations:
Experienced team: When you need sales support, information on our available equipment or maintenance on your mini excavator, our highly experienced crew is here to help.
Quick delivery: We understand that your time is valuable, so we provide fast delivery to get your new excavator to your work site as soon as possible.
Competitive equipment prices: At NMC Cat, we offer trusted excavators at a competitive price point that delivers long-term investment value for your operations.
When you're searching for a reliable source of Cat mini excavators for sale, Nebraska and Pottawattamie County, Iowa businesses trust NMC Cat.