>
>
>
What to Know Before Renting an Excavator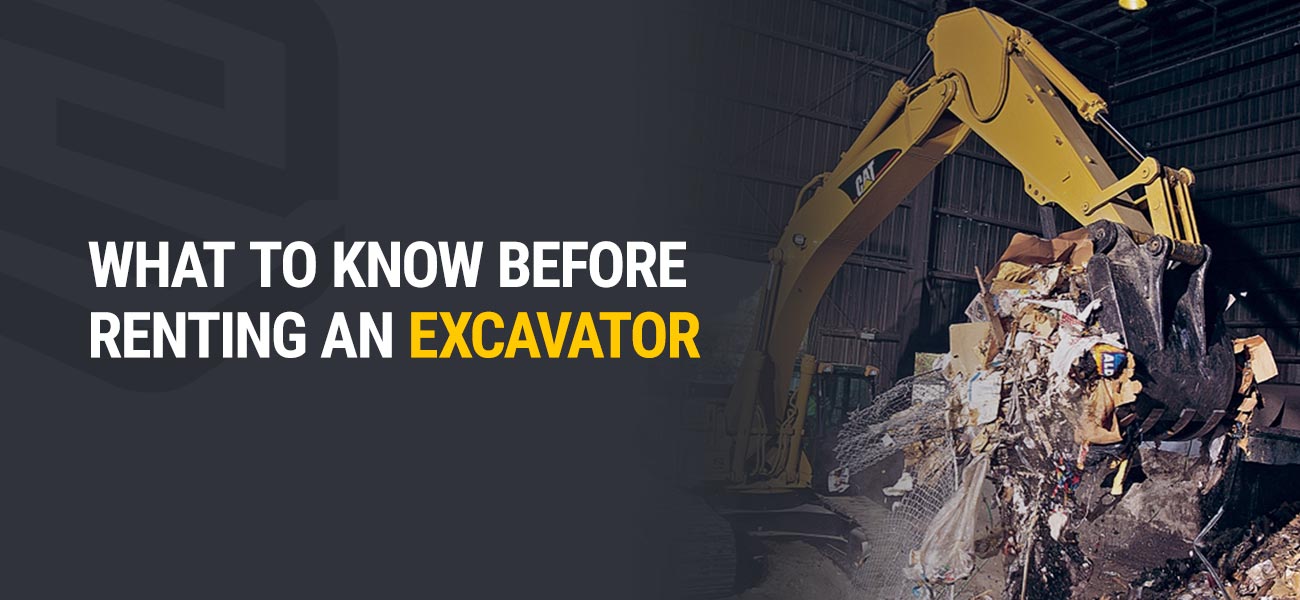 What to Know Before Renting an Excavator
Category: Equipment and Solutions
Whether your business is not in the position to buy its own excavator or you are seeking one for a particular job, renting is a great option. However, there are some factors you should take into consideration before committing to a rental.
Learn more about renting an excavator and finding the best-suited option for your job.
What to Consider When Renting an Excavator
When looking to rent a piece of heavy equipment like an excavator, there are a few different factors to consider to ensure you choose the right one, including the following:
Job Site Conditions and Materials
One of the most important factors to consider is what the conditions are like on the job site where your business is working. You'll need to account for the space you have and the type of environment you're operating in.
You'll also want to identify what kinds of materials you'll be digging and carrying with the excavator. The density of these materials will indicate what kind of attachment you'll need and what size excavator to choose.
Excavator Size
When renting an excavator, you'll need to identify what size will suit your application best. There are various sizes to pick from. Most construction jobs will require a medium- or large-sized machine for efficiency.
Ask yourself what you need in terms of the following factors:
Reach
Dump height
Maximum digging depth
These characteristics will impact your productivity and ability to get a job done effectively, so it is important to assess your needs.
Attachments
You will also need to consider what additional attachments you need for your rental excavator to boost efficiency and diversify the machine's applications. There are various types of excavator attachments, such as:
Buckets
Hammers
Couplers
Grapples
Rakes
Multi-processors
Thumbs
Whether you need to break up concrete or clear brush, there are attachment options for many diverse jobs.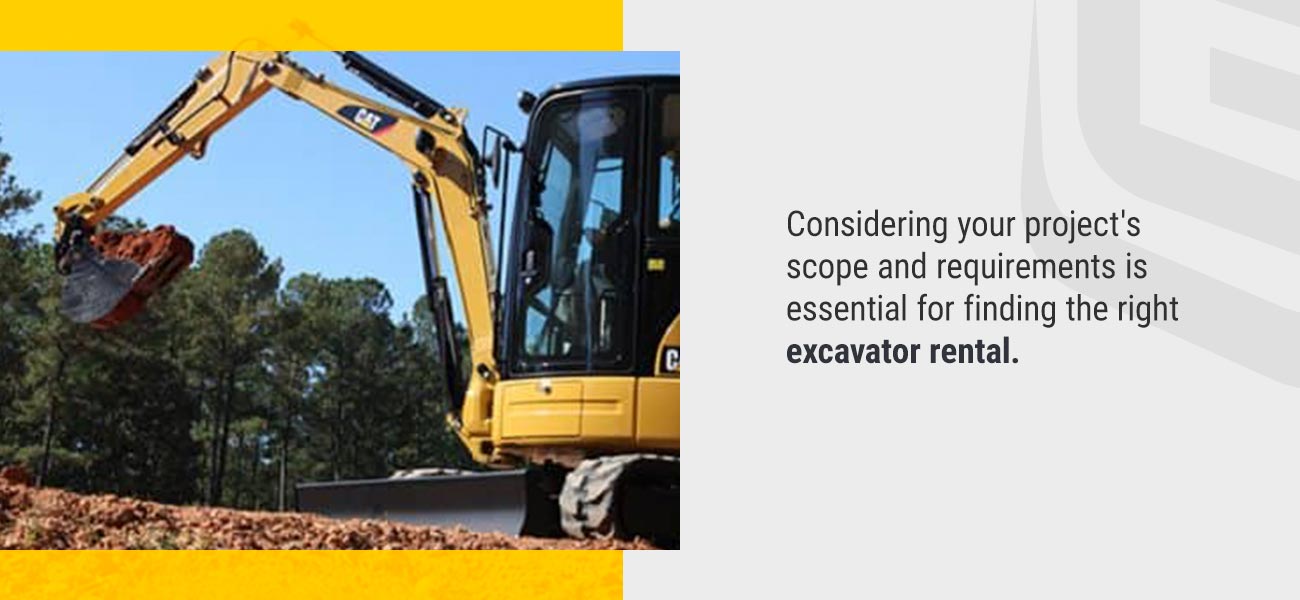 Project Scope and Time Frame
Considering your project's scope and requirements is essential for finding the right excavator rental.
Be sure to know the exact time frame of the project and when you need the equipment — the more details you have regarding your job site and project, the better. This information will help you make an informed decision and can keep your project on schedule.
Benefits of Renting an Excavator
Renting an excavator can be very advantageous for businesses. Here are some of the most significant benefits:
Less downtime: When your equipment breaks down, your business can suffer major losses. You've got to deal with downtime for maintenance while still paying your workers for their time, and these losses can add up quickly. With rental equipment, the dealer can help promptly resolve the problem and minimize downtime.
No upfront investment: The upfront costs of buying equipment can tie up your business's funds and bar you from bidding on new projects. When you rent an excavator, you forgo this expensive investment.
No long-term storage: One of the greatest benefits of renting an excavator is not needing to find a long-term storage solution. Your business can save storage space and expenses by choosing to rent.
Fewer maintenance worries: When you buy a piece of heavy equipment, you must adhere to the maintenance schedule and promptly address any damaged parts. Renting allows you to hand these responsibilities over to the dealer instead.
Easy transportation: Since you cannot drive excavators to job sites like other machines, transportation can be very tricky. Luckily, you don't have the hassle of coordinating transportation when you rent.
Access to versatile attachments: Another awesome benefit of renting an excavator is having access to a range of attachments.
Latest models: By choosing to rent instead of buy, you can have the option of getting the newest model whenever you need it. When you purchase an excavator, you're stuck with that technology until you invest in a new model.
Avoiding depreciation costs: If you buy an excavator, it will immediately begin to lose value. As you use your machine, its value will continue to decrease. By going with a rental, you can avoid these losses entirely.
Tips for Renting an Excavator for Your Project
If you want to rent construction equipment like an excavator for your next project, there are a few tips that could make finding the right machine easier.
The first tip is to review your attachment needs before renting. Consider all the applications you'll be using the excavator for, and make sure you have all the tools for the job.
The second tip is to perform an inspection of the equipment before you rent it. Giving the equipment a look can help you flag any maintenance needs that the dealer should address prior to delivery. It also allows you to identify any pre-existing damage you wouldn't want to be liable for.
Tips for Renting a Medium-Sized Excavator
If you want to rent a medium-sized excavator, we've compiled a couple of tips specifically for these machines.
To ensure you have the right size equipment for your application, consider testing it out before committing to the rental. This can help you decide if you need a larger scale model or if the medium-sized option will suffice.
Don't be afraid to ask a lot of questions when you are considering renting an excavator. The more information you have about the equipment, the more informed you will be about which piece of equipment and what attachments are best.
Now let's get into the large excavator rental tips.
Tips for Renting a Heavy-Duty Excavator
If you want for a large-sized machine, we've got some heavy-duty excavator rental tips to help you out.
Firstly, it is imperative that you explore your job site before committing to a piece of rental equipment. Be sure there is enough room for the machine to maneuver around without issue, especially if you are looking to rent a heavy-duty model.
Another tip for renting a large-sized excavator is accounting for a little extra time to get familiar with its controls. Doing so will help to ensure your operator is comfortable driving the machine throughout your job site. Even as little time as 45 minutes to an hour can give your team the time they need to get acclimated with the equipment.
Turn to NMC The Cat® Rental Store for Excavator Rentals
NMC The Cat® Rental Store is here to help your business find reliable, quality rental equipment. In addition to offering a large inventory of rental excavators, we also have a variety of other construction equipment, ranging from track loaders to motor graders. We have 16 locations and offer convenient online browsing, so you never have to travel far to find the equipment you need.
Are you interested in learning more about our rental services? Contact NMC The Cat Rental Store today!