>
>
>
Reducing Wear on Your Undercarriage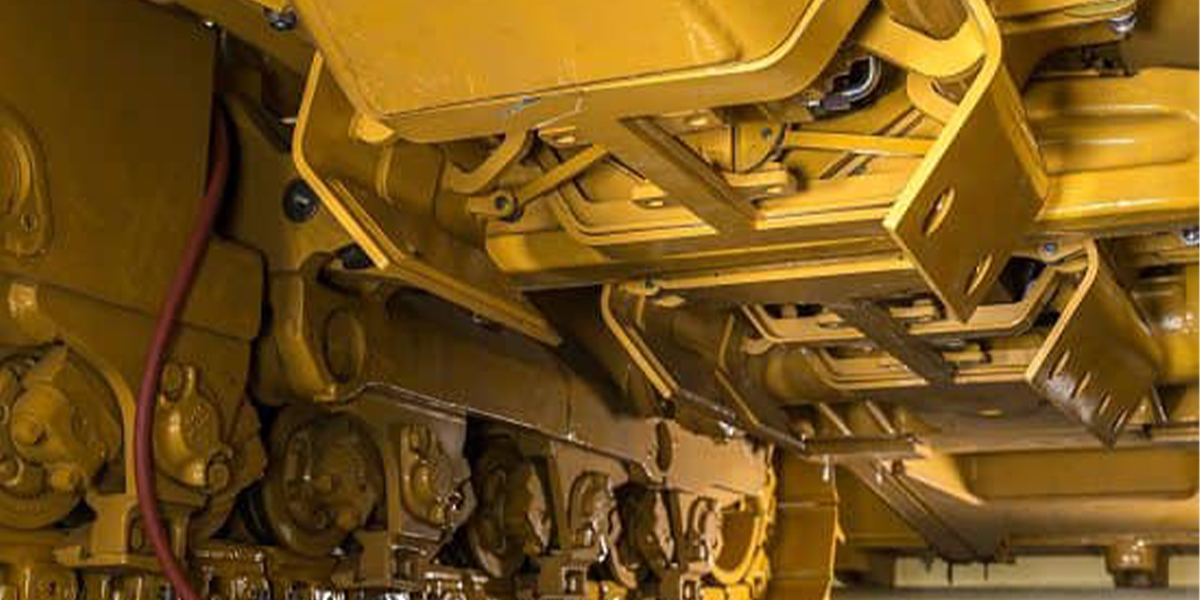 Reducing Wear on Your Undercarriage
Category: Equipment and Solutions
For many types of heavy equipment, caring for the undercarriage is the most significant maintenance expense for owners. Practicing undercarriage preventive maintenance is an efficient way to keep your machines running in optimal condition and capable of standing up to the most rugged applications and environments. While it takes a bit more effort and attention to detail, these undercarriage maintenance tips can help extend its life.
Train your operators
The skill and experience of your drivers play a significant role in reducing wear on the undercarriage. If you're focused on extending the life of your track-type machines, give your employees a course in how to avoid impacts and take precaution to reduce wear. Smart operators know to avoid side-hill positioning that puts stress on components as well as to lower speed based on underfoot conditions. It's the subtle differences in how a machine is used that keep equipment running longer with minimal maintenance and repair costs.
Perform daily inspections
A walkaround check is something that should be a part of every organization's routine and critical to undercarriage preventive maintenance. In addition to looking at the tires, testing hydraulics and performing a variety of other tasks, make sure you're also checking equipment for any signs of damage and cracks on the undercarriage parts. This procedure will help spot issues early and avoid more extensive and costly repairs. Additional red flags include signs of oil leaking or loose hardware and components. Operators should also turn machines on and put them through a series of motions to ensure the undercarriage is in excellent condition before every shift.
Keep your undercarriage clean
For heavy equipment such as dozers and track-type loaders, getting dirty is a part of the job. On the other hand, regular cleaning and maintenance will go a long way toward extending the life of your undercarriage. It's recommended to power wash on a regular basis, and you should always promptly remove any large rocks, mud or debris that get logged between the tracks.
Know your grease points
A well-greased undercarriage is a hallmark of a healthy system. Using the right type and amount of grease keeps bushing on the frames from wearing down and also pushes out dirt from the tracks. Taking the time before getting to work to confirm your undercarriage is lubricated correctly is an essential and often overlooked maintenance tip.
Keep track of tension
The right track tension for an undercarriage varies by the particular model of machine and the ground conditions. Consult your operation and maintenance manual to ensure you are working with the appropriate tension for your applications. Consistently adjusting and testing your tension is one of the best ways to extend the life of your undercarriage. It will also help your machines perform with improved precision and efficiency.
If you want to get the most out of your heavy equipment, focus on reducing the wear on your undercarriage. While you and your team are the first line of defense in keeping your machines healthy, it pays to have a go-to source for maintenance and repairs.
NMC Cat is a local dealer offering a broad range of services for heavy equipment operators throughout Nebraska and the surrounding areas. We provide everything from comprehensive undercarriage preventive maintenance and repairs to complete parts, machine monitoring and fleet management contracts. Visit our machine services page to learn more about our offerings, and contact us online or visit our location in your area to speak with a knowledgeable representative.