.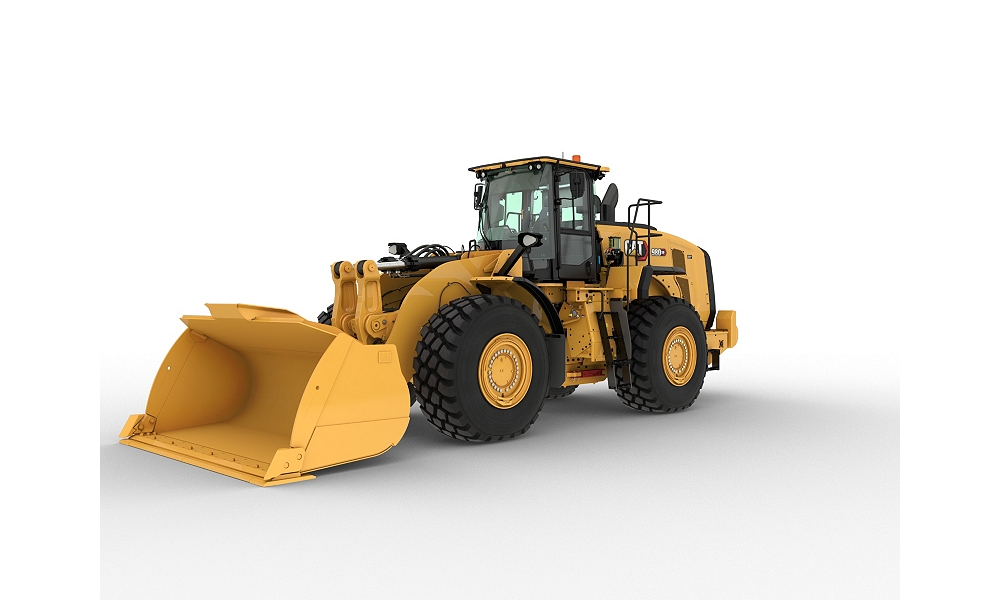 🔍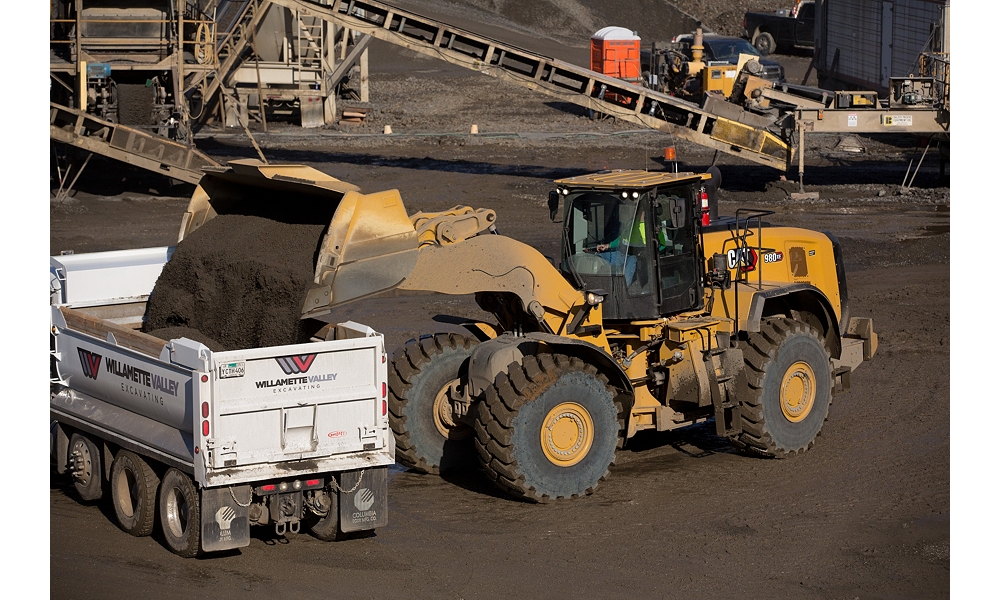 🔍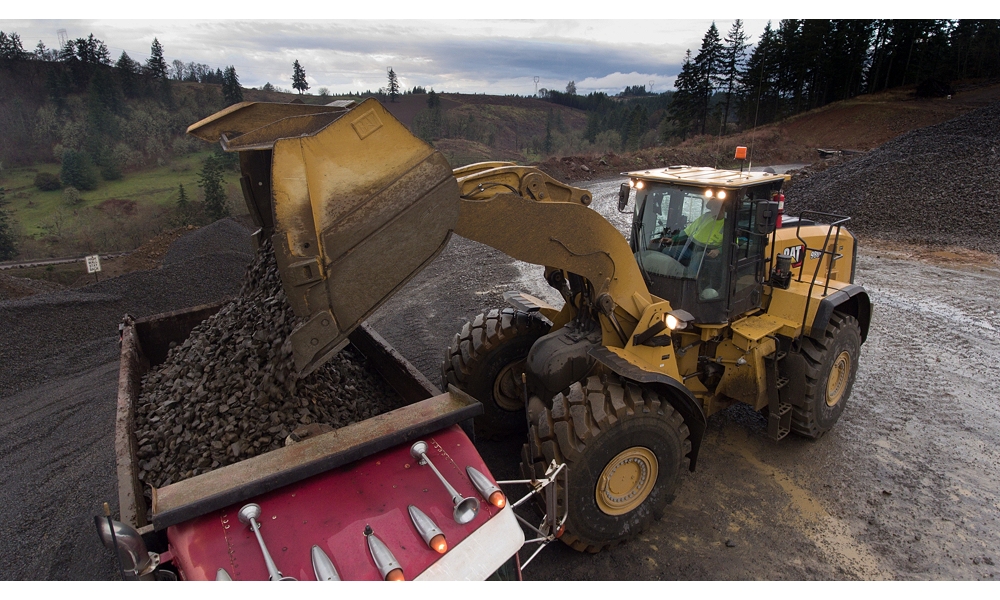 🔍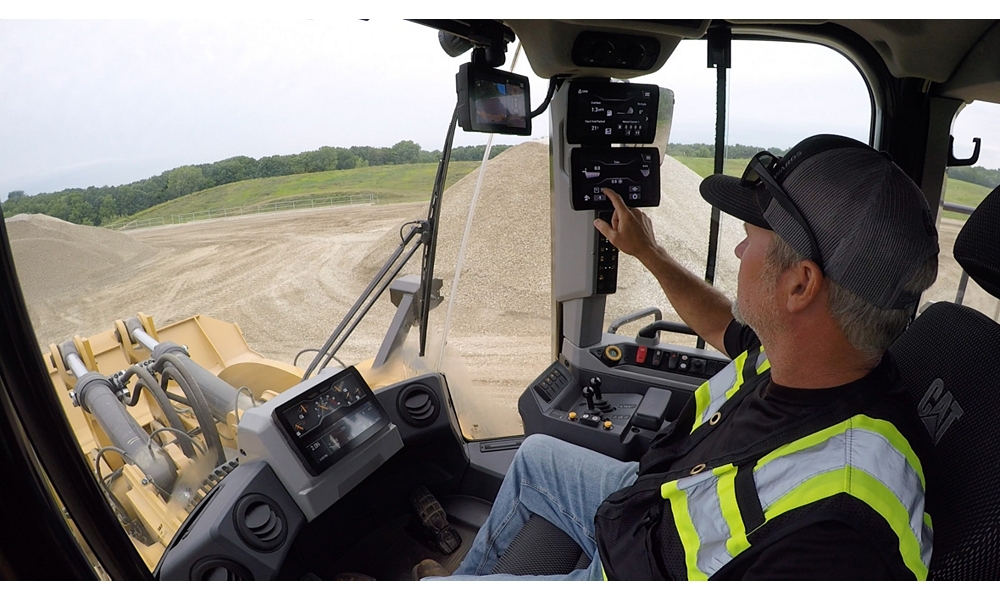 🔍
🔍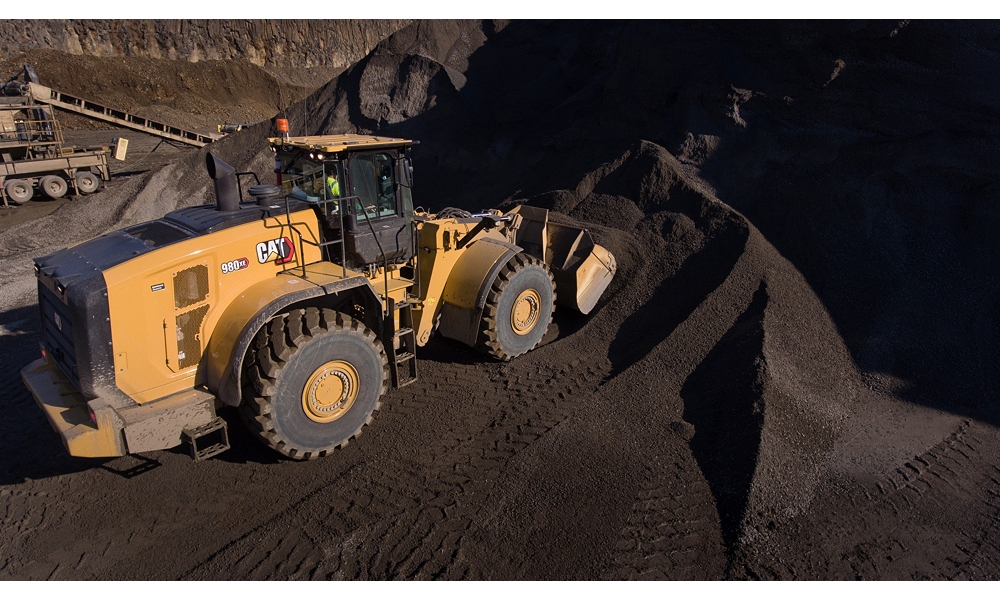 🔍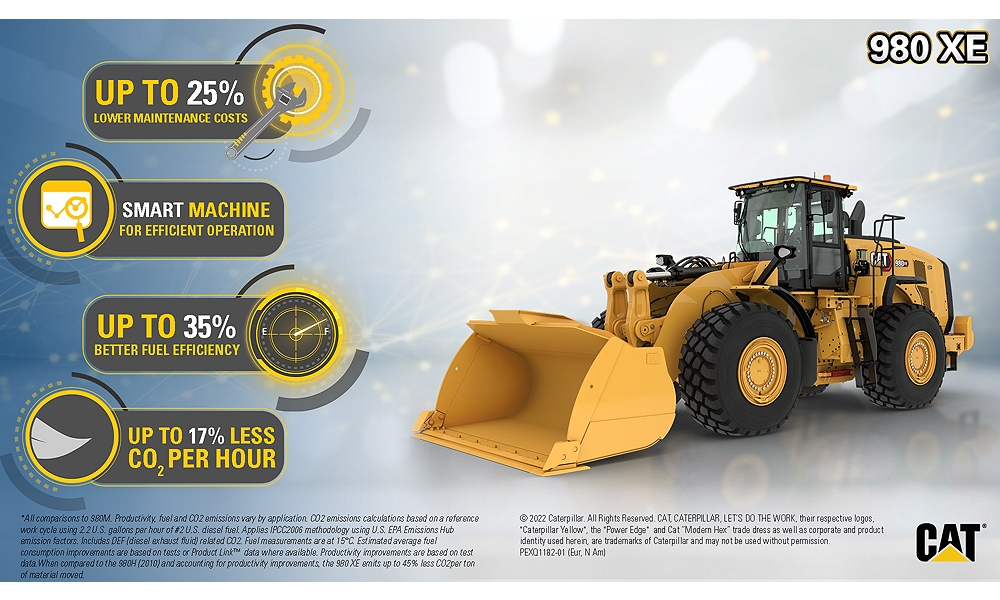 🔍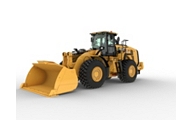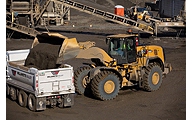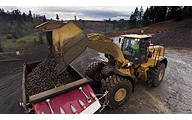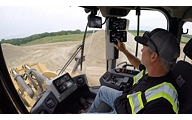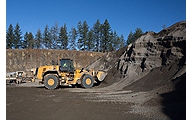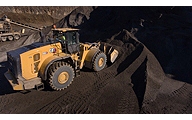 Description
Technical Specifications
Benefits and Features
Equipment
360 View
The Cat® 980 XE Wheel Loader delivers increased fuel efficiency, premium performance with simple-to-use standard technologies to boost operator efficiencies, and lower maintenance costs. This machine is designed to meet emission standards without interrupting operation. Improved performance, reliability, durability, and versatility result in a machine that is better built to meet your needs.
Engine
Net Power @ 1,700 rpm – ISO 9249:2007, SAE J1349:2011
393 HP
Engine Model
Cat C13
Note (2)
The net power advertised is the power available at the flywheel when the engine is equipped with fan, alternator, air cleaner, and aftertreatment.
Note (1)
Cat engine meets U.S. EPA Tier 4 Final and EU Stage V emission standards.
Gross Torque @ 1,200 rpm – SAE J1995:2014
1627 lb/ft
Engine Torque @ 1,200 rpm – ISO 14396:2002
1612 lb/ft
Net Torque @ 1,100 rpm – ISO 9249:2007, SAE J1349:2011
1539 lb/ft
Engine Power @ 1,700 rpm – ISO 14396:2002
420 HP
Gross Power @ 1,700 rpm – SAE J1995:2014
425 HP
Weights
Operating Weight
66877 lb
Note
Weight based on a machine configuration with Bridgestone 29.5R25 VSNT L4 radial tires, full fluids, operator, standard counterweight, ride control cold start, roading fenders, Product Link, open differential axles (front/rear), secondary steering, sound s
Bucket Capacities
Bucket Range
4.0-14.5 m³ 5.25-19 yd³
Transmission
Forward - 1
4.4 mile/h
Forward - 2
8.4 mile/h
Forward - 3
14.9 mile/h
Forward - 4
24.5 mile/h
Note
Maximum travel speed in standard vehicle with empty bucket and standard L4 tires with 935 mm (37 in) roll radius.
Reverse - 1
5 mile/h
Reverse - 2
9.6 mile/h
Reverse - 3
18.3 mile/h
Sound
Note (1)
For machines in European Union countries and in countries that adopt the EU Directives.
Note (2)
European Union Directive 2000/14/EC as amended by 2005/88/EC.
With Cooling Fan Speed at 70% of Maximum Value - Exterior Sound Power Level*
110
With Cooling Fan Speed at 70% of Maximum Value - Operator Sound Pressure Level (ISO 6396:2008)
70 dB(A)
With Cooling Fan Speed at Maximum Speed - Exterior Sound Power Level (ISO 6395:2008)
107 dB(A)
With Cooling Fan Speed at Maximum Speed - Exterior Sound Pressure Level (SAE J88:2013)
75
With Cooling Fan Speed at Maximum Speed - Operator Sound Pressure Level (ISO 6396:2008)
70 dB(A)
Air Conditioning System
Air Conditioning
The air conditioning system on this machine contains the fluorinated greenhouse gas refrigerant R134a (Global Warming Potential = 1430). The system contains 1.9 kg (4.2 lb) of refrigerant which has a CO2 equivalent 2.717 metric tonnes (2.995 tons).
Operating Specifications
Breakout Force
51008 lbf
Note (1)
For a machine configuration as defined under Weight.
Note (2)
Full compliance to ISO 14397-1:2007 Sections 1 thru 6, which requires 2% verification between calculations and testing.
Static Tipping Load - Full 40° Turn - No Tire Deflection
20965 kg
Static Tipping Load - Full 40° Turn - With Tire Deflection
43432 lb
Service Refill Capacities
Cooling System
13.7 gal (US)
Crankcase
9.8 gal (US)
DEF Tank
5.5 gal (US)
Differential - Final Drives - Front
24.3 gal (US)
Differential - Final Drives - Rear
24.3 gal (US)
Fuel Tank
112.5 gal (US)
Hydraulic Tank
40.4 gal (US)
Transmission
20.3 gal (US)
Hydraulic System
Implement System - Maximum Operating Pressure
4975 psi
Hydraulic Cycle Time - Total
10.1 seconds
Dimensions
Note
All dimensions are approximate and based on machine equipped with 5.4 m3 (7.1 yd3) general purpose bucket with BOCE and Bridgestone 29.5R25 VSNT L4 radial tires.
Dimensions - High Lift
Centerline of Rear Axle to Edge of Counterweight
8.9 ft
Centerline of Rear Axle to Hitch
6.3 ft
Ground Clearance
1.5 ft
Height - Top of Exhaust Pipe
12.5 ft
Height - Top of Hood
10.1 ft
Height - Top of ROPS
12.7 ft
Hinge Pin Height at Carry
2.2 ft
Hinge Pin Height at Maximum Lift
15.7 ft
Lift Arm Clearance at Maximum Lift
13.6 ft
Overall Length - Without Bucket
27.5 ft
Tread Width
8 ft
Wheel Base
12.6 ft
Width over Tires (Loaded)
10.9 ft
Dimensions - Standard Lift
Centerline of Rear Axle to Edge of Counterweight
8.7 ft
Centerline of Rear Axle to Hitch
6.3 ft
Ground Clearance
456 mm
Height - Top of Exhaust Pipe
3764 mm
Height - Top of Hood
3064 mm
Height - Top of ROPS
3829 mm
Hinge Pin Height at Carry
2 ft
Hinge Pin Height at Maximum Lift
4554 mm
Lift Arm Clearance at Maximum Lift
3881 mm
Overall Length - Without Bucket
8155 mm
Tread Width
8 ft
Wheel Base
3800 mm
Width over Tires (Loaded)
10.9 ft
Sustainability
Recyclability
98%
Superior Fuel Efficiency
Up to 35% better fuel efficiency compared to previous Cat model.
Deep system integration of the Cat continuously variable transmission, engine, hydraulic, and cooling systems results in significantly increased performance and fuel efficiency.
Eliminating the torque converter allows the capability to control engine rpm and machine speed independently, resulting in efficient digging, fine control, and easy operation.
Lower rated engine speed reduces component wear and operating noise.
Power dense engine burns less fuel by providing power and torque when needed.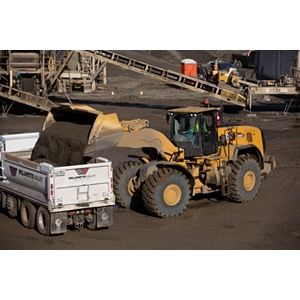 Achieve Greater Productivity
Continuously variable transmission delivers smooth, fast acceleration and speed on grade.
Machine maneuvering on grade is made easy with speed-hold and anti-rollback.
Integrated continuously variable transmission provides maximum, steady power at optimal speeds.
Advanced rimpull control for best loading efficiency in the pile and tire wear reduction.
New Autodig with Auto Set Tires for consistent high bucket fill factors.
Application Profiles optimize machine settings for different applications at one push of a button.
Job Aids help operators improve and optimize their operating skills.
Performance Series Buckets utilize a system-based approach to balance bucket shape against the machine's linkage, resulting in higher fill factors and better material retention when compared with other buckets of the same rated capacity.
Automatic engine idle shutdown system significantly reduces idle time, overall operating hours, and fuel consumption.
Dual ride control accumulator system enables a wide payload range and better ride quality.
Optional limited slip differentials increase traction and reduce tire slip, lowering operating costs.
Optional aggregate handler configuration offers higher payload capability for loose aggregate handling.** **Optional configurations and equipment may vary from region to region and require conformance to Caterpillar payload policy. Consult your dealer or Caterpillar representative for details.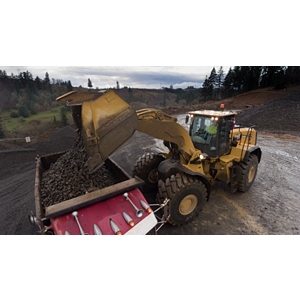 Smart Machine for Efficient Operation
Standard Cat technologies to monitor, manage, and enhance your jobsite operations.
-Cat Payload with Assist provides accurate weighing*** of the bucket payloads. Data is displayed in real time to improve productivity and loading accuracy with manual tip-off.
-Product Link™ wirelessly connects the machine to the office, giving you access to production and essential health information needed to make timely, fact-based decisions to help you better run your business.
-New Autodig allows the operator to fully automate bucket loading to improve fill factors and loading time.
-Auto Set Tires promotes proper loading technique, significantly reducing tire slip and tire wear.
-Onboard Job Aids and Operator Controls Help to ease operation.
Optional Cat Advanced Payload with Assist:
-Tip Off Assist automatizes load of the final bucket to match hauling unit target.
-Enhanced lists management, site integration, and extended scale features to help manage and improve productivity and profitability of operations.
Optional Cat Productivity subscription provides detailed and comprehensive actionable information to help you manage and improve the productivity and profitability of your operations.
***Not legal for trade.
Proven Reliability
Cat C13 engine offers high power density with a combination of proven electronics, fuel, and air systems.
Equipped with automatic Cat regeneration system, Cat Clean Emissions Module (CEM) with Diesel Particulate Filter (DPF), and Diesel Exhaust Fluid (DEF) tank and pump.
Features an electric fuel priming pump, fuel-water separator, and secondary filtration system.
Thorough component design and machine validation processes result in unmatched reliability and uptime.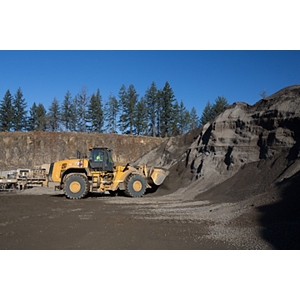 Safety Features
Rear-vision camera enhances visibility behind the machine, helping you work safely and confidently.
Optional 360˚ vision system helps the operator monitor the surroundings of the machine at all times.
Optional Cat Detect radar technology enhances awareness by monitoring the working environment and alerts operators to hazards.
Cab access with wide door, optional remote door opening, and stair-like steps add solid stability.
Floor-to-ceiling windshield, large mirrors with integrated spot mirrors, and rear-vision camera provide industry leading all-around visibility.
Computerized monitoring system includes several warning indicators.
Monitored seat belt is standard and can be enhanced with an optional exterior indicator.
Optional access light and under-hood service light system to provide illuminated access to the machine and daily checks even in the dark.
Reduced Maintenance Time & Costs
Extended fluid and filter change intervals reduce maintenance costs by up to 20%.*
Convenient access to hydraulic and electrical service centers for easy and safe servicing.
Remote Troubleshoot can connect the machine to the dealer service department to help diagnose problems quickly so you can get back to work.
Remote Flash works around your schedule to ensure your machine's software is up to date for optimal performance.
The Cat App helps you manage fleet location, hours, and maintenance schedules; it also alerts you for required maintenance and allows you to request service from your local Cat dealer.
Integrated Autolube extends component and service life.
One-piece tilting hood makes engine compartment access fast and easy.
With Fusion™ Quick Coupler, buckets can be changed without leaving the cab, allowing the machine to quickly move from task to task.
*Parts and fluids only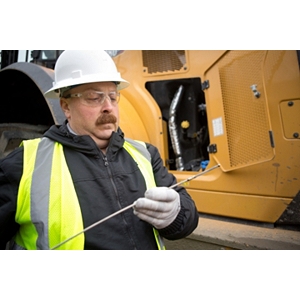 Durability
Heavy-duty axles designed to handle extreme applications.
Full-flow hydraulic filtration system with additional kidney-loop filtration improves hydraulic system reliability and component life.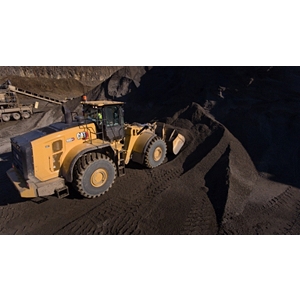 Work in Comfort in the All New Cab
Next-generation, easily adjustable seat and suspension for improved operator comfort. It comes in three trim levels and can be equipped with a 4-point harness.
Increased legroom and adjustable seat controls for increased comfort and efficiency.
Automatic air conditioning system keeps the cab cool as desired.
New in-cab dashboard and high-resolution touch display(s) are easy to use, intuitive, and user friendly.
Sound suppression, seals, and viscous cab mounts decrease noise and vibration for a quieter work environment.
The seat-mounted electro-hydraulic joystick steering system provides precision control and dramatically reduces arm fatigue, resulting in excellent comfort and accuracy. An HMU steering wheel is also available.
The next generation of ride control works as a shock absorber, improving ride quality over rough terrain.
Inclined steps and convenient grab handles ease accessibility to the operating space.
Extended windows enhance visibility, while convex and spot mirrors extend the driver's view on the sides and rear.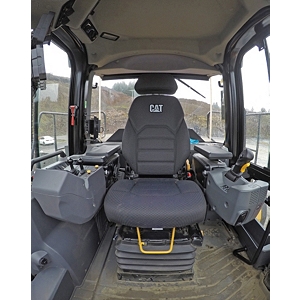 Purpose-built Specialty Configurations
Application-specific arrangements direct from the factory for optimized performance and added durability in the toughest applications, including:
– Industrial and waste models feature guarding and reinforcement necessary for work in transfer stations, recycling depots, scrap yards, and demolition sites.
– Forestry model increases lift and tilt capacities for efficient and productive log and chip handling in paper, pellet, and sawmills.
– Steel mill model is designed for the challenging work environment of steel mills and slag handling applications, incorporating an added level of safety.
– Block handler model is built with the strength and stability to get the work done in block quarries.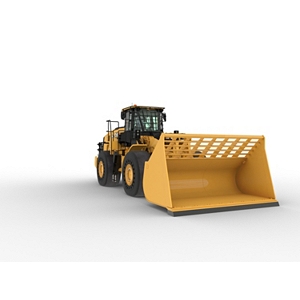 Sustainability
The Cat® C13 engine meets U.S. EPA Tier 4 Final and EU Stage V emission standards.
The 980 XE emits up to 17% less CO2 than the previous 980M*.
Cat diesel engines are required to use ULSD (ultra-low sulfur diesel fuel with 15 ppm of sulfur or less) or ULSD blended with the following lower-carbon intensity fuels up to: 20% biodiesel FAME (fatty acid methyl ester) ** or 100% renewable diesel, HVO (hydrogenated vegetable oil) and GTL (gas-to-liquid) fuels. Refer to guidelines for successful application. Please consult your Cat dealer or "Caterpillar Machine Fluids Recommendations" (SEBU6250) for details.
The Cat® clean emissions module includes Diesel Particulate Filter (DPF), Diesel Oxidation Catalyst (DOC), and Selective Catalytic Reduction (SCR) technologies to reduce the engine's emissions.
Engine Idle Shutdown Timer reduces fuel burn, greenhouse gas emissions and unnecessary idle time by shutting down the machine after a pre-set idling period.
Autodig helps you work more efficiently and productively and reduce fuel burn, greenhouse gas emissions, machine wear and operator fatigue.
Auto Set Tires reduce tire wear and lowers fuel burn and greenhouse gas emissions.
Extended maintenance intervals not only reduce downtime but decrease the amount of fluid and filters that are replaced over the life of the machine.
Rear Object Detection for the 980 XE helps enhance job site safety and blind spot awareness when operating in reverse.
Cat® Payload technology maximizes loading efficiency, helping operators of every skill level work more accurately to reduce load time, fuel costs and greenhouse gas emissions. Upgrade to Advanced Payload for expanded features and capabilities that can further increase operator efficiency and accuracy.
Cat VisionLink® displays the CO2 emissions for monitored assets, calculated by fuel type for the Runtime Fuel Burned each day in a selected date range.
Remote Flash minimizes downtime and maintenance time while keeping your asset running with maximum efficiency. Alerts for machine updates are sent virtually from your Cat dealer and updates can be deployed without a dealer technician needing to be onsite.
Remote Troubleshoot decreases maintenance time and keeps your machine running with maximum efficiency by allowing your Cat dealer to virtually test the machine while working. Once a problem is identified, a technician can fix it the first time, saving time and money.
*All comparisons to 980M. Productivity, fuel and CO2 emissions vary by application. CO2 emissions calculations based on a reference work cycle using 2.2 U.S. gallons per hour of #2 U.S. diesel fuel based. Applies IPCC2006 methodology using U.S. EPA Emissions Hub emission factors. Includes DEF (diesel exhaust fluid) related CO2. Fuel measurements are at 15°C. Estimated average fuel consumption improvements are based on tests or Product Link® data where available. Productivity improvements are based on test data. When compared to the 980H (2010) and accounting for productivity improvements, the 980 XE emits up to 45% less CO2 per ton of material moved.
**Engines with no aftertreatment devices can use higher blends, up to 100% biodiesel.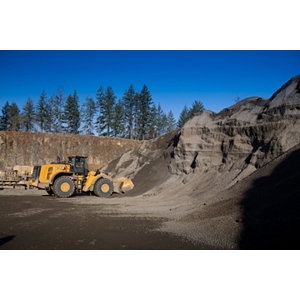 Standard Equipment:
Operator Environment

Cab, pressurized, sound suppression
EH implement controls, parking brake
Steering, joystick
Seat, suede/cloth, air suspension, heated
Touchscreen display
Visibility: mirrors, rear-vision camera
Mirrors, heated
Air conditioner, heater, defroster (auto temp, fan)
Sun visor, front, retractable
Sun visor, rear, retractable
Window cleaning platform, front
Windows, front, safety laminated rounded glass

On-board Technologies

Cat Payload scale
Autodig with Auto Set Tires
Operator ID & machine security
Application Profiles
Job Aids
Controls Help and eOMM

Power Train

Cat C13 engine
Electric fuel priming pump
Fuel-water separator and secondary fuel filter
Engine, air precleaner
Axles, open differentials
Axles, ecology drains
Transmission, continuous variable
Rimpull control
Throttle lock mode
Service brakes, hydraulic, fully enclosed wet disc, wear indicators
Hill and speed hold on grades
Park brake, caliper on front axles, spring applied-pressure released

Hydraulics

Implement system, load sensing with variable displacement piston pump
Steering system, load sensing with dedicated variable displacement piston pump
Ride control, dual accumulators
Oil sampling valves, Cat XT™ hoses

Electrical

Starting and charging system, 24V
Starter, electric, heavy duty
Lights: halogen, 4 work lights, 2 rear-vision lights
Lights: roading with turn signals

Monitoring System

Front dash with analog gauges, LCD display, and warning lights
Primary touchscreen monitor (Cat Payload, quad screens, machine settings & messages)

Linkage

Standard lift, Z-bar
Kickouts: lift and tilt
Optional Equipment:
Operator Environment

Door, remote opening system
Entertainment radio (FM, AM, USB, BT)
Entertainment radio (DAB+)
CB radio ready
Seat, leather/cloth, air suspension, heated/ cooled
360° vision system
Cat Detect rear radar system
Dedicated rearview screen
Windows, front, heavy duty, or full guards

On-board Technologies

Cat Advanced Payload
Cat Payload Printer

Power Train

Turbine, air precleaner
Radiator, high debris
Cooling fan, reversible
Axles, limited slip differential(s)
Axles, AOC ready, extreme temperature seals
Axles, oil cooler

Hydraulics

3rd auxiliary function with ride control
Quick coupler control

Electrical

Cold start, 120V or 240V
Lights: LED
Warning beacon

Monitoring System

Linkage

Additional Equipment

Cat Autolube system
Fenders, extensions or roading
Guards: power train, crankcase, cab, cylinders, rear
Biodegradable hydraulic oil
High-speed oil change system
Fast fill fuel tank
Toolbox
Wheel chocks
Secondary steering system, electrical

Special Configurations

Aggregate handler
Waste and industrial
Forestry, logger