.
🔍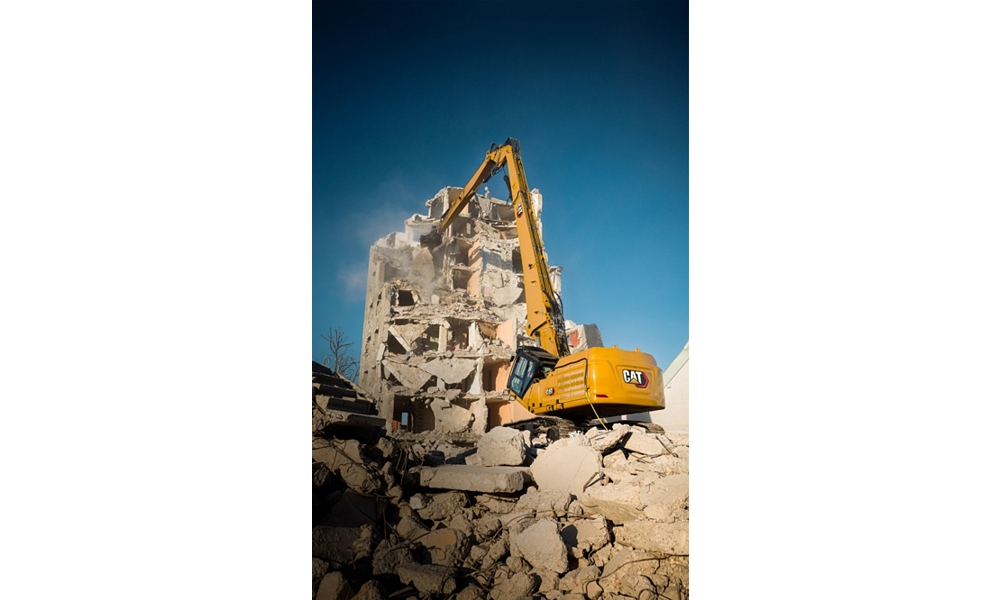 🔍
🔍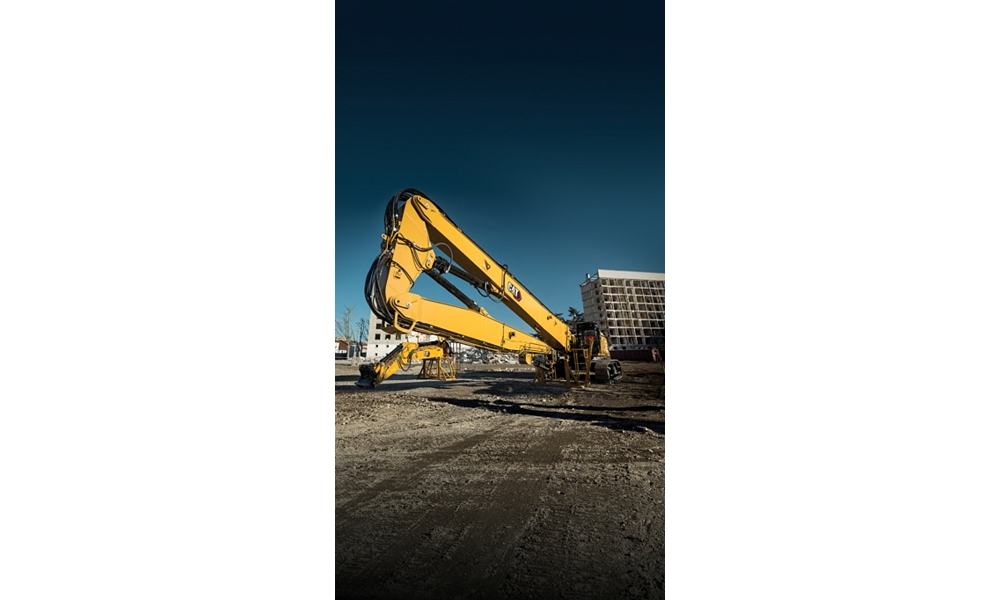 🔍
🔍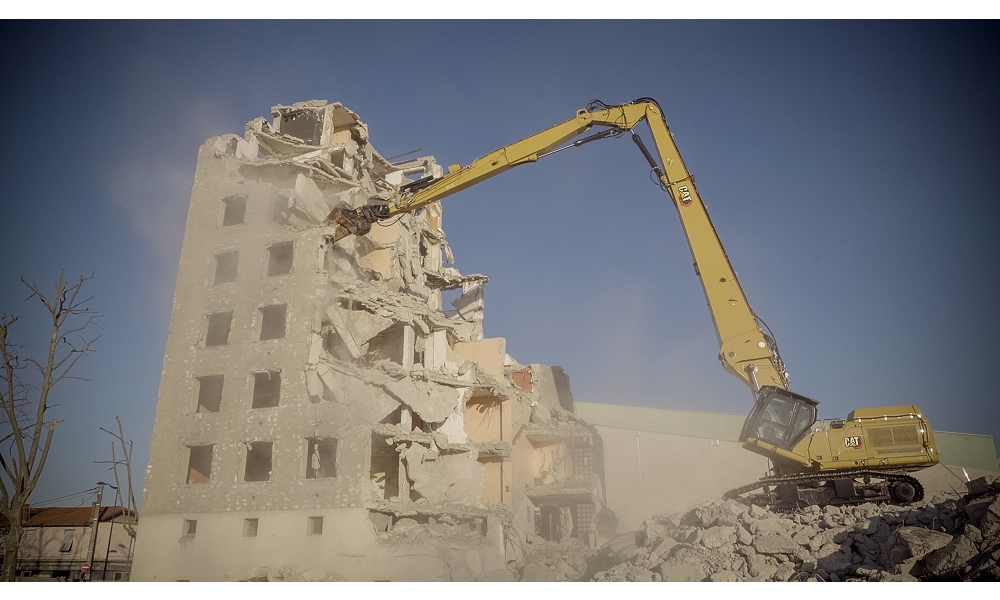 🔍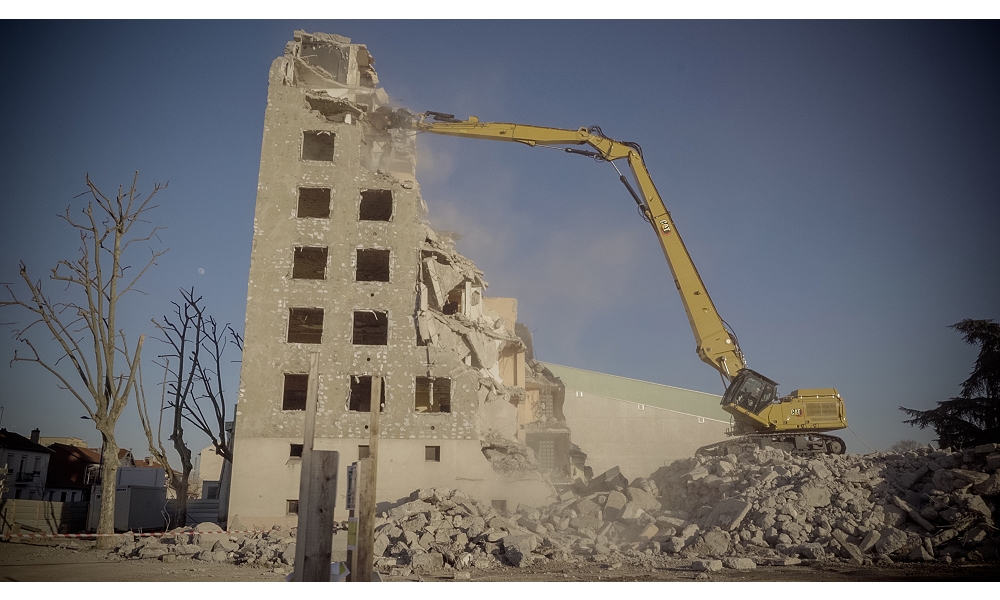 🔍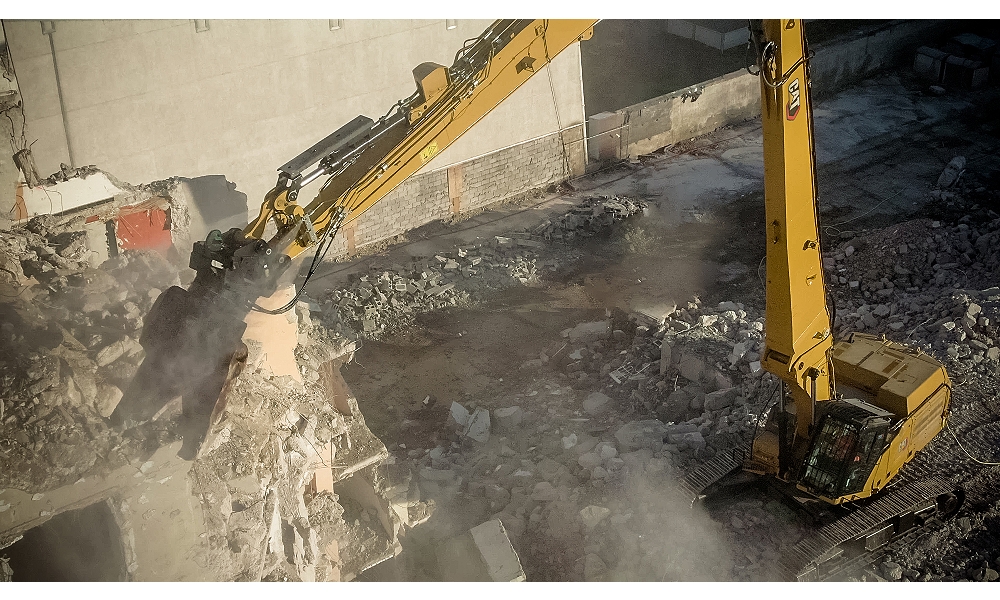 🔍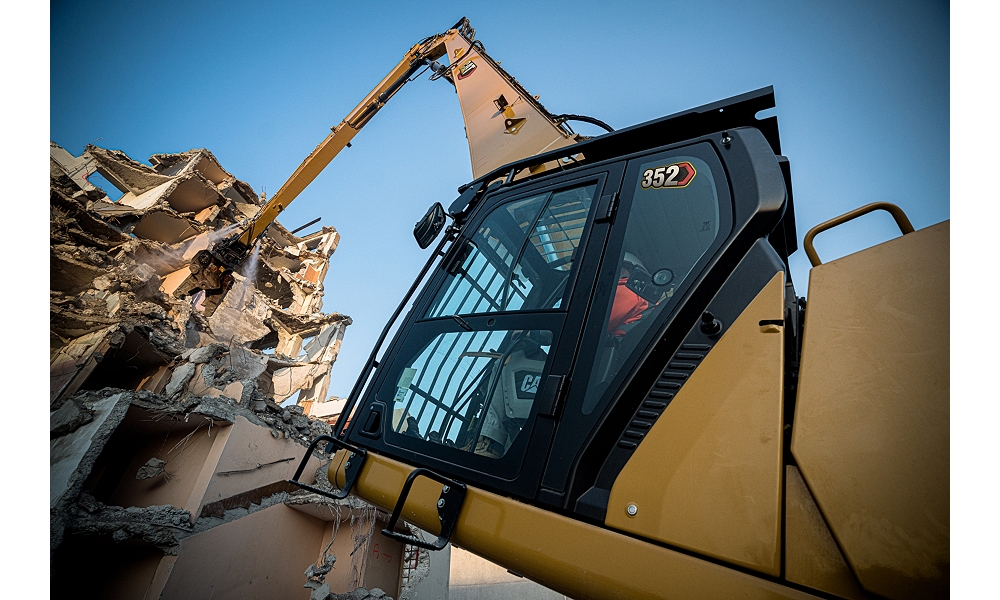 🔍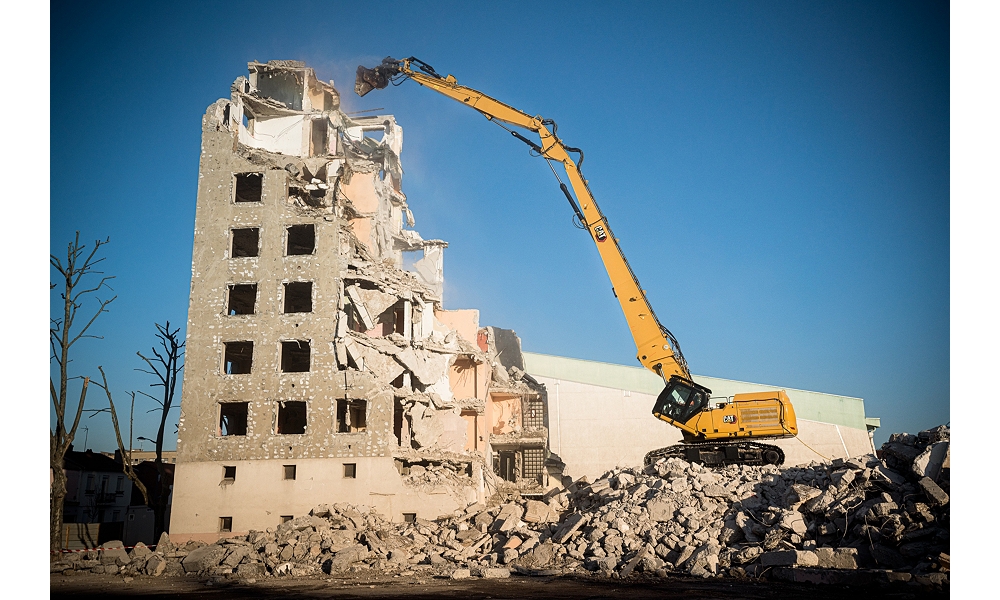 🔍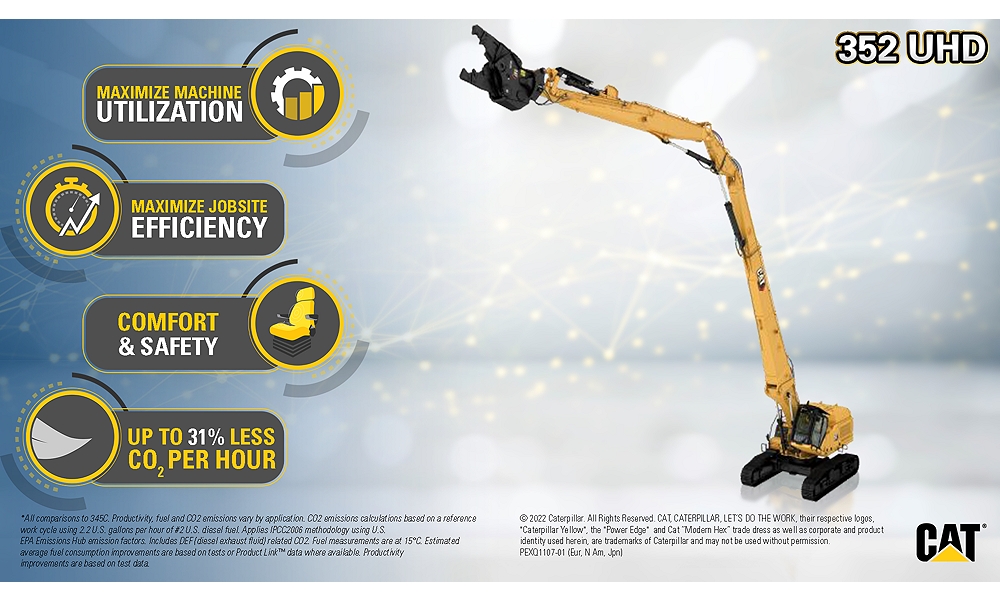 🔍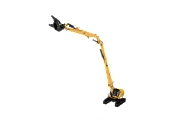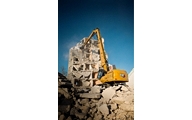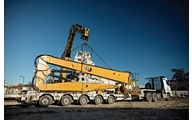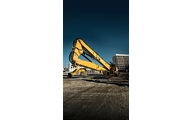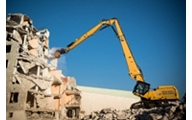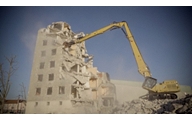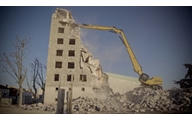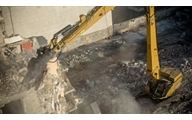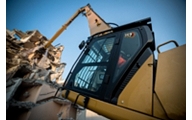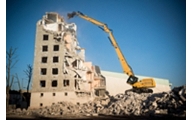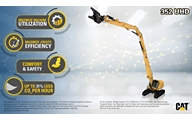 Description
Technical Specifications
Benefits and Features
Equipment
The Cat® 352 UHD reaches where other machines cannot and provides best-in-class work tool capability. You can tear down structures all day with speed and precision – you simply won't find a better 60-ton class choice for demolition.
Weights
Operating Weight
151483 lb
Note (1)
Operating Weight includes Cat MP332 Multiprocessor with Demolition Jaws
Machine Weight - UHD Configuration
143300 lb
Note (2)
UHD Front and Counterweight, No Work Tool
Machine Weight - Retrofit Configuration
139300 lb
Note (3)
Retrofit boom and R3.35 M TB Stick (11') and 2.41 M3 (3.15 yd3)HD bucket
UHD in Cradle
26000 lb
Retrofit Boom in Cradle - R3.35 TB Stick
15700 lb
Retrofit Boom in Cradle - R2.9 TB Stick
15460 lb
Working Ranges and Forces
Maximum Pin Height at Stick Nose
90.75 ft
Maximum Weight at Stick Nose
8157 lb
Maximum Working Pin Height at Stick Nose - 1/2
75.2 ft
Maximum Working Reach at Stick Nose - 1/2
45.4 ft
Maximum Height at Stick Nose in Max Reach Position
52.8 ft
Maximum Reach at Stick Nose
51.7 ft
Note (1)
28 m (91' 10") UHD Front Over-the-Front
Engine
Engine Model
Cat C13
Engine Power - ISO 14396
425 HP
Bore
5 in
Stroke
6 in
Displacement
763 in³
Hydraulic System
Main System - Maximum Flow
779 l/min (206 gal/min)
Maximum Pressure - Equipment
5076 psi
Maximum Pressure - Equipment - Lift Mode
5511 psi
Maximum Pressure - Travel
5076 psi
Maximum Pressure - Swing
3771 psi
Swing Mechanism - UHD Fronts
Swing Speed
4.22 r/min
Swing Mechanism
Swing Speed
8.44 r/min
Maximum Swing Torque
138000 ft·lbf
Service Refill Capacities
Fuel Tank Capacity
188.9 gal (US)
Cooling System
13.7 gal (US)
Engine Oil
10.6 gal (US)
Swing Drive - Each
10.6 gal (US)
Final Drive - Each
4 gal (US)
Hydraulic System - Including Tank
145.3 gal (US)
Hydraulic Tank
57.3 gal (US)
DEF Tank
12.2 gal (US)
Dimensions
Note (1)
UHD Front
Shipping Height - Top of Cab
11.75 ft
Shipping Length
61.75 ft
Tail Swing Radius
13.33 ft
Counterweight Clearance
4.66 ft
Ground Clearance
1.66 ft
Track Length
18.9 ft
Track Length to Center of Rollers
15.6 ft
Track Gauge
9.3 ft
Working Gauge - Extended Position
11.1 ft
Shipping Gauge - Retracted Position
7.8 ft
Transport Width
9.83 ft
Machine Length - without Front, with Counterweight
25.42 ft
Machine Length - without Front and Counterweight
24.92 ft
Cab Height - With FOGS
11.75 ft
Track Width - Extended
13.08 ft
Track Width - Retracted
9.83 ft
Note (2)
600 mm (24") Track Shoe
Working Ranges and Forces - Retrofit Boom - Straight
Note 1
Straight - R3.35 m Stick (11'0") Over-the-Front
Maximum Pin Height at Stick Nose
39.8 ft
Maximum Weight at Stick Nose
13190 lb
Maximum Height at Stick Nose in Max Reach Position
7.7 ft
Maximum Reach at Stick Nose
36.5 ft
Bucket
3.08 M3 (4.08 yd3) General Duty
Maximum Digging Depth
16.9 ft
Maximum Reach - Ground Level
41.9 ft
Maximum Loading Height
33.6 ft
Minimum Loading Height
15 ft
Bucket Digging Force - ISO
60250 lbf
Stick Digging Force - ISO
44740 lbf
Working Ranges and Forces - Retrofit Boom - Bent
Note 1
Bent - R3.35 m TB Stick (11'0") Over-the-Front
Bucket
3.08 M3 (4.08 yd3) General Duty
Maximum Digging Depth
21.8 ft
Maximum Reach - Ground Level
38.9 ft
Maximum Cutting Height
35 ft
Minimum Loading Height
10 ft
Maximum Loading Height
24.6 ft
Bucket Digging Force - ISO
60250 lbf
Stick digging Force - ISO
44740 lbf
LATEST FEATURES
Optional integrated vehicle health management system alerts the operator with service guidance and parts needed to enhance uptime.
Make the jobsite safer with an optional swing alarm.
Not all features are available in all regions. Please check with your local Cat dealer for specific offering availability in your area.
Build Number: 07E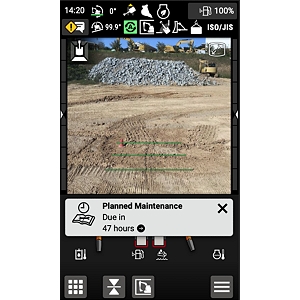 PERFORMANCE
UHD can reach up to 28 m (90 ft) of vertical pin height, working with a 3.7 ton (8,157 lbs) tool with 15.8 m (51 ft) horizontal reach.
Cat active stability monitoring system continuously informs operators of work tool position within the safe working range and warns when approaching the stability limit.
Hydraulically actuated variable gauge undercarriage provides outstanding stability when extended to 4000 mm (13 ft); it retracts to
3000 mm (10 ft) to make transportation easier.
Standard rearview and right-hand sideview cameras give clear views on the monitor.
The C13 engine can run on biodiesel up to B20 and meets
EU Stage V, U.S. EPA Tier 4 Final, and Japan 2014 emission standards.
Match the excavator to the job with three power modes – Power, Smart, and ECO. Smart mode automatically matches engine and hydraulic power to working requirements, providing maximum power when needed and reducing power when it isn't to help save fuel.
The high-efficiency hydraulic reversing fan cools the engine on demand to help reduce fuel consumption.
Cat technologies increase operating efficiency to lower operator fatigue, operating costs, and fuel consumption.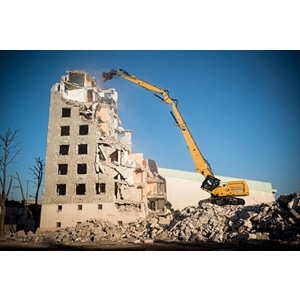 OPERATOR COMFORT
Demolition cab with FOGS includes front and roof of P5A
10 mm (0.4") laminated glass.
Tilt-up 30° for a more productive and comfortable sight line.
The windshield and roof one-piece parallel wipers with three intermittent settings include washer spray.
Premium heated and cooled seat is standard.
Get in and out of the cab easier using the tip-up left console.
Control the excavator comfortably with easy-to-reach controls all located in front of you.
UHD front is worktool camera ready for easy dealer-available kit installation and includes water-spray-system-ready wiring and hoses.
Stow your gear with plenty of in-cab storage beneath and behind the seat, overhead, and in the consoles.
Use the standard radio's USB ports and Bluetooth technology to connect personal devices and make hands-free calls.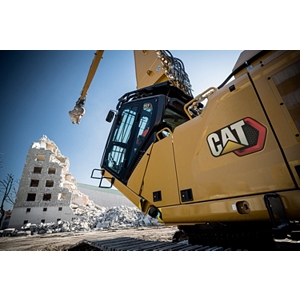 SIMPLE OPERATION
Start the engine with a push button; use a Bluetooth key fob or the unique Operator ID function.
Program each joystick button, including power mode, response, and pattern, using Operator ID; the machine will remember what you set each time you go to work.
Automatic hydraulic oil warmup gets you to work faster in cold temperatures and helps prolong the life of components.
Navigate quickly on the high-resolution 254 mm (10 in) touchscreen monitor or with the aid of the jog dial control.
Make moving the excavator much easier with Cat Stick Steer. Simply push a button and use one hand to travel and turn instead of both hands or feet on levers or pedals.
Not sure how a function works or how to maintain the excavator? Always have the operator's manual at your fingertips in the touchscreen monitor.
EFFICIENCY AND PRODUCTIVITY WITH CAT TECHNOLOGY
Know the excavator's exact position relative to GPS and GLONASS systems. The machine automatically compensates for excavator pitch and roll caused by sloping ground conditions.
Standard Product Link™ provides location, machine hours, fuel usage, productivity, idle time, diagnostic codes, and other machine data on demand through VisionLink online interface, helping you improve jobsite efficiency with lower operating costs.
Remote troubleshoot connects you to a dealer service professional to help solve your problem and quickly get you to work.
Remote flash works around your schedule to ensure your machine's software is up to date for optimal performance.
The Cat PL161 attachment locator can help you find tools, track work time, and plan maintenance and replacement.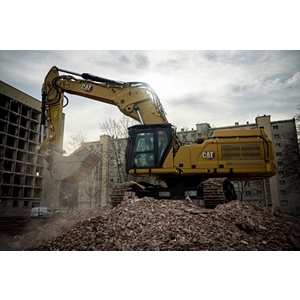 MAINTENANCE
Enjoy low maintenance cost due to extended service intervals.
Check hydraulic system oil and easily drain fuel system water and fuel tank water from ground level.
Track your excavator's filter life and maintenance intervals via the in-cab monitor.
Change all fuel filters at a synchronized 1,000 hours. Oil and fuel filters are grouped and located on the right-hand side of the machine for easy maintenance.
The engine air intake filter with pre-cleaner has double the dust holding capacity of the previous air intake filter.
The hydraulic oil filter provides excellent filtration; anti-drain valves keep oil clean when the filter is replaced.
S•O•SSM ports simplify maintenance and allow for quick, easy extraction of fluid samples for analysis.
SAFETY
On-board stability monitoring helps the operator enhance jobsite safety.
A travel direction indicator helps the operator know which way to activate the travel levers.
Enjoy greater visibility in each swing direction with the help of narrowr cab pillars and large windows.
A ground-level shutoff switch stops all fuel to the engine when activated and shuts down the machine.
Rearview and right-hand sideview cameras are standard.
Serrated steps and an anti-skid punch plate on the service platform help prevent slipping.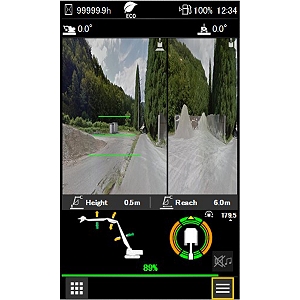 SUSTAINABILITY
The Cat® C13 engine meets U.S. EPA Tier 4 Final, EU Stage V, and Japan 2014 emission standards.
The 352 UHD emits up to 31% less CO2 than the 345C*.
Cat diesel engines are required to use ULSD (ultra-low sulfur diesel fuel with 15 ppm of sulfur or less) or ULSD blended with the following lower-carbon intensity fuels up to: 20% biodiesel FAME (fatty acid methyl ester) ** or 100% renewable diesel, HVO (hydrogenated vegetable oil) and GTL (gas-to-liquid) fuels. Refer to guidelines for successful application. Please consult your Cat dealer or "Caterpillar Machine Fluids Recommendations" (SEBU6250) for details.
Auto engine speed control reduces unnecessary fuel burn and greenhouse gas emissions by allowing the engine to automatically go into idle mode when the machine is not working.
Cat Scheduled Oil Sampling (S•O•S℠) Services helps reveal excessive wear, contaminated fluids or other "unseen" issues that can shorten component life. In many cases, you can extend oil and coolant change intervals by using fluid monitoring. Consult your Cat dealer or the machine's operation and maintenance manual for more information.
Extended maintenance intervals not only reduce downtime but decrease the amount of fluid and filters that are replaced over the life of the machine.
Remote flash minimizes downtime and maintenance time while keeping your asset running with maximum efficiency. Alerts for machine updates are sent virtually from your Cat dealer and updates can be deployed without a dealer technician needing to be onsite.
Remote troubleshoot decreases maintenance time and keeps your machine running with maximum efficiency by allowing your Cat dealer to virtually test the machine while working. Once a problem is identified, a technician can fix it the first time, saving time and money.
*All comparisons to 345C. Productivity, fuel, and CO2 emissions vary by application. CO2 emissions calculations based on a reference work cycle using 2.2 U.S. gallons per hour of #2 U.S. diesel fuel based. Applies IPCC2006 methodology using U.S. EPA Emissions Hub emission factors. Includes DEF (diesel exhaust fluid) related CO2. Fuel measurements are at 15°C. Estimated average fuel consumption improvements are based on tests or Product Link® data where available. Productivity improvements are based on test data.
**Engines with no aftertreatment devices can use higher blends, up to 100% biodiesel.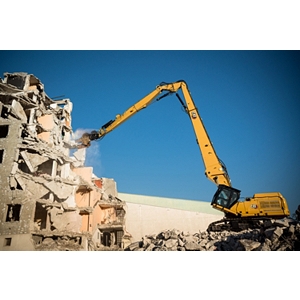 Standard Equipment:
Note

Standard and optional equipment may vary. Consult your Cat dealer for details.

Booms And Sticks

28 m (91 ft 10 in) UHD front with worktool camera and water spray
Advanced tool control, UHD

Cab

Tilt-up demolition cab with P5A 10 mm laminated front and roof glass
High resolution touchscreen monitor
Premium heated and cooled auto adjustable suspension seat
Bluetooth integrated radio
Auto bi-level air conditioner
Jog dial and shortcut keys for monitor control
Keyless push-to-start engine control
Height-adjustable console
Tilt-up left-side console
Cat Stick Steer
Auxiliary relay
Tilt rocker switch
Sky wiper switch
LED interior lights
Roller front sunscreen
P5A fixed windshield
FOGS guarding

Cat Technology

Cat Product Link
Remote Services capability
Stability monitoring system for UHD
Electronic pitch and roll indicator
Swing E-Fence
Travel direction indicator
Operator coaching
Electronic joystick pattern changer
Cat Grade with 2D and offset memory (Retrofit boom only)
Cat Payload (Retrofit boom only)

Electrical System

Maintenance-free 1,000 CCA batteries (x 4)
Centralized electrical disconnect switch
LED lights

Engine

Three selectable modes: Power, Smart, ECO
Auto engine speed control
Up to 4500 m (14,760 ft) altitude capability
Reverse fan
52° C (126° F) high-ambient cooling
-18° C (0° F) cold start capability
Double element air filter with integrated pre-cleaner

Hydraulic System

Boom and stick regeration circuit
Electronic main control valve
Auto hydraulic oil warmup
Auto swing parking brake
High Performance hydraulic return filter
Two-speed travel
Bio hydraulic oil capability

Safety And Security

Cat One Key security system
Lockable external tool/storage box
Lockabel door, fuel, and hydraulic tanks
Lockable fuel drain compartment
Service platform with anti-skid plate and recessed bolts
Rear and right-hand side cameras

Service And Maintenance

Grouped location of engine oil and fuel filters
Scheduled Oil Sampling (S·O·S) ports

Undercarriage And Structures

Long hydraulic Variable Gauge (VG) undercarriage
Full-length track guiding guards
HD travel motor guard
HD bottom guard
Optional Equipment:
Note

Standard and optional equipment may vary. Consult your Cat dealer for details.

Booms And Sticks

9.1 m (29 ft 9 in) Retrofit boom
R2.9 m ( 9 ft 5 in) TB Retrofit stick
R3.35 m (11 ft 0 in) TB Retrofit stick
R3.9 m (12'10") TB Retrofit stick
DB linkage with lifting eye
Cradle for UHD front parts
Cradle for Retrofit front parts

Cab

Electrical System

Premium surround lighting package

Engine

-32° C (-25° F) cold start capability
Cold start block heaters
Ether starting aid

Hydraulic System

Boom lowering check valve (BLCV) for UHD front
Stick lower check valve (SLCV) for UHD front
SmartBoom with BLCV and Overload Warning Device for UHD front
Combined two-way auxiliary circuits
High and medium-pressure auxiliary circuits
Quick coupler circuit
Fine swing

Safety And Security

Service And Maintenance

QuickEvav maintenance ready
Electric refueling pump with auto shutoff

Undercarriage And Structures

600 mm triple grouser track shoes
700 mm triple grouser track shoes
700 mm triple grouser track shoes