.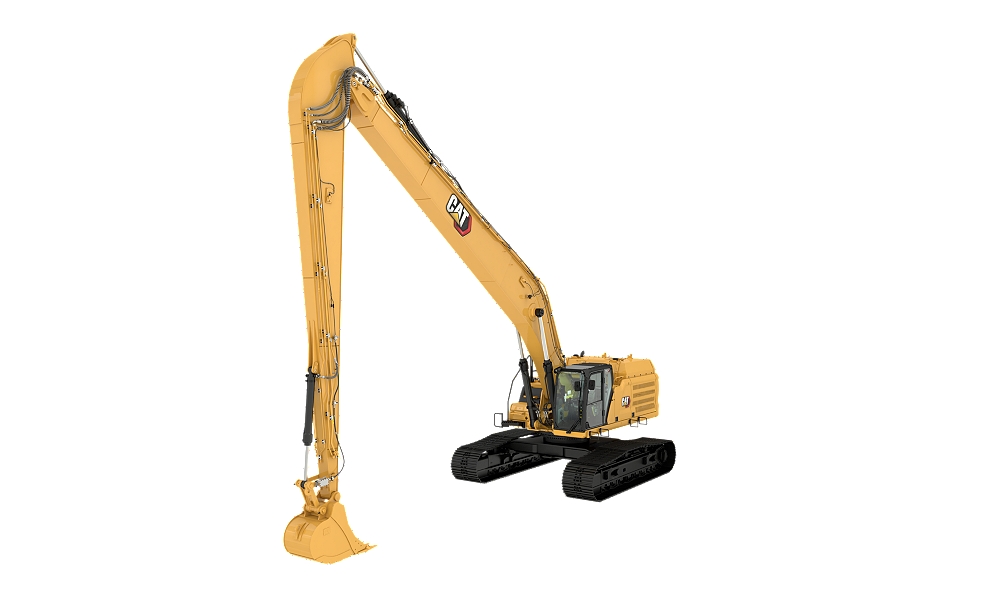 🔍
Description
Technical Specifications
Benefits and Features
Equipment
The Cat 352 Long Reach Excavator combines premium performance and simple-to-use technology with steep slope capability reaching out to 19.6 m (64 ft) and dig depth of 13.04 m (43 ft). The Variable Gauge heavy duty high wide undercarriage and extra counterweight provide a stable platform for long reach digging.
Engine
Engine Power - ISO 9249
424 HP
Displacement
12.5 l
Engine Model
Cat C13
Engine Power - ISO 14396
425 HP
Bore
130 mm
Stroke
6 in
Hydraulic System
Maximum Flow - Main System
147 gal/min
Maximum Pressure - Equipment
5076 psi
Maximum Pressure - Equipment - Lift Mode
38000 kPa
Maximum Pressure - Swing
3771 psi
Maximum Pressure - Travel
5076 psi
Swing Mechanism
Maximum Swing Torque
138000 ft·lbf
Swing Speed
5.8 r/min
Service Refill Capacities
Cooling System
13.7 gal (US)
DEF Tank
12.2 gal (US)
Engine Oil - With Filter
10.6 gal (US)
Final Drive - Each
4 gal (US)
Fuel Tank Capacity
188.9 gal (US)
Hydraulic System - Including Tank
145.3 gal (US)
Hydraulic Tank
57.3 gal (US)
Swing Drive
2.8 gal (US)
Dimensions
Boom
LRE Boom 11.5 m (37'9")
Bucket
HD 1.19 m3 (1.56 yd3)
Counterweight Clearance
4.7 ft
Ground Clearance
2.3 ft
Handrail Height
11.6 ft
Shipping Height - Top of Cab
11.1 ft
Shipping Length
54 ft
Stick
LRE Stick 8.5 m (27'11')
Tail Swing Radius
12.3 ft
Track Gauge
10.6 ft
Track Length
17.6 ft
Track Length to Center of Rollers
14.2 ft
Transport Width
13.2 ft
Weights
Operating Weight
128800 lb
Working Ranges & Forces
Bucket
HD 1.19 m3 (1.56 yd3)
Bucket Digging Force - ISO
31700 lbf
Maximum Digging Depth
42.8 ft
Maximum Cutting Height
48.2 ft
Maximum Depth Cut for 2440 mm (8 ft) Level Bottom
42.5 ft
Boom
11.5 m (37.7")
Maximum Loading Height
39.4 ft
Maximum Reach at Ground Level
64.4 ft
Minimum Loading Height
7.3 ft
Stick
LRE Stick 8.5 m (27'11')
Stick Digging Force - ISO
23380 lbf
LATEST FEATURES
Optional integrated vehicle health management system alerts the operator with service guidance and parts needed to enhance uptime.
Optional Cat Grade Assist will help you hit your mark with less effort and cost.
Optional single antenna global navigation satellite system (GNSS) gives you visual and auditory guidance to grade.
Make the jobsite safer with an optional swing alarm.
Not all features are available in all regions. Please check with your local Cat dealer for specific offering availability in your area.
Build Number: 07E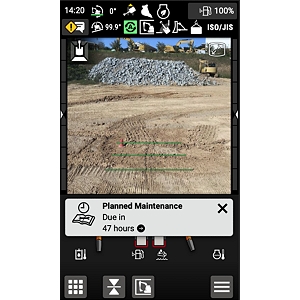 HIGH PERFORMANCE, LOW FUEL CONSUMPTION
Increase operating efficiency with Cat technology; it can lower operator fatigue, operating cost, fuel consumption, and daily maintenance.
Match the excavator to the job with a choice of three power modes: Power, Smart, and Eco. Smart mode automatically matches engine and hydraulic power to digging conditions, providing max power when needed and reducing power when it isn't to help save fuel.
The high efficiency hydraulic fan cools the engine on demand to help reduce fuel consumption; available reverse function makes it easy to keep cores clean.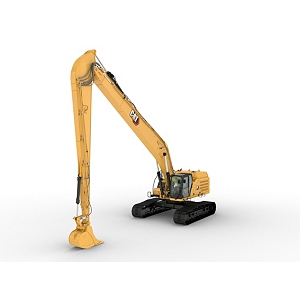 BOOST EFFICIENCY AND PRODUCTIVITY
Boost productivity up to 45 percent versus traditional grading with standard Cat Grade with 2D system – including indicate-only and laser capability.
Grade Assist helps you stay on grade – simply and effortlessly – with single lever digging.
Standard Cat Payload on-board weighing system helps you achieve precise load targets and increase loading efficiency with real-time weight estimates.
Combine Payload with VisionLink® and remotely manage your production targets.
Want a 3D system to improve your digging results? Caterpillar's new single antenna global navigation satellite system (GNSS) makes it easy by giving you visual and auditory guidance to grade. Plus you can create and edit designs on the touchscreen monitor while you're on the job. If your application calls for a dual antenna system, it's easy to upgrade.
Upgrade to our dual antenna GNSS for maximum grading efficiency. The system lets you create and edit designs on the touchscreen monitor while you're on the job, or you can have the plan design sent to the excavator to make your work easier. Plus you get added benefits of avoidance zones, cut and fill mapping, lane guidance, and augmented reality along with advanced positioning capability.
All Cat Grade systems are compatible with radios and base stations from Trimble, Topcon, and Leica. Already invested in a grade infrastructure? You can install grade systems from Trimble, Topcon, and Leica onto the machine.
Remote troubleshoot connects you to a dealer service pro to help solve your problem and quickly get you to work.
Remote flash works around your schedule to ensure your machine's software is up to date for optimal performance.
Standard Product Link™ provides location, machine hours, fuel usage,
productivity, idle time, diagnostic codes, and other machine data on demand
through VisionLink online interface, helping you improve jobsite efficiency
with lower operating costs.
SIMPLE TO OPERATE
Start the engine with a push button; use a Bluetooth key fob or the unique Operator ID function.
Program each joystick button, including power mode, response, and pattern, using Operator ID; the machine will remember what you set each time you go to work.
Make moving the excavator much easier with Cat Stick Steer. Simply push a button and use one hand to travel and turn instead of both hands or feet on levers or pedals.
The Cat PL161 Attachment Locator can help you find tools, track work time, and plan maintenance and replacement.
Not sure how a function works or how to maintain the excavator? Always have the operator's manual at your fingertips in the touchscreen monitor.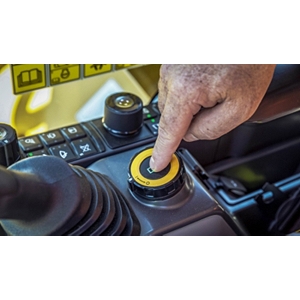 EASY MAINTENANCE
Track your excavator's filter life and maintenance intervals via the in-cab monitor.
Change all fuel filters at a synchronized 1,000 hours. Oil and fuel filters grouped and located on right-hand side of machine for easy maintenance.
The air intake filter with pre-cleaner has high dust holding capacity.
The hydraulic oil filter provides excellent filtration; anti-drain valves keep oil clean when the filter is replaced.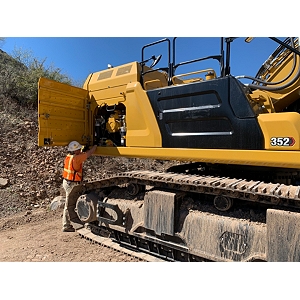 WORK IN COMFORT
Choose between Deluxe and Premium cabs – both with automatic climate control and tilt-up console for easy access.
Stay warm with the Deluxe seat; stay warm and cool with the Premium seat.
Control the excavator with easy-to-reach controls all located in front of you.
Use the standard radio's USB ports and Bluetooth technology to connect personal devices and make hands-free calls.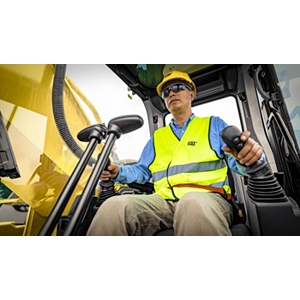 BUILT-IN SAFETY
Standard 2D E-Fence integrated right out of the factory prevents the excavator from moving outside of operator-defined set points.
A ground-level shutoff switch stops all fuel to the engine when activated and shuts down the machine.
Rear and right-hand sideview cameras are standard. Upgrade to 360° visibility and you'll easily visualize objects and personnel around the excavator in a single view.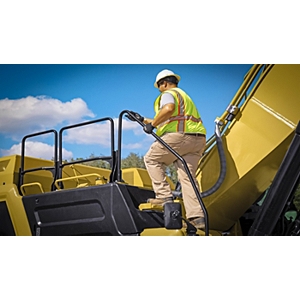 Standard Equipment:
Standard_01

Standard and optional equipment may vary. Consult your Cat dealer for details.

Boom And Stick

11.5 m (37'9") LRE boom
8.5 m (27'11") LRE stick

Cab

Sound suppression
High-resolution 254 mm (10") LCD touch screen monitor
Heated seat with air-suspension (Deluxe only)
Heated and cooled seat with automatic suspension (Premium only)
Tilt-up left console
Auto bi-level air conditioner
Jog dial and shortcut keys for monitor control
Bluetooth integrated radio

Cat Technology

Cat Product Link
Remote Services
Cat Grade with 2D and offset memory
Cat Grade Assist
Compatibility with radios and base stations from Trimble, Topcon, and Leica
Capability to install 3D grade systems from Trimble, Topcon, and Leica
Cat Payload
2D E-Fence

Electrical System

Mainteance-free 1,000 CCA batteries
Centralized electrical disconnect switch
LED lights

Engine

Three selectable modes: Power, Smart, Eco
Auto engine speed control
52C (126 F) high-ambient cooling capacity
-18 C (0 F) cold start capability
Double element air filter with integrated pre-cleaner

Hydrauilc System

Boom and stick regeneration circuit
Electronic main control valve
Auto hydraulic oil warmup
Auto swing parking brake
Reverse swing damping valve
Two speed travel
Bio hydraulic oil capability

Safety And Security

Caterpillar One Key security system
Lockable external tool / storage box
Lockable door, fuel and hyraulic tanks
Lockable fuel drain compartment
Service platform with anti-skid plate and recessed bolts
RH handrail and hand hold (ISO 2867 compliant)
Signaling / warning horn
Ground-level secondary engine shutoff switch

Service And Maintenance

Grouped location of engine & fuel filters
Scheduled Oil Sampling (S.O.S) ports

Undercarriage And Structures

Grease lubricated track
HD bottom guard
HD travel motor guard
Optional Equipment:
Optional_01

Standard and optional equipment may vary. Consult your Cat dealer for details.

Cab

Cat Technology

Cat Grade with Advanced 2D
Cat Grade with 3D single GNSS
Cat Grade with 3D dual GNSS

Engine

Cold start block heaters
Automatic reverse fan

Hydraulic System

Combined two-way auxiliary circuit with direct return
Medium-pressure auxiliary circuit
Quick coupler circuit for Cat Pin Grabber and CW Dedicated
Smart Boom

Safety And Security

Swing alarm
Boom lowering check valve
Stick lowering check valve
360 visibility

Service And Maintenance

Integrated vehicle health management system
Electric refueling pump with automatic shutoff (Europe only)
QuickEvac maintenance ready

Undercarriage And Structures

900 mm (35") triple grouser track shoes
750 mm (30") triple grouser track shoes
600 mm (24") triple grouser track shoes
600 mm (24") double grouser track shoes