>
>
>
Quick Tip Video — Pre-Start Checklist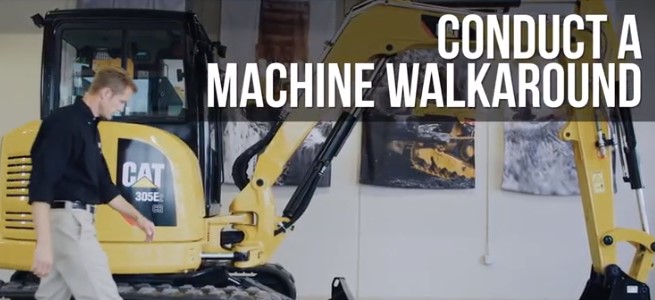 Quick Tip Video — Pre-Start Checklist
Category: Quick Tip Videos
Efficient fleet management involves participation from owners and operators. If you're an operator, performing a pre-start routine will help you control equipment more safely and effectively. The few minutes it takes to complete a pre-start checklist go far in keeping your equipment in top condition.
In this quick tip video, Colin from Caterpillar® explains how to complete a pre-start checklist for a mini excavator:
Steps in a Pre-Start Checklist
Filling out a pre-start checklist as part of your routine will help you complete every step of the process. For most machines, a pre-start routine consists of three parts.
1. Perform a Walk-Around Inspection
Before you enter the machine's cab, you should perform a basic walk-around inspection. Evaluate your equipment's condition by:
Examining the outside: Your machine's outside appearance can tell you more about its condition than you might think. Look for debris, damage and leaks that could indicate an issue.
Checking the wheels and tires: You need to have your tires in working order to have the best control possible over your machine. Check the tires and treads for wear, and check the wheels for loose parts and damage.
Looking at the engine and components: A thorough walk-around inspection also includes a look at your machine's interior. Examine the engine compartment and inside components for any abnormalities.
2. Adjust the Cab and Controls
Make sure you can comfortably and safely operate your equipment before you start it. When you board the cab, maintain three points of contact to minimize your risk of accidents. Prepare your machine's controls and cab with these actions:
Adjust the seat, armrests and mirrors: Make sure you can comfortably operate the equipment by adjusting your seat and mirrors. This step will maximize your visibility and control during operation.
Fasten your seat belt: Always fasten your seat belt before starting heavy equipment. As you put it on, you should also check the seat belt and mounting hardware's condition.
Check the indicator lights and horn: Make sure all of the console's lights and indicators work properly. You can also lightly tap on the horn to ensure that it makes sound.
3. Start the Machine
Once you start your equipment, you can prepare yourself for even better success with additional steps in your routine:
Let the machine warm up: Consult your operations and maintenance manual to see how long you should let your equipment warm up before operation.
Cycle through the controls: To speed up the warm-up process, cycle through the machine's controls, including the attachment controls.
Observe your outside environment: Make sure you have a clear operating area immediately before moving your equipment.
Count on NMC CAT for Comprehensive Equipment Services
At NMC CAT, we serve hardworking businesses in Nebraska and Pottawattamie County, Iowa, with comprehensive equipment support. We offer Cat® sales, rentals and service to any client who manages heavy equipment. As part of the Cat dealership network, we'll give you the in-depth support and high-quality products associated with the Caterpillar legacy.
To buy, rent or service equipment at NMC CAT, discover a location near you.