>
>
>
Maximize Production with the Correct Size Excavator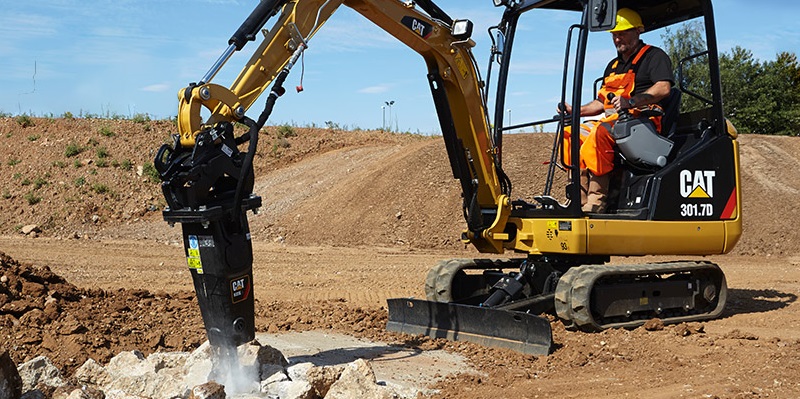 Maximize Production with the Correct Size Excavator
Category: Equipment and Solutions
Whether you work in construction or agriculture, mini excavators are excellent solutions for completing challenging projects in hard-to-navigate spaces. NMC Cat® offers a range of mini excavators with various dimensions to accommodate job sites of all sizes and shapes.
Learn how to get the right-sized excavator for your project below.
How Big Is a Mini Excavator?
Mini excavators come in a range of sizes and usually weigh between 3 and 5 tons. You can choose from several mini excavator dimensions to get one with the appropriate capacity and size to complete your job.
NMC Cat offers excavators that fall into the following size ranges:
Height: Find mini excavators that range between 60 – 100 inches tall for optimal access in low-ceiling work sites.
Width: Get excavators that can fit in narrow entrances with a width of 30 – 97.2 inches.
Length: Navigate easily with compact excavators between 48 – 126 inches long.
How to Choose the Right-Sized Mini Excavator for Your Project
The sizing of your mini excavator will affect your ability to fit in tight spaces and navigate around your work site. Consider these key factors before making your final decision:
Job site: Evaluate the size, shape and scope of your work site. You should note the most narrow area your machine needs to access to ensure you get a mini excavator you can easily maneuver on the job.
Transportation: Consider your transportation capabilities as a factor in your mini excavator choice. This way, you'll know you have the trailer and towing capacity to move the machine to your job site.
Type of work: Make sure you pick an excavator that can complete the required work. Assess the job details in advance and choose a machine that can fulfill your project needs.
Attachments: Depending on the job, your mini excavator may need additional attachments to complete the project efficiently. Determine the attachments you'll need before you decide which excavator to use to ensure it will be compatible with the required attachments.
Find a Mini Excavator That Meets Your Needs at NMC Cat®
NMC Cat provides a full selection of mini excavators with a range of sizes and capabilities. Browse our complete selection of mini excavators to find one that meets your needs and fits your budget.
Contact us online to learn more about our products and services from one of our experienced team members.