>
>
>
Facility and Industrial Maintenance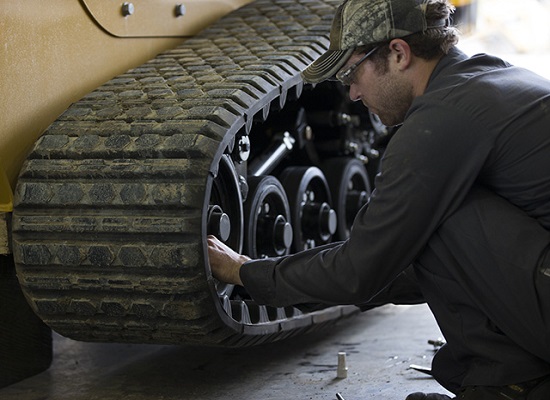 Facility and Industrial Maintenance
Category: Equipment and Solutions
Maintaining your building is essential for ensuring it continues to provide maximum output, as well as for reducing the risk of causing damage to your building's structure. Because of the intervals between maintenance and the purchase price of equipment, many facilities and companies are now renting hardware to lower their overall expenses.
Indoor and Outdoor Maintenance
Indoor and outdoor maintenance are core components to a company's maintenance schedule. While outdoor upkeep may only be seasonal, indoor cleaning is often year-round. Indoor and outdoor care often includes the following areas:
Landscaping: Whether you're a landscaping contractor or a facility renovating your outdoor area, Cat® rental machines offer power and performance for every step of the process, which includes:
Designing and building
Preparing the soil for planting
Installing sod and trees
Irrigating the landscape
Equipment like a skid steer loader, for example, can help by removing brush, while mini-excavators can get rid of large stumps from massive rocks or cut trees. Compact wheel loaders can also remove and relocate substantial amounts of soil when preparing and grading the ground.
Equipment cleaning: Maintaining equipment in an industrial setting often requires air compressors to remove dirt and scaling. Air compressors from Cat feature automated controls that make cleaning simple, as well as portability so your team can move from machine to machine with ease.
Floor cleaning: A clean workplace provides a visually appealing environment for your workers and enhances your facility's safety. Floors built-up with dirt, grime and oil pose a slip hazard to your workers. If floors haven't been swept, they may also contain metal filings and pallet debris, which can injure team members if they fall.Ride-on floor scrubbers and sweepers make the process of cleaning your facility's interior easy. They remove built-up dirt and pick up dropped filings, trash and other materials at a faster rate than sweeping, vacuuming or cleaning the floor by hand.
A clean finish lets your team inspect for potential cracks or wear, which are a violation in facilities that handle food and pharmaceuticals, as well as in businesses that deal with chemical production and storage.
Material handling: A comprehensive cleaning of your floor requires moving pallets and any other structures that aren't attached to the ground. Cat forklifts offer options that include diesel and electric forklifts, as well as cushion and pneumatic lifts.
If your facility quarters are too small for a temporary fleet of forklifts, electric walk-behind and rider pallet jacks can help move pallets without wearing out your team. Walkie stacker pallet jacks also let you stack pallets to make more room available for your ride-on floor scrubbers and sweepers.
Power generation: HVAC systems need annual maintenance. Because the climate controls must be turned off for upkeep, many companies need a temporary source of energy to prevent food, pharmaceuticals or other products from spoiling.
Supplement your cooling or heating system with a Cat electric, propane or natural gas air conditioning unit, or air- and water-cooled chiller to ensure every step of your manufacturing process maintains its required temperature.
Keeping your facility maintained doesn't have to be a long-term investment. Rentals save you the expense of storing, maintaining and repairing maintenance equipment — and they provide you with the latest hardware when you need it throughout the year.
Facility and Industrial Maintenance Equipment at NMC
Our rental fleet at NMC gives you the reliable quality and high performance of Cat equipment. With flexible rent durations and competitive pricing, as well as 24-hour emergency service, you can choose NMC with confidence. Find out more about renting our maintenance equipment by contacting us today.