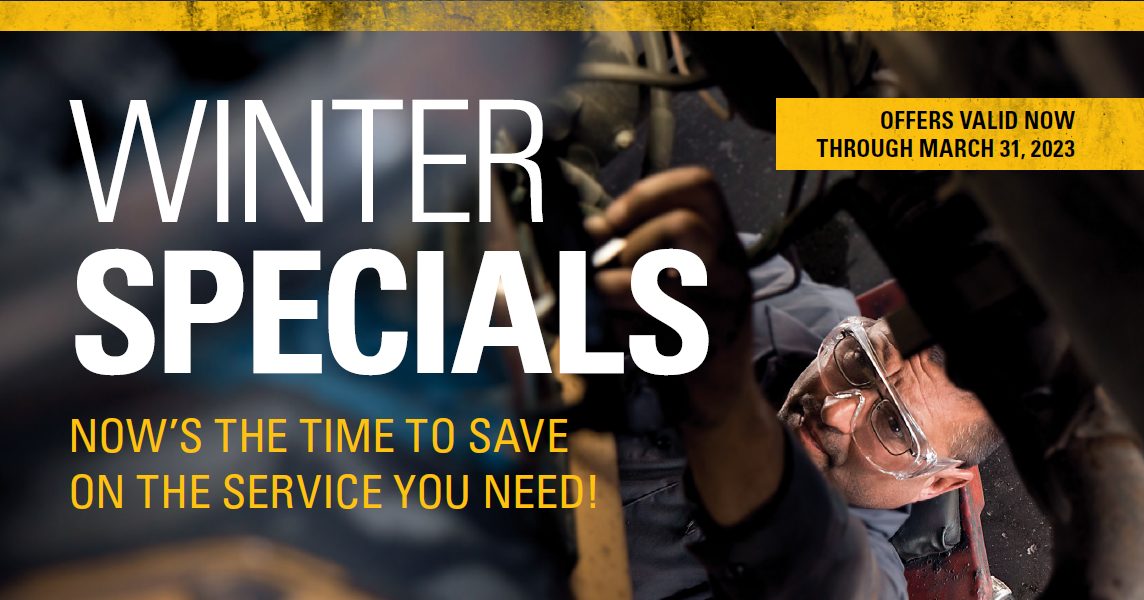 NMC Cat Winter Specials
Category: Specials
REBUILDS
Machine Rebuilds
Up to $10,000 off Motor Grader Certified Powertrain Rebuild
Up to $15,000 off a Complete Certified Powertrain Tractor Scraper Rebuild
Scraper Hitch Rebuilds
OR
15% off when your scraper hitch rebuild is combined with a CPT
Component Rebuild
Rebuild your machine's powertrain components and get up to a 5/year/10,000 hours warranty coverage.
Hauling
Receive up to $2,000 IN FREE HAULING on rebuilds or undercarriage replacements.
Hauling can be combined with rebuild and undercarriage replacement offers and is available on any make or model.
REPAIR OPTIONS
Save 10% on Component Repair Options
NMC has component repair options to meet your needs.
Take advantage of Two year parts and labor warranty on qualifying component rebuilds.
As a Cat machine owner, you know the engine and drive train are critical to productivity and have a major impact on ownership and operating costs. Making sure they are working at peak performance is important not only to your equipment, but to your entire operation.
TRACK BELTS
15% OFF Heavy Duty and General Duty Multi-Terrain Loader, Compact Track Loader and Mini Excavator Track Belts.
Did you know that your rubber tracks can account for up to 50% of your expected maintenance costs in the first three years?* By choosing the right track for your application and performing regular maintenance, you can save significantly  on your maintenance costs. We've got rubber track choices that will  keep you running and fast track savings on maintenance costs.
UNDERCARRIAGE UNDER CONTROL
Take advantage of discounts on general duty, heavy duty, Cat Abrasion and Cat Heavy Duty Extended Lif (HDXL) undercarriage.
Caterpillar has over 110 years of designing and building undercarriages – making the most of your investment.
Includes multi-terrain loaders and compact track loader tracks.
**Don't forget about $2,000 in free hauling on your undercarriage replacement.
Free Undercarriage Inspection – Schedule Your Inspection
Cat Abrasion Undercarriages are ideal in high abrasion, low to medium impact applications with material depth under 3″. Available for small/medium-sized dozers.
Cat Heavy Duty Extended Lift Undercarriage features 40% larger diameter bushing + larger diameter rollers to help balance undercarriage wear life.
Schedule Your Undercarriage Replacement
FILTERS OFFER
25% OFF – Case lots of Cat Filters
NMC Mobile Lube Truck Reminder – Take the hassle out of routine lube maintenance, environmental disposal of waste products, and lost downtime by securing onsite service for your Cat and non-cat equipment. We can offer you flexible scheduling around your peak hours of operation, and our Cat-trained technicians follow OEM specifications.
GROUND ENGAGING TOOLS + WORK TOOLS
20% OFF on all Ground Engaging Tool (GET) products (Not valid on cutter bits.)
Equipping Cat machines with Cat GET gives you a balanced system to optimize penetration and reduce fuel use while increasing production and lowering your cost per hour.
PURCHASE CAT WORK TOOLS ONLINE
Find what you need quickly and easily to equip your equipment for a wide range of tasks and operating requirements. Providing you a total equipment solution for any job application.
Purchase GET or Work Tools Now
PARTS.CAT.COM / MY.CAT.COM
YOU WORK HARD, BUYING PARTS SHOULD BE EASY
Save yourself a trip to the parts counter by visiting parts.cat.com from your computer or mobile device and pick what you need from our entire parts inventory. To learn more information and register, visit parts.cat.com or contact your NMC Cat parts and service sales representative today!
SPEND $50 OR MORE AND GET A FREE CAT CAN COOLER.
Let us show you how easy parts.cat.com is. After you register, make your first purchase of $50 or more.
Then send your confirmation number to your parts and service sales representative to claim your free Yeti style can cooler.
OTHER SAVINGS
10% Off Hydraulic Cylinder Reseals
Receive 10% off all parts and labor on hydraulic cylinder reseals, including any make or model of hydraulic cylinder and any machine brand.
15% Off Paint Shop & Sandblasting
Freshen up your machine with a touchup or full paint job on your equipment, regardless of make or model.
Save 15% off scheduled paint jobs now through October 31, 2022. Work must be completed in our state-of-the-art Omaha blasted paint booth facility.
We have the resources and capacity to manage various paint projects that go beyond heavy equipment. Contact us today to get a quote on your next project.
CUSTOMER VALUE AGREEMENT
Cat® Customer Value Agreements (CVAs) help keep your Cat machine easy to own and ready to work with hassle-free ownership and maintenance value included. Any CVA starts with Hassle-Free Maintenance, featuring Genuine Cat® Parts, delivered on a schedule, to your location.
FINANCE OPTIONS – For Your Rebuild, Service or Parts
12 month 0% financing on qualifying purchases through end of 2022
18 month 1.9% financing on qualifying purchases through end of 2022
The Cat® Commercial Card is a quick and easy way to pay for your business expenses. For a limited time – you can take advantage of some great financing offers on qualifying new or reman Cat parts, with or without service, for machine engines purchases of $1,000 or more.
WELDING + FABRICATION SERVICES
NMC Cat's welding experts can reengineer worn out or damaged parts or custom fabricate to your specifications. Our team also includes certified welders who are fully capable of welding on everything from carbon and stainless steel to aluminum and various steel alloys and are prepared to repair, salvage or fabricate a new replacement.
LINE BORING SERVICES
Even with the best of care, machinery pin and bearing bores can wear out, especially in high load hinge points like those found on mining equipment. NMC Cat specialize in repairing worn and deformed bore bosses, bushings and pins which are extensively used on all types of construction and ag machinery.
TYPES OF REPAIRS
Broken frame repairs on combines, tractors, planters, discs, etc.
General farm welding repair
Line boring on ag equipment
Available for Any Make and Model
Winter Specials Schedule Service
Terms and Conditions on Finance Offer: With credit approval for qualifying purchases made at participating dealerships located in the United States on a Cat® Commercial Revolving Account. 0% or 1.9% APR on purchases of $1,000 or more made through December 31, 2022 until balance is paid in full. The amount of the monthly payments will be equal to the total purchase amount (including taxes) divided by 12 or 18 months, rounded to the nearest dollar. If you have other balances or late payments on your account, the number of payments advertised may not pay off the balance. See account agreement for details. Offer valid for accounts in good standing; see dealership for details. May not be combined with any other credit promotion offer. Purchase must be made in a single transaction.
Winter Specials Terms and Conditions: Offers valid from November 1, 2022 – March 31, 2023. Financing and published rates are subject to credit approval. Offers cannot be combined with any other offers unless noted on the specific offer. Offers subject to availability. Offers may change without prior notice and additional terms and conditions may apply. Contact your local parts and service sales rep for details.