>
>
>
The Best Landscaping Projects for Spring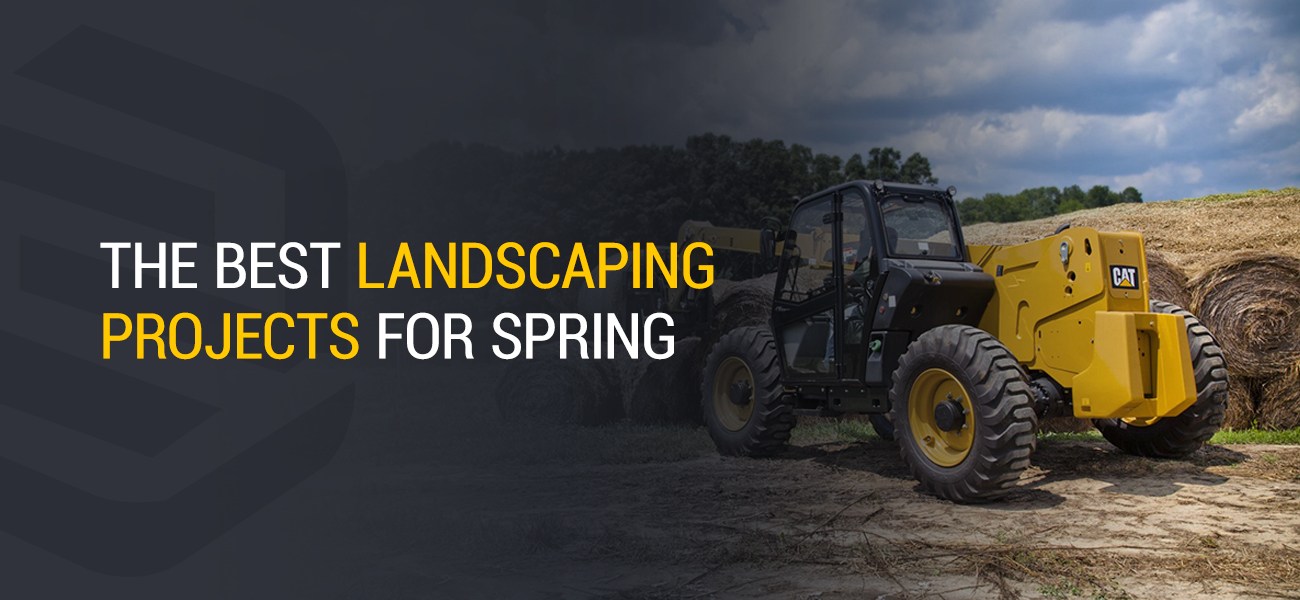 The Best Landscaping Projects for Spring
Category: Equipment and Solutions
Whether you're a contractor or a homeowner, the spring is an ideal time for landscaping projects. With the right landscaping equipment in your corner, you can complete numerous projects during springtime to upgrade the look of your yard and make it a place you can't wait to spend time in. If you're interested in improving the look of your home or offering new landscaping services for clients, learn more about seasonal landscaping and some ideas for spring landscaping that our equipment can help with.
About Seasonal Landscaping
Different seasons present various opportunities for landscaping projects, as the environmental effects of the season can affect the type of work you can do. For instance, the summer is often popular for landscaping since the weather is warm and the sun stays out longer during the day. Many landscapers use the summer for mulching, clearing away fire hazards, planting drought-tolerant plants and mowing lawns.
As the weather starts to turn chilly in the fall, the dry environment helps landscapers operate in difficult terrains and wet areas. You'll often see landscapers clear away leaves and brush, remove seasonal plants and add mulch to the base of cold-sensitive plants to protect them from the coming freezing temperatures. In the winter, the freezing temperatures and shorter days can make it harder to perform landscaping tasks. However, landscapers still use the time to prune dead branches, clean up debris and remove snow.
Due to the pleasant weather and wetter climate, spring landscaping offers a few unique opportunities for homeowners and landscapers. The early spring and mid-spring can be an excellent time to replant flowers and perform needed maintenance on plants coming out of hibernation. In the late spring, homeowners and landscapers can prepare their yard for the summer heat by constructing new features and performing lawn maintenance tasks.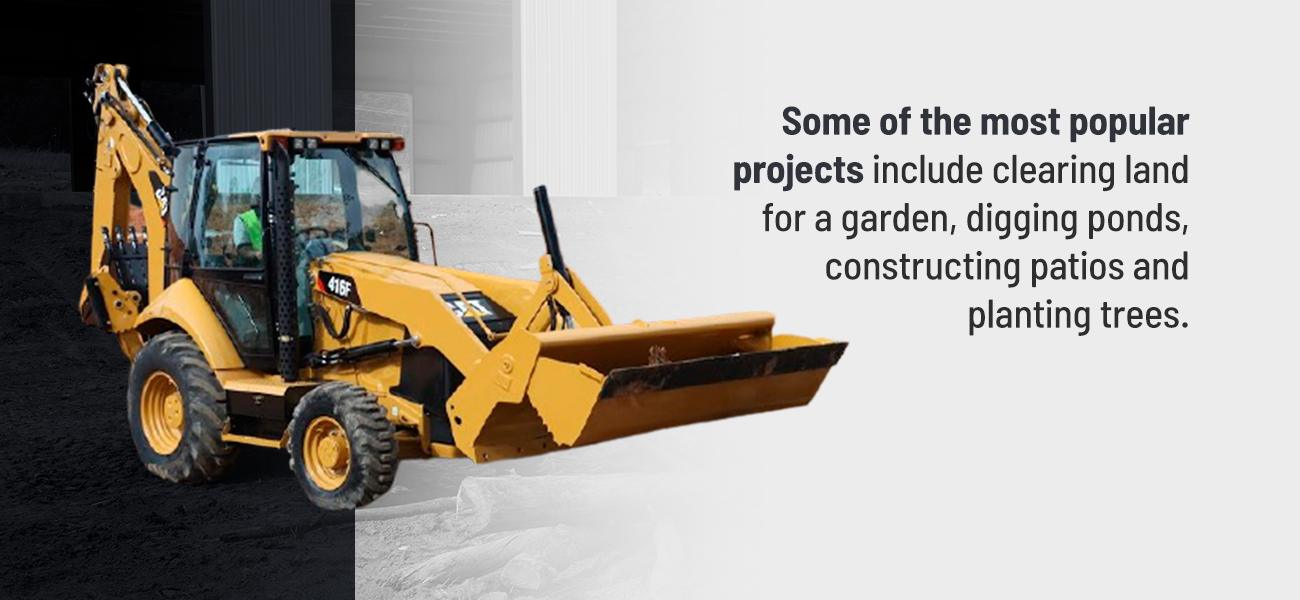 Spring Landscaping Projects
Since spring landscaping offers opportunities for so many different landscaping projects, there are plenty of options for tasks to complete in this season. Some of the most popular projects include clearing land for a garden, digging ponds, constructing patios and planting trees. By completing tasks like these, homeowners can beautify their yards, make the outdoors more comfortable and prepare for long summer days spent outside.
If you're interested in learning about landscaping ideas, check out some of the best spring landscaping projects below:
Clear land for a garden: If your yard is overgrown or covered in dead branches, you can clear the area quickly with a backhoe loader to create space for a beautiful garden. A garden in your backyard can transform a drab area into a lush and colorful focal point.
Utilize crushed stone: Many homeowners love how crushed stones look in their plant beds. These stones can be hauled to relevant areas quickly with a loader to fill in a bed and improve the appearance of a yard. As a xeriscaping technique, this project cuts down on your need for irrigation and prepares your yard for the summer.
Create walkways: Too often, homeowners make makeshift paths around their yards with dead grass or dirt. Get ahead of this trend in the spring by creating attractive walkways to your garden, patio and fire pit. Many people use crushed stone, natural flagstone, decorative brick and concrete stepping stones to make their walkways look their best. They'll often haul these materials with a backhoe loader.
Craft a natural water feature: Upgrade the look of your yard by creating a custom water feature. You can use natural stone to build the feature — many people love how they can create small rock waterfalls or flowing streams around their yard. Loaders can help haul larger stones, especially if you're creating a larger waterfall or another extensive water feature.
Dig a pond: Alongside natural water features, you can dig a pond in your front yard or backyard, adding stones and other attractive plants around it. You'll also want to install ground liners and pumps to keep the water secured and flowing. Your pond can be as small or large as you'd like. Whatever the size, a mini excavator is a great choice for fast digging.
Plant trees: The spring is one of the best times to plant a tree in your yard. A single tree can improve the look of your space, adding more texture, form and color to your landscape. Once the tree's planted and established, it can last for decades, requiring very little maintenance on your part. Many landscapers rely on augers to dig planting holes quickly and accurately.
Add mulch: As you place your seasonal landscaping plants around your property, mulch is a great addition to consider to help plants grow in the spring. Mulch also comes in a variety of colors to improve a yard's texture and appearance. You can easily haul and pour mulch around your yard with a backhoe loader.
Use edging: Landscapers and homeowners often lay stone edging around house foundations, driveways, walkways and flower gardens. Curved edging is very popular, as it adds greater character and visual appeal to the area it surrounds all year long.
Construct a retaining wall: When a yard struggles with soil erosion, adding a retaining wall can be the perfect solution. These walls provide soil a firmer foundation and stop rain from thinning your yard. During the rainy spring season, a retaining wall can be a yard's lifesaver. Backhoe loaders can assist you as you haul interlocking blocks to the wall's location
Plant hedges for privacy: A great feature of landscape design is the ability to create privacy without putting up an imposing fence. Instead, you can use the spring to plant hedges and tall shrubs around your property to create a cozy and private outdoor space.
Install a patio: A new patio can make a yard much more comfortable and attractive. If you build your patio in the early spring, you'll be ready to host plenty of outdoor activities, like barbecues and cookouts, as the weather continues to grow warmer. You can use a backhoe loader to transport gravel for the paver base and patio pavers to your planned patio location. Once you set the pavers in place, add sand between them to craft a beautiful surface.
Build a fire pit: With winter gone and the warmth of summer approaching, many homeowners can extend their time outdoors by building a fire pit. All you need to do is dig a small pit, add some gravel to it and stack brick, pavers or stones around it. With backhoe loaders or excavators, you can reduce strenuous tasks like digging or hauling heavy stones.
Choose NMC The Cat® Rental Store for Your Landscaping Equipment Rentals
With all the various spring landscaping projects you can accomplish, you'll want reliable, efficient landscaping equipment in your corner. At NMC The Cat® Rental Store, we've got you covered with high-quality Cat rental equipment. When you choose our rental equipment, you can expect to save on landscaping costs and complete your work quickly. Whether you want to plant trees or build a patio, we carry equipment designed to suit your needs.
Browse our rental landscaping equipment and attachments today. If you have any questions, contact us to speak with one of our friendly representatives.